Hong Kong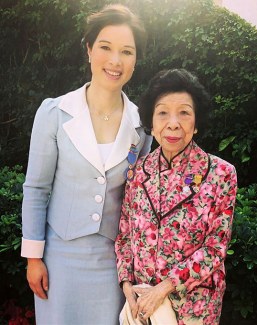 British based Hong Kong Grand Prix rider Jacqueline Siu Wing Ying has received the Medal of Honour at the 2019 Hong Kong Honours and Awards Ceremony, held at the Government House in Hong Kong on Saturday 9 November 2019. 
The 2019 Honours List was published in the Government Gazette on 1 July 2019 This is the 22nd full Honours List. It was created in 1997 to replace the British honours system after the transfer of sovereignty to the People's Republic of China and the establishment of Hong Kong Special Administrative Region
The Honours recipients are from different walks of life. They are given an honour or award in recognition of their significant contributions to Hong Kong or for their dedicated public and community service. For 2019 the Chief Executive has awarded 399 people in this year's Honours List.
Jacqueline Siu Wing Ying won the individual gold medal at the 2018 Asian Games in Jakarta, Indonesia.
Siu, who claims to have inherited her competitive genes from her grandmother, was accompanied by her at the ceremony.
"She is quite an amazing woman, an inspiration to me, now at 98 years old she is so energetic! When she was younger she represented Hong Kong in swimming. I guess that's where I get my competitive genes," Siu told Eurodressage. "She has received many awards, the medals you see in the photo are the Bronze Bauhinia Star, and Silver Bauhinia Star she was awarded for her services to the community and welfare in Hong Kong. She has also an MBE from the Queen in the UK."
Jacqueline's next planned show was supposed to be the inaugural 2019 Asian Championships, set to take place in Pattaya, Thailand, on 1 - 4 December 2019, but unfortunately this week she withdrew as her ride, Connery, is not fit to compete.
Related Links
Jacqueline Siu Wing Ying Wins Individual Gold at 2018 Asian Games
Anna Christina Abbelen's Furst On Tour Sold to Hong Kong
Jackie Siu Makes Debut for Hong Kong at 2012 World Young Horse Championships