Westfalian
The Dutch bred Dynamic Dream (by Dream Boy x Sir Donnerhall) was named the champion of the 2019 Westfalian Stallion Licensing in Munster-Handorf on 27 November 2019.
In a bidding duel between Andreas Helgstrand joined by his long-time investor Hanni Toosbuy Kasprzak and Andreas' former employer Blue Hors, the stallion sold for 1.9 million euro to Helgstrand. Esben Möller, former breeding director at Blue Hors, did the bidding for Helgstrand. 
The bay Dynamic Dream (by Dream Boy x Sir Donnerhall) is bred b C. Van der Laan in The Netherlands but Westfalian registered. He was presented at the licensing by co-owner Heinrich Giesselmann, who also presented last week's Oldenburg Licensing Champion by Bon Coeur x De Niro, and which sold for 660,000 euro to Lodbergen. 
The quality of the colts at the 2019 Westfalian stallion licensing was high and the licensing committee got very enthusiastic in naming no less than 12 (!!) dressage colts premium stallion out of a lot of 35 approved stallions from a collection of 47 presented.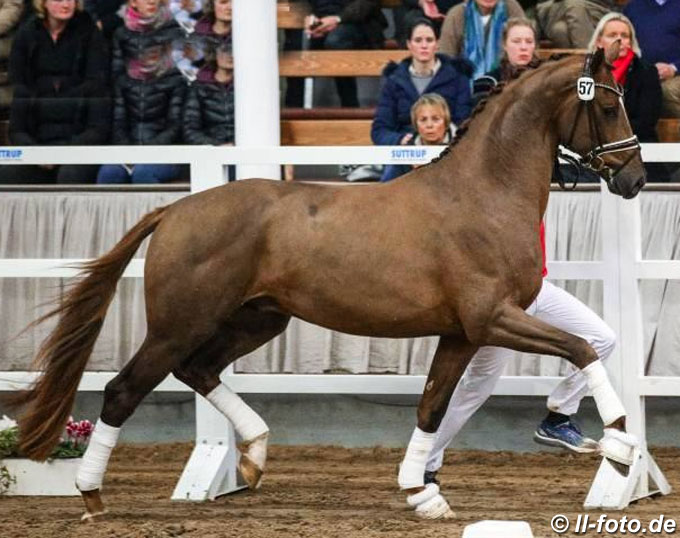 The reserve champion was a Livaldon x Furstenball x Sandro Hit, bred by Johannes Hesselink and owned by Claude Niedner, who recently hired Terhi Stegars as his new head rider at his yard in Luxembourg.
Two stallions ranked in third place in the premium ring: a For Romance x Vivaldi x Ferragamo (bred by Georg and Leonie Kellerwessel and owned by the breeders in partnership with Sylvia Zimmer)  and Helgstrand's Sir Heinrich x Floresco x De Niro, bred by Gisela and Jan Dag Wilms-Ruck.  Esben Möller also bid on the For Romance, but Australian Olympian Kristy Oatley prevailed and she bought the colt for 300,000 euro. 
The premium stallions were:
Dankeschön x Sir Donnerhall I  --> sold for 100,000 euro abroad
Dynamic Dream (by Dream Boy x Sir Donnerhall)  --> sold for 1.9 million to Helgstrand/Kasprzak
Feinrich x San Romantiko --> sold for 70,000 euro in Westfalen
For Romance x Vivaldi  --> sold for 300,000 euro to Kirsty Oatley
Jack Jones x Ampere --> sold for 50,000 euro in Westfalen
Livaldon x Fürstenball - not for sale
Macchiato (by Morricone x Just Perfect) --> sold for 165,000 euro to Ingo Pape
Raven (by Revolution x Christ)  --> not for sale
Sir Heinrich x Ehrenstolz  --> sold for 50,000 euro in Westfalen
Sir Heinrich x Floresco - not for sale
Make My Day (by Toto jr x Apache)  - not for sale
Vitalis x Sir Donnerhall I  --> sold for 125,000 euro abroad
Year after year the Westfalian breed society has become more impregnated with KWPN blood and also this year it was no different. Young stallion Ibiza (by Desperado) got three colts approved, which brings his tally to 10 approved sons in total this year from his first crop of foals !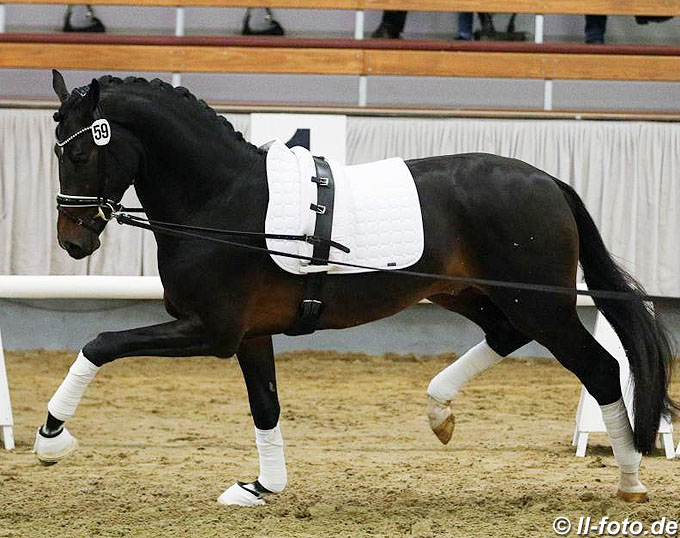 Talk of the town was the Rhinelander bred Raven, a Revolution x Christ, which was sold by Ignaz Berger to Swiss Adrian Gasser of Gestut Schönweide right before the auction. 
The 2019 Westfalian Stallion Licensing also featured a saddle licensing for the first time for "older" colts. All four dressage bred colts that were presented got approved
Belvedere DB (by Belissimo M x Danone I) - not for sale
Danone I x Serano Gold - not for sale
Real Grandios x Santano  --> sold for 115,000 euro in Westfalen
Veuve Cliquot HS (by Vilancio x Stedinger) --> sold for 55,000 euro abroad
At the auction following the licensing a Saxonian based customer pair 125,000 euro for the approved Don Nobless x Furst Heinrich.  The Ibiza x Furst Romancier sold for 70,000 euro to Loxer Saxony.  The Ibiza x Lord Loxley fetched 55,000 euro
The approved Vivaldi x Furst Heinrich sold for 110,000 euro, the approved Grey Flanell x Florenciano for 69,000 euro, and the approved Bon Coeur x Depardieu for 47,000 euro to Westfalian customers.
The average price for a licensed stallion was 123,486 euro (heavily influenced by the 1.9 million top price), the average price for a non-licensed stallion was 22,393 euro. 
Complete price list here.
Photos © LL-foto
Related Links
Danciero, Champion of the 2018 Westfalian Stallion Licensing
Fashion in Black Named Champion of the 2017 Westfalian Stallion Licensing
Valverde, Champion of the 2016 Westfalian Stallion Licensing
D'Egalite, Champion of the 2015 Westfalian Stallion Licensing 
Borsalino, Champion of the 2014 Westfalian Stallion Licensing
Rock For Me, Champion of the 2013 Westfalian Stallion Licensing
Like A Diamond, Champion of the 2012 Westfalian Stallion Licensing
Dubrovnik, Champion of the 2011 Westfalian Stallion Licensing
A La Carte, Champion of the 2010 Westfalian Stallion Licensing
Silbermond, Champion of the 2009 Westfalian Stallion Licensing
Flanagan, Champion of the 2008 Westfalian Stallion Licensing
Coronas, Champion of the 2007 Westfalian Stallion Licensing
Estobar NRW, 2006 Westfalian Licensing Champion
Cornado 2005 Westfalian Licensing Champion
Fidertanz, 2004 Westfalian Licensing Champion
Dancing Dynamite, 2003 Westfalian Licensing Champion
Rosencharmeur, the 2002 Westfalian Stallion Licensing Champion
Don Bedo, 1998 Westfalian Stallion Licensing Champion