Norway
Alexandra Andresen's Westfalian licensed stallion and medal winning youth rider's horse Belamour has sustained a career ending injury in a field accident. 
Belamour is a 15-year old stallion by Belissimo M out of La Rose (by Lord Sinclair), bred by Wilhelm Strunk, who is known for being the breeder of Isabell Werth's Bella Rose.
Belamour's Successes 2009 - 2014
Belamour was originally owned by Flyinge state stud and competed by Susanne Gielen. She represented Sweden at the 2009 and 2010 World Young Horse Championships in Verden, Germany.  In 2012 he sold to the Andresen family and became Andresen's most successful horse to date.
The pair earned her silver and bronze at the 2013 European Junior Riders Championships in Compiegne and double individual silver at the 2014 European Junior Riders Championships in Arezzo.  As of 2015 he had been sidelined because of injury, but returned to the arena in 2017 for three CDI's (Kristiansand, Uggerhalne, Ermelo). The CDI 1* in Ermelo in August 2017 was his last. 
In September 2017 Belamour was operated on for an inguinal hernia and lost one testicle. The stallion recovered but never returned to the show arena.
Hock Entangled in Fence Wire
A few weeks ago, Belamour injured himself in a field accident at his current base, Hjortlund Horse Treatment in Esbjerg, Danmark.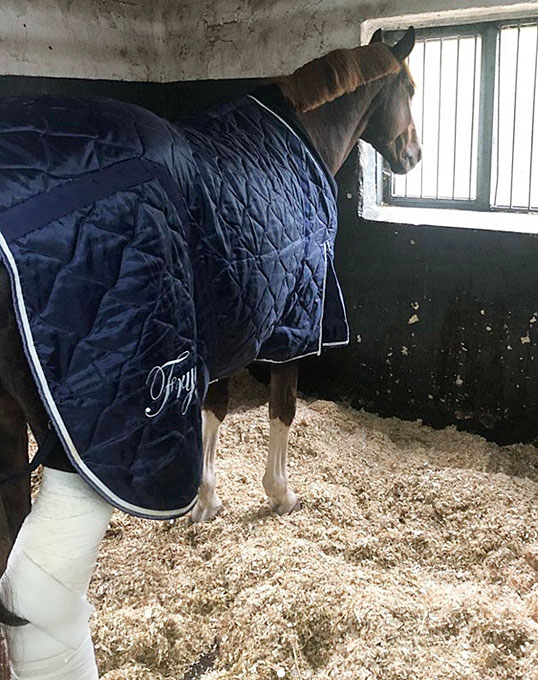 During turn out he managed to get his hindleg caught in the top wire of the fence. Although the wire was supposed to snap, it didn't and got snared round the right hind leg, cutting through three tendons. He was transported to Højgård equine clinic where he was operated on. 
"He kicked down the string on top of the fence and entangled it around his right hock," Andresen wrote. "Two tendons were completely severed and one 3/4 severed."
While Belamour was on the operating table the surgeons only gave the horse 30% chance of a life in retirement. Mid-operation the prognosis was dire and Alexandra discussed the matter with her mother Kirsten and their home vet Ole Jørgen Jørgentvedt who recommended euthanasia. Then the surgeons said they wanted to give the horse another chance and if he managed to get up after surgery and keep the tendons whole for 14 days, he would have a change upon a life in retirement. 
"He can never be ridden again, but hopefully he will have a pain free retirement after 6 months of box rest," said Alexandra. "Not all horses can handle box rest, but Belamour can. He is not one to get stressed."
Andresen Still Struggles with Back Injury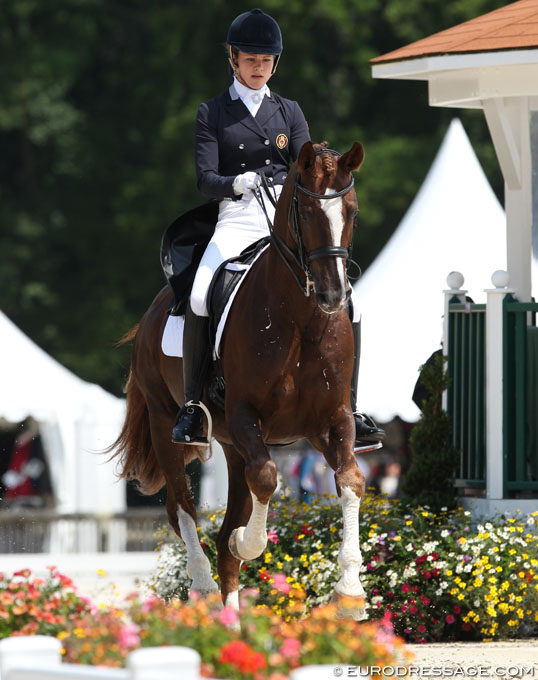 Alexandra will not make a come back to the show ring in the near future with the other horses she has (Empire B, Borencio, Don Massimo). 
She has been absent from the show ring since May 2018. Alexandra suffers from spinal stenosis, a degenerative disc disease, including two bulging discs and had to rehabilitate in 2019. 
In September 2019 she slowly started riding again but it did not help her injury.  Two weeks ago she had a new MRI done of her back and there is no improvement. 
"I have little hope. I'm going to a doctor in Amsterdam. I hope it can lead to something positive. Surgery is the last resort," she told Hestesport.
Photos © private - Astrid Appels 
Related Links
Eurodressage Photo Database: Belamour
Alexandra Andresen Returns to the Saddle after Back Injury
Belamour Operated On for Inguinal Hernia
Abbelen Wins Kur and Claims Triple Gold at 2014 European Junior Riders Championships
Von Danwitz and Habitus Strut to Kur Gold at 2013 European Junior Riders Championships
Vallentin, Andresen, Mattsson Win 2013 Nordic Baltic Championships
Norwegian Alexandra Andresen Sweeps the Junior Section at 2013 CDI Vestfold
Swedish Dressage Horses Belamour and Ramstein Sold Abroad