Sweden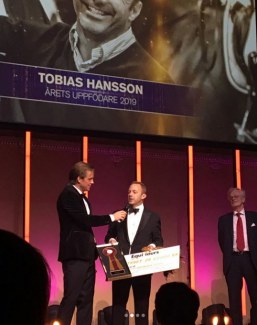 Sweden celebrated its most successful equestrian athletes in their annual Swedish Riders' Gala, held this year in Stockholm on 29 November 2019. 
Several dressage riders and horses were recognized for their achievements of 2019. This year just three dressage personalities (horse or person) got awarded. 
Dressage Rider of the Year: Patrik Kittel
Kittel was the best placed Swedish rider at the 2019 European Dressage Championships in Rotterdam. 
Tomorrow's Horse: Astoria
This award goes to a Swedish owned horse, aged 6 - 8, that is expected to become a future star. 
The 7-year old Swedish mare Astoria (by Sir Donnerhall II x Quaterback) won the 7-year old Championship in Falsterbo under Jeanna Hogberg and was 10th at the 2019 World Young Horse Championships. She is owned by Christina Olsson. 
Breeder of the Year: Tobias Hansson
Tobias Hansson is best known for his Västra Hoby Stuteri which has bred dressage stallions Springbank I and II. Foundation mare of the stud is Amajacka, which Vastra Hoby purchased back in 1940! Mr Grey VH won this year's Swedish Young Horse Championships for 4-year olds and Bowmore VH and Darthula VH were successful in the 5- and 6-year old divisions. 
For the annual "Comet of the Year" award one dressage, one show jumping and one eventing rider is nominated each year. The award recognizes the shooting star in Swedish equestrian sport. This year it went to eventing rider Ebba Adnervik.
Complete results here. 
Related Links
Well Done de la Roche, Kittel, Olsson, Ander Honoured at 2018 Swedish Riders Gala
Bergakra Berglund and Quatermain Fly the Dressage Banner at 2017 Swedish Riders Gala
2016 Swedish Riders Gala To Relocate and To be Hosted in 2017
Lord, Dolk, Kyrklund Honoured at 2017 Swedish Riders Gala
Kristoffersson, Kittel, Haward, Etzner, Dan Brown and Don Auriello Honoured at 2015 Swedish Riders Gala
Aldenfalk, Strolchi, Darcia VH Honoured at 2014 Swedish Riders' Gala
Marina Mattsson Honoured at 2013 Swedish Riders' Gala
Lette and Hagman Award Recipients at 2012 Swedish Riders' Gala
Cecilia Dorselius Nominated to Become 2011 Comet of the Year
Kittel, Telde, Hofmann Honoured at 2010 Swedish Riders' Gala
Bergstrom Kallstrom, Comet of the Year at the 2009 Swedish Riders' Gala