FEI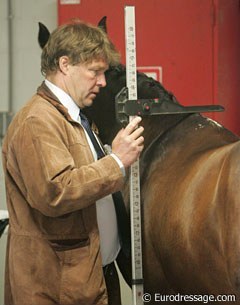 The FEI Veterinary Regulations effective 1 January 2020 were approved at the FEI General Assembly in Moscow Russia on 19 November 2019.
Pony owners should note that a merged proposal for amendments to Chapter IX in the Veterinary Regulations on pony measuring were approved.
The amendments combine aspects of the first proposal sent to National Federations and stakeholders on 8 July, including the three-year transition period, with aspects of the 22 October 2019 proposal such as the Lifetime FEI Measurement Certificate for ponies that measured in during 2017, 2018 and 2019. All details can be found here. 
The FEI has a clear objective to retain the Pony Category. The regulatory height of a pony is 148/149cm with shoes.
In brief the approved rules  effective 1 January 2020 will be as follows:
1 January 2020
A) FEI registered ponies who in the years – 2017, 2018, 2019, - that were measured-in by two veterinarians will be granted acquired rights, i.e. receive a lifetime certificate.
B) All new pony registrations (i.e. ponies that have never been in the FEI System) must be measured at FEI NF Official Measuring, the regulatory height of 148cm/ 149cm with shoes will be applied. The date and location in Ireland of the measuring to be decided.
1 January 2020 – 31 December 2022
C) Existing FEI Ponies (ponies registered before 31 December 2019 and who are not part of GROUP A above) can compete without a measuring certification during the transition period unless they compete at EU-CH and FEI Pony Trophy and NC Final. At these events, Pony Measuring will take place. The height allowance will be afforded 150/151. Ponies measured in will receive the certificate dependent on age.

Where ponies do not compete at the EU CH, Trophy or NC Final and continue to compete at FEI Pony discipline classes can do so freely until 31December 2022 and have the option to be measured at the NF measuring station during that timeframe.
1 January 2023
All ponies require a FEI Measuring Certificate obtained through A, B or C above.
Photo © Astrid Appels
Related Links
The Purification of the Pony Sport. The FEI Needs to Ban Over-sized Ponies
Eurodressage Editorial in 2006: 21 September 2006: Pony Pure
Follow-up on Pony Measurement Conducted during the 2007 FEI European Pony Championship
2007 European Pony Championships Kick Off with Trot Up and Measurement
FEI Pony Measurement Rules Fine-tuned and Regulated
New Pony Measurement Rules Announced on FEI Website
FEI Secretary-General Michael Stone Will Ban Big Ponies!!