2019 PSI Auction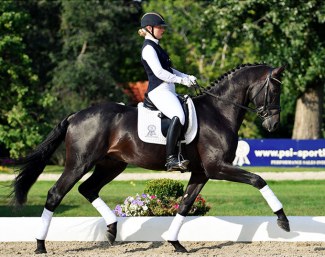 Oldenburg stallion Furstenball has been a success story from the start: the most expensive auction foal at the time, Oldenburg licensing champion, main premium champion, Word Young Horse Championship finalist and Bundeschampion!
Furstenball is known for passing on beauty, elegance, rideability and graceful gaits and it is no different with 2019 PSI Auction Horse Fürst Ampere.
Auction Horse in the Spotlight: Fürst Ampere
A heart throb with show experience.
This 3-year old Hanoverian stallion is by Furstenball out of Fidenzia (by Ampere x Watermill Rolex xx). 
This highly modern Fürstenball son is showing enormous potential for his age, he moves like a metronome, each canter stride just like the next.  His lovely temperament is sure to be a great benefit in his further education.
His rider Stella has already competed this 3-year-old stallion and was rewarded with a first place.
Discover the 2019 PSI Auction collection
Discover the complete collection of outstanding young dressage and jumping horses at www.psi-auktion.de
For enquiries and further information please do not hesitate to contact us: 
- Ullrich Kasselmann (+49 5401 89 200)
- Francois Kasselmann (+49 171 496 98 65)
- Insa Hansen (+ 49 172 455 62 16)
- Hartmut Lammers (+49 175 650 55 80)
- Ulrich Henschke (+49 171 704 04 77)
Follow PSI on Facebook and Instagram and explore the latest news around this year's collection of dressage and show jumping horses.