Denmark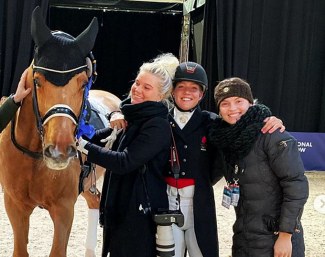 Denmark's number one Grand Prix rider Cathrine Dufour has started a collaboration with Danish show jumping rider Rasmine Roesdahl Laudrup. The pair will develop a joint business at Dufour's base near Roskilde, Denmark.
Laudrap will be moving her jumper horses into a stable block at Dufour's yard as of 1 January 2020 and will get help from Cathrine for the flatwork. 
Rasmine Roesdahl Laudrup is the daughter of famous Danish football player Brian Laudrup (Milan, Ajax, Chelsea). She has ridden as a professional rider at various stables, including at Georgia Timmermann's yard in Fyn. The 26-year old will now relocate to Roskilde to begin her independent business with Dufour.
"Cathrine will help me with the dressage part, but we are also working on finding a coach who can help me with the show jumping," Laudrup told Ridehesten. "We have already invested in a couple of top quality jumping horses together, which will be offered for sale in the new year."
Last weekend, Dufour won the 2019 CDI Stockholm Grand Prix Kur to Music on her top horse Atterupgaards Cassidy. Laudrup was there to support her business partner for the first time at a major international event.
Dufour previously collaborated professionally with her life partner Katrin Hedeman, promoting her physiotherapy and fitness business in her Dufour Club meetings as well as through the Danish Equestrian Federation's training seminars for youth riders. After many years together, the couple split up in October 2019 but are still friends. Dufour is also on Andreas Helgstrand's payroll as a rider to train his sales horses up the levels.
"We are very happy and hope it will be a success," Rasmine and Cathrine told Ridehesten about their new project. 
Source: Ridehesten
Related Links
Eurodressage Photo Database: Cathrine Dufour
Cathrine Dufour nominated for the 2019 Danish Rainbow Award
Dufour and Cassidy Beat Werth on Weihegold in 2019 CDI Stockholm Kur to Music
Dufour and Bohemian Post 83.022% in 2019 CDI-W Herning Grand Prix
Cathrine Dufour Receives 2019 Lis Hartel Memorial Trophy