Germany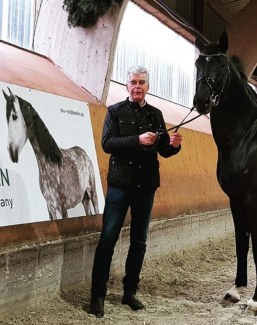 The future of the stallion licensing in Germany will bring change. The chairs, breeding directors and general managers of Germany's breed societies met at a special winter board meeting in Warendorf to discuss a new concept for the licensing. 
New Animal Welfare Act in Germany
The German government, in particular the Federal Ministry of Food, Agriculture and Forestry, has decreed new guidelines for the Animal Welfare Act in relation to the training of horses and stipulated that the training of a horse can not begin before the animal has reached the age of 30 months. 
More than two years the government has been working on these new guidelines and one of the major issues was the age at which horses should start to be trained. 
The German equestrian federation has now been asked how to implement these new regulations and guidelines in their management of sport and breeding, which prompted them to hold the winter meeting and start a working group for the reorganization of stallion licensing.
No More 2.5 Year Olds at the Licensing?!
This will finally force stallion owners to be more patient in the rearing of their horses. Currently stallions are being presented at licensing (usually in the autumn/winter) when the horse is barely aged 2.5 years old. 
Taking into consideration that a preparation for a licensing begins six months before the event, the young colts are started at age 2, which means 24 months, and sometimes even younger. 
Several breeders have already responded to this age problem by breeding their mares very early in the season, with as consequence that foals get born in January (instead of spring) in unfavourable weather conditions. 
Change Needs to Come
At the winter board meeting, the chair of the FN breeding department, Theodor Leuchten, agreed that change needs to come now.
"Everybody agreed that changes have to be made without questions," Leuchten told St. Georg. "By applying the new guidelines there are consequences which we can't ignore. That is why it is important that the experts come up themselves with a new concept, before we will be told what a licensing should look like from the outside."
At the meeting it was agreed to create a working group.  
The first results of that group should be presented at the FN board meeting in Aachen in May 2020.
Related Links
Dynamic Dream, Champion of 2019 Westfalian Stallion Licensing
Von und Zu Crowd Favourite, Confess Color Sells for 1,890,000 euro at 2019 Hanoverian Licensing
Bellany Named Champion of the 2019 Oldenburg Stallion Licensing