2019 Dressage Levy Performance Advantage Symposium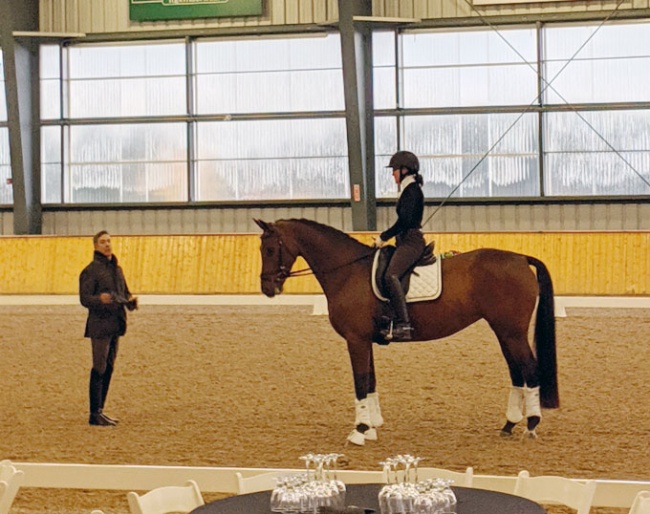 Four-time Olympic medalist Robert Dover (USA) provided the educational experience of a lifetime to the Canadian dressage community at The Dressage Levy Performance Advantage Symposium, held Oct. 25, 2019, at the Caledon Equestrian Park in Palgrave, ON.
Offered at no cost to 2019 Dressage Levy contributors, the Symposium featured coaching sessions that provided accessible and valuable advice to riders at every level.
Approximately 150 attendees benefited from watching Dover, who acted as the Technical Advisor for the Canadian Dressage Team from 2009 to 2011 and U.S. Dressage Technical Advisor/Chef d'Équipe from 2013 to 2018, assist eight demo riders with their confidence and technique. He guided riders through helpful exercises, such as his famed "rubber band exercise", which is based around collecting and lengthening the gait on a 20m circle. 
"There are many excellent technical trainers and riders. Robert transcends the technical, bringing the art of dressage to life," said Sue Ziereisen of Carp, ON, who rode in the Symposium at the First Level with her five-year-old Hanoverian gelding, Bucati (Bugatti Hilltop x Desperados). "He makes the impossible possible, the possible easy, and the easy into elegance. Many thanks for the opportunity to ride with a master!"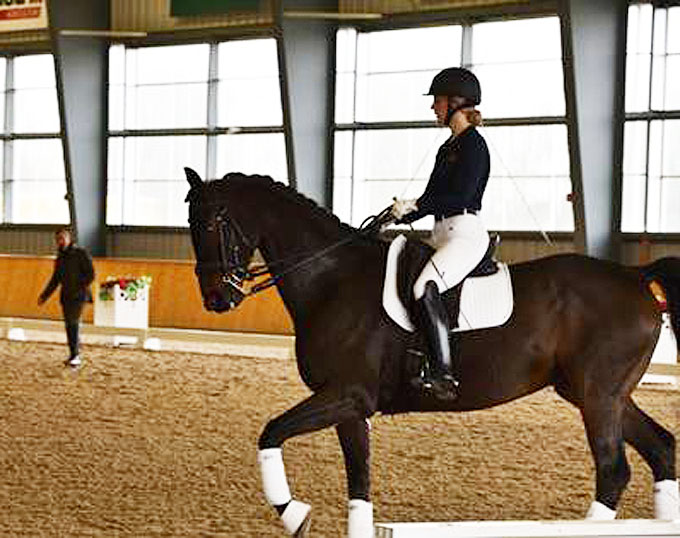 "Robert concentrated heavily on my confidence and how I carry myself, fully committing to what it is I am asking my horse to do, and taking him there with certainty and steadiness," explained Kaylea Smith of Burlington, ON, a demo rider at the Fourth Level aboard Westeross, Patricia Douglas' 15-year-old Hanoverian gelding sired by Weltmeyer. "It was really the 'ah-ha' moment I was hoping for going into the Symposium." 
Dover infected the audience with his passion and enthusiasm, reinforcing the need for positivity when working with your horse, as well as in setting goals and standards. After a full day of learning, the audience left inspired and eager for Dover's next trip north.
"It was an amazing opportunity for me and my horse," said Sue Pallotta of Sunderland, ON, of her experience as the Prix St. Georges demo rider with Bring It On, her 11-year-old Canadian Sport Horse gelding sired by Kirow H. "Robert said to me at the end of my ride, 'I have to tell you something, from the beginning to the end of this ride you would not have known that you are the same person. The biggest thing that is holding you back is what you believe and you are setting the bar too low for yourself.' Riding with Robert was a very insightful and positive experience, and he has a way of making a rider feel confident and motivated to ride better and smarter."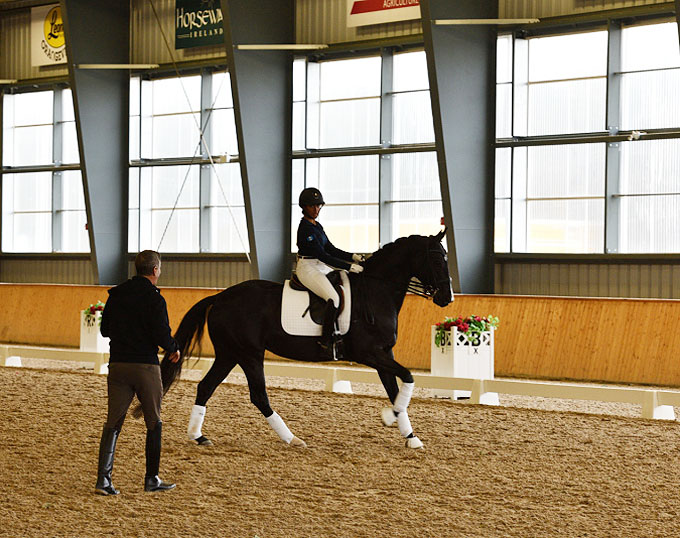 "I had a fantastic time at the Symposium," said First Level demo rider, Claire Ploughman of Ottawa, ON, of the experience riding her seven-year-old Dutch Warmblood gelding, My Happiness (Rousseau x Sunny Boy). "Robert was very passionate and encouraging, and both my young horse and I went away with a very positive experience. Thank you very much to Equestrian Canada (EC) for this opportunity."
Catherine Andrews of Niagara Falls, ON, participated as the FEI Young Rider demo rider on Keith Andrews' Dagostella (Dagostini x St. Moritz), an eight-year-old Hanoverian mare known as "Stella". She concluded, "Thank you for the opportunity to be included as a Symposium rider! Learning from Robert was an experience I will truly never forget. His ability to pinpoint issues and correct them in a simple, positive way is uncanny. Stella and I had one of our best rides yet under his guidance: It was so exciting to feel the pieces fall into place as our ride progressed. I walked away feeling accomplished and humbled at the same time. I am more inspired than ever to keep training and working towards our goals, with a little voice in the back of my head saying, 'Have confidence in your riding!'"
Upon the Symposium's conclusion, Dover traveled to Blackfalds, AB, where he continued to share his expertise with Canadian dressage enthusiasts at the EC Dressage Talent ID & Development Clinic, held Oct. 26-27, 2019, at Horse In Hand Ranch.
Text by Equestrian Canada - Photos © private
Related Links
Canadian Dressage Levy Program Redesigned for More Talent Spotting and Development
Robert Dover, Keynote Speaker at 2019 Dressage Levy Performance Advantage Symposium
Canadian Dressage Enthusiasts Savour 2017 Dressage Levy Performance Advantage Symposium