U.S.A.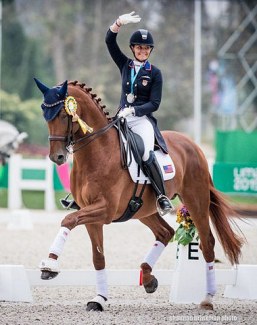 US Equestrian has introduced the 2019 Equestrians of Honor. For the first time, an International Equestrian and International Horse of the Year and a National Equestrian and National Horse of the Year will be named for their achievements in 2019.
No Dressage Athletes Nominated, Just One Dressage Horse
Remarkably, not a single dressage rider has been nominated for the National or International Equestrian Athlete of the Year award.
In the International Horse of the Year category, one dressage horse has been nominated: the 2019 Pan Am Games team silver and individual gold medal winning First Apple. 
The 9-year old KWPN bred First Apple (by Vivaldi x Partout) and his rider Sarah Lockman catapulted into the international spotlight in 2019, as their breakout year began with strong outings in CDI competition in California, in which they remained unbeaten at Small Tour and amassed nationwide high scores for their performances. Lockman and First Apple, a stallion owned by Summit Farm, were named to the U.S. Dressage Team for the Lima 2019 Pan American Games, where they anchored the three-combination team to a team silver. Lockman and First Apple continued their undefeated streak at Lima 2019, earning competition-high marks and personal bests, and unveiled an energetic FEI Intermediate I Freestyle to secure the individual gold medal with a score of 78.980 percent.
The partnership between pair continues to develop, as Lockman only started to compete First Apple in early 2019. The pair concludes their season having amassed an impressive record of 10 consecutive wins, with First Apple topping the 2019 Adequan®/United States Dressage Federaton Year-End Awards for Dressage Horse of the Year. Lockman and First Apple have started to prepare to transition to the Grand Prix level and have their sights set on continuing to represent the United States at the highest levels of international competition.
Winners Decided by Vote
Winners are determined based on the results of online voting, which is now open through Thursday, January 2, 2020, at midnight.
The 2019 International and National Equestrians of the Year will be awarded on January 10, 2020, during the 2019 Pegasus Awards at the US Equestrian Annual Meeting in West Palm Beach, Fla. US Equestrian's Pegasus Awards honor some of the great men and women of equestrian sport. Learn more about the ten 2019 Equestrians of Honor below.
Related Links
Verdades Voted 2018 USEF International Horse of the Year
Laura Graves Named 2018 USEF Equestrian of the Year
Gribbons, McDonald, Malone To Be Honoured at 2018 Pegasus Award Dinner
Graves, Verdades Nominated for 2016 U.S. Rider and Horse of the Year
Nominees for the 2012 USEF Equestrian and Horse of the Year Awards
Steffen Peters Named 2011 USEF Equestrian of the Year