Germany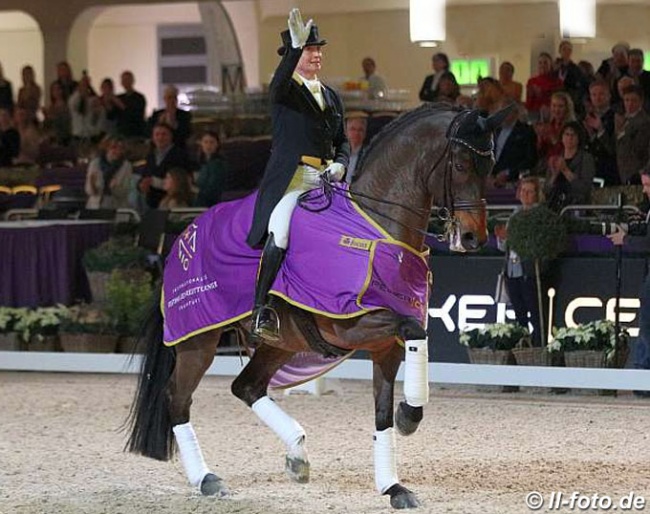 Isabell Werth rode her final competition on Don Johsnon at the 2019 CD Frankfurt on 19 - 22 December 2019, taking home a double victory as the 17-year gelding returns to Rheinberg, where his new life as a retired pensioner can begin. 
"I feel very much at peace", said Werth in Frankfurt. "It feels right to retire Johnny when he still enjoys being seen and is as healthy as he currently is."
Don Johnson is by Don Frederico out of Werona (by Warkant). He is bred by UIrike Meyer and owned by Werth's long-time sponsor Madeleine Winter-Schulze.
Don Johnson FRH came to Werth from Matthias Klatt's yard as a bit of an awkward looking, not ideally built 4-year old.
Werth reminisced: "When we saw him, Dieter Schulze said `what do you want to do with him then?' and Madeleine replied ´just let her have him if she likes him'. I saw the way he moved and that made my mind up."
The process of turning him into a top athlete took several years. Over the years, Don Johnson has become the "water bearer" – the horse that Werth took to the highest levels of international sport, before Bella Rose and Weihegold OLD stepped up to the plate. 
He made his show debut under Werth at a local show in Hunxe at L-level in April 2008 and moved to small tour level in 2009. Their international show debut was at small tour at the 2010 CDI Lingen. In September 2010 he did his first national Grand Prix class and two months later made his CDI Grand Prix debut at Munich Indoor.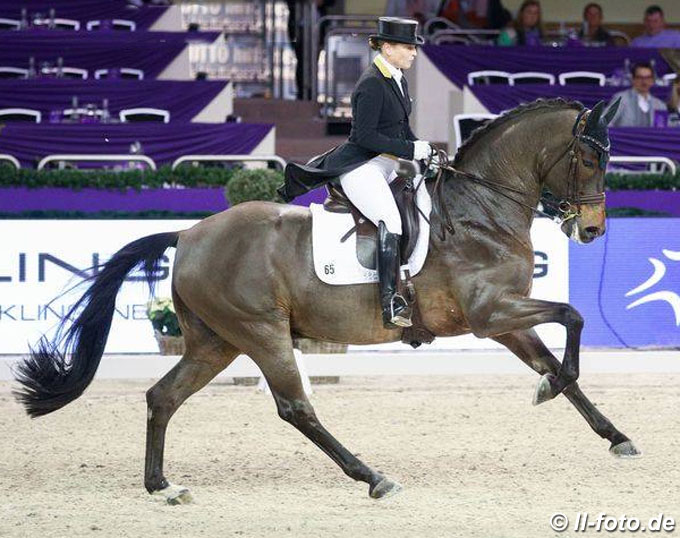 Don Johnson continuously produced big scores, but never was an individual medal winning horse. Nonetheless, Don Johnson contributed to Germany's team silver at the 2013 European Championships in Herning (individually they didn't make it to the Kur) and team bronze at the 2015 European Championships in Aachen (fourth in the Kur finals). They were also fifth at the 2013 World Cup Finals in Gothenburg.
Don Johnson was known for his playful temperament and even to his last show he would be bucking in the warm-up, but never with the intention of lifting his rider from the saddle. 
"He bucks from time to time, he loves shaking his head but he is not mean, he never tries to throw the rider off – he is just lively and nimble," said Isabell. "He has a place deep in my heart and he will forever stay with me. We'll keep riding him, extending paddock and pasture time. The horses show us what they want and when they want it."  
At his last official show in Frankfurt, Werth and Don Johnson won the Grand Prix with 75.870% and the Kur to Music with 82.845%.
Photos © LL-foto
Related Links
Isabell Werth Announces Don Johnson's Retirement
Don Johnson and Desperados Win 2011 Otto Lorke Prize
Germany's Young Grand Prix Hopefuls Shine in 2011 CDI Verden Grand Prix
Werth and Don Johnson Dance in the Rain to 2017 CDI Fritzens Kur to Music Victory