U.S.A.
Lauren Asher's silver medal winning NAYRC horse Honnerups Event has been retired from sport and turned broodmare. With new horses bought and bred, Asher plans on making a permanent move to The Netherlands next year. 
Honnerups Event is a 14-year old Danish warmblood mare by Romanov out of Honnerups Unit (by Classic) and was bred in Denmark. 
She was started as a youngster in Denmark in 2009 by Wendie Hagedorn and competed up to small tour level until 2016 by Linda and Wendie Hagedorn until she sold to then California based American Lauren Asher.
Kur Silver at 2017 NAYRC
She became instrumental as a young rider horse for Lauren. The pair made its CDI debut in March 2017 in Wellington and competed in Europe in spring as Asher sought training at Coby van Baalen's yard that season. They rode in Compiegne and Hagen before returned stateside to compete at the 2017 North American Young Riders Championships in Saugerties, where they climbed the board from a 28th place in the team test to Kur silver. 
In 2018 Asher competed the chestnut mare in Wellington and only once in Europe, at the CDI Leudelange in July 2018, their last show together. 
Broodmare Life in Europe
Asher, who splits her time between Wellington and The Netherlands, left Event in Europe. An injury ended the mare's sport career and she is now a broodmare. 
Event has already produced her first foal in 2019, a filly by Escolar named Our House Champagne. 
"The name is perhaps a bit strange, but my friend Barbara Arthur and I both had our first foals as breeders this year, and made a promise years ago - of course after too many bottle of champagne at a foal auction-  that whichever horses we bred in the future, would bear the name "Champagne"," Asher told Eurodressage. 
For 2020 Lauren is expected two ET foals out of Event: a Vincent Maranello and one by show jumper Hickstead White. 
"I already have two super future yearlings by Hickstead White, who move amazingly well and have top characters," Lauren added.
Stal Champagne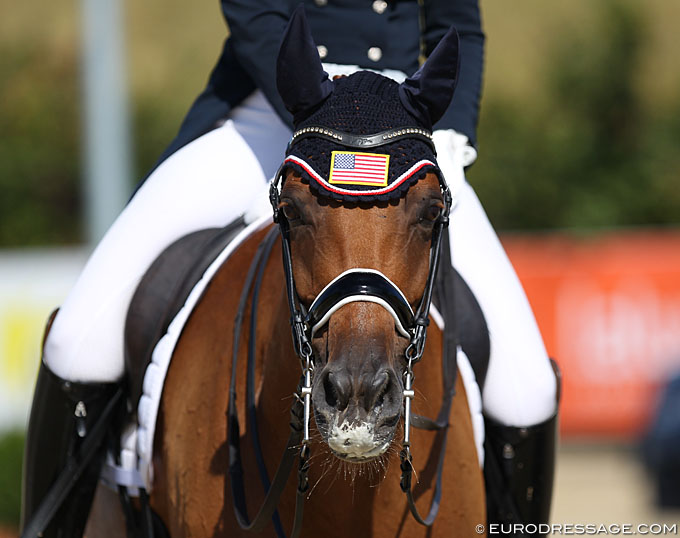 Asher is in the process of buying a farm in The Netherlands to base herself fulltime in Europe, which she will tentatively name Stal Champange.
"Barbara and I have collaborated on a lot of foals and young horses together.  she is another American living in Amsterdam. The name will represent our friendship and mutual love for champagne," she joked. "We will have to see if we actually call it that, but the name ties us together for sure. "
Asher employs two young horse riders, Isabella Harding and Alejandro Arceyuz, to help her with the youngsters. 
"It's something different, but a positive new direction for our team for the future as we finalise our plans for our move to Europe next spring," said Lauren.
Winter in Florida
This winter Asher will spend in Florida with a string of horses: her Grand Prix horse West Side, alongside the rising 7-year old gelded Conde Nord and 5-year old Rhinelander stallion Milione (by Millennium x Lord Loxley x Champus).
She also has some youngsters lined up, including a coming 4-year old stallion by Don Deluxe x Heslegårds Rubin, which she bought as a foal, her 4-year old mare All of Nothing, which has four ET foals coming in 2020 (by De Noir, Vitalis, Jameson, and Vincent Maranello).
She has purchased some show jumpers this year, which Isabella and Alejandro will compete in Florida to sell. 
Related Links
Bonderman Sold to Signe Kirk Kristiansen, Dionysos de Massa and Milione Sold to U25 Riders
Alive and Kicking Sold to Charlotte Dujardin
Conde Nord Sold to Lauren Asher
Lauren Asher Acquires Hotmail as Under 25 Schoolmaster
Scores: 2017 North American Junior/Young Riders Championships