KWPN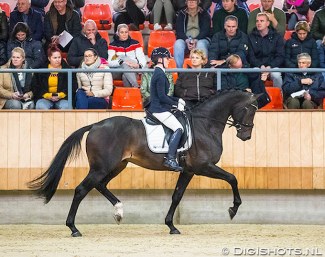 Six dressage colts have dropped out of the 2019 KWPN Autumn Stallion Performance Testing in Ermelo, The Netherlands, three weeks into the programme. 
This year's autumn testing started unusually late on 16 December and takes place during the winter period. The testing is 35 days.
Fourteen dressage colts started the 35-day test and half way through six have already ended it.  
Four of them ended their try and two have been asked to return for the 2020 spring testing.
The drop-outs are Legacy S (Hennessy x Trento B), Liverpool (Apache x Ferro), Luxor (Ebony x Charmeur) and Lexington (Grand Galaxy Win x Juventus)
Returning in the spring for the 2020 testing are Lacrosse RS2 (Ferdeaux x San Remo) and Lord Lorenzo DB (Gotcha-Utopia x Uphill)
Photo © Digishots
Related Links
Fourteen Colts Begin 2019 KWPN Autumn Stallion Performance Testing
KWPN Shortens Duration of Stallion Performance Testing