Austria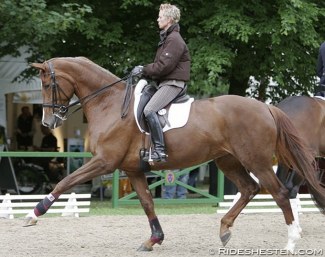 Almost ten years after the death of her Grand Prix horse Donna Asana, Austrian Evelyn Haim-Swarovski has won the lawsuit which she filed against the treating veterinarian and will receive 250,000 euro in damages. 
German equestrian magazine St. Georg reported this verdict which the Higher Regional Court (OLG) in Munich took on 9 January 2020.
Rising Grand Prix Star Donna Asana
Donna Asana  was a 9-year old Danish warmblood mare by Don Schufro x Diamant), when Evelyn Haim-Swarovski purchased her in February 2009. 
Bred by Anna Marie Blicher Jacobsen, Donna Asana was owned and trained from novice level to Grand Prix by Danish Olympian Lone Jorgensen. She found the horse as a 5-year old.
She premiered the chestnut at Grand Prix level in 2008 and became the highest scoring Danish pair at Grand Prix level. However she declined Olympic team selection that year because the mare was only 8 and it would be too soon for her.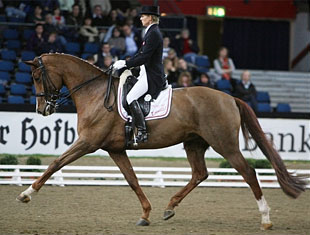 Swarovski had first spotted Donna Asana at her home competition, the 2008 CDI Fritzens, and purchased her six months later.  The new combination competed at three CDI's in 2010 (Fritzens, Donaueschingen, La Mandria). 
Anaphylactic Shock
At the end of December 2010, Donna Asana suffered from a minor cold. The veterinarian injected her with a homeopathic remedy, but the horse subsequently suffered anaphylactic shock and died on 29 December 2010.
Ten Year Lawsuit
Swarvoski filed a lawsuit with the Regional Court of Munich II against the veterinarian and claimed 1.75 million euro, the purchase price of the horse.
Over the years the lawsuit ended up with the Higher Regional Court (OLG) On 9 January 2020 this Court decided to award the Tyrolean entrepeneur 250,000 euro in damages.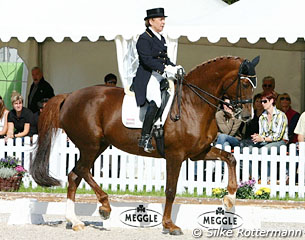 The Court ruled that the value of the horse was significantly lower than the purchase price at the time of death.  The accused veterinarian had appealed the ruling of the regional court, but now the Munich Higher Regional Court does not allow the veterinarian to appeal their decision.
"His conviction, which has been confirmed by us, is not based on the fact that he did something wrong in the treatment of the horse," presiding judge Thomas Steiner told Nordbayern.de. "Overall the treatment was okay," the judge ruled, but the German veterinarian "failed to inform the owner from Austria about the risks and possible dangers of the treatment and the risk of death."
Photos © Ridehesten - Silke Rottermann
Related Links
Evelyn Haim-Swarovski's Donna Asana Passed Away Suddenly
Donna Asana Sold to Evelyn Haim-Swarovski