The Netherlands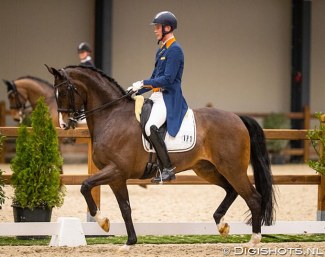 Diederik van Silfhout is back in the show ring with two Grand Prix horses: Expression has recovered from his injury and Fiona Bigwood's Pin Rock's Foxfire Blitz is the new horse in the barn.
Bigwood's Pin Rock's Foxfire Blitz
Pin Rock's Foxifire Blitz is a 12-year old Finnish warmblood bred by Tiina and Ira Ristimaki. He is by Fernet out of Rianne (by Caritas x Pele x Nimeton Ori).
He competed in a handful of shows under Saara Keihas, before Finnish international dressage rider Stella Hagelstam bought him in 2015 based on a Facebook ad. The pair had their first big show together straight at the 2017 Finnish Championships in Ypaja in June 2017, which they won with 67.740% in the Grand Prix and 72.095% in the Kur to Music. 
In the autumn of 2017 Bigwood acquired Foxfire Blitz from Hagelstam as a successor for her 2016 Olympic horse Atterupgaards Orthilia. At the time Fiona had purchased a string of horses - Daytona Platinum, Fidelio van het Bloemenhof and Florina. Daytona is being competed by daughter Mette and Fidelio has become her husband Anders Dahl's Danish team horse. 
Fiona, however, did not find her match in the Finnish gelding and sent him to a sales yard in Germany to be sold. A few weeks ago the horse moved to Diederik van Silfhout's in The Netherlands.
The new pair competedt in Zuidbroek on 5 January and scored 68,288% in the Grand Prix. At the national show in Tolbert last weekend, they won the Grand Prix with 74.493%. The horse has been nick named "Bolle" because he was fairly chubby on arrival at Van Silfhout's barn. 
Back with Expression
Van Silfhout and his number one Grand Prix horse, the 10-year old KWPN stallion Expression (by Vivaldi x Vincent) returned to the arena after an 8-month break from competition. 
The pair last competed at the 2019 Dutch Dressage Championships in Ermelo, where they finished fifth. After the Nationals Expression sustained an injury, twisting a fetlock joint. 
The pair returned to the national show ring in Tolbert, where they placed second in the Grand Prix with 72.826% behind Foxfire Blitz.
"Although he was fit again quickly, the season was already ruined," Van Silfhout told Horses.nl. "That is why we decided to keep him home for the rest of the year and continue to train. Now we'll look to compete him internationally again."
Related Links
Fiona Bigwood Acquires Finnish Champion Pin Rock's Foxfire Blitz
Huttunen, Peltoniemi, Paloheimo, Hagelstam Win 2017 Finnish Dressage Championships
Expression Injured, No Dutch Team in 2019 CDIO Aachen Nations Cup