2020 CPEDI Wellington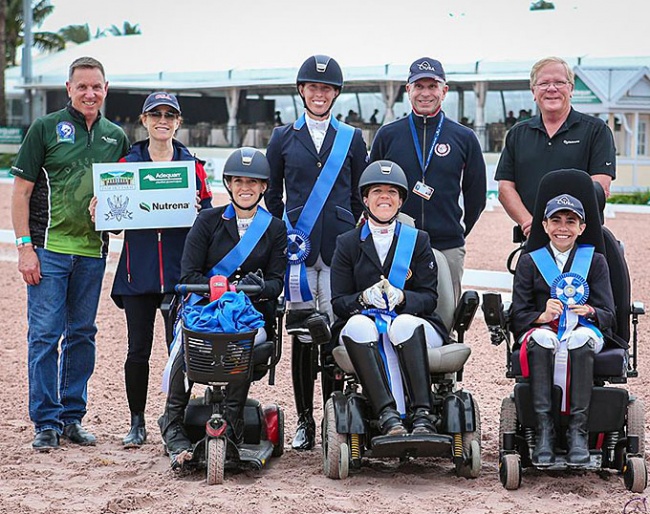 The first CPEDI of the Wellington 2020 show season was met with much anticipation from the riders. The last stateside FEI opportunity was in September and riders were eager for the opportunity to prove themselves, and help punch their Tokyo ticket.
The United States is number one of the FEI ranking list and is nearly assured a place in Tokyo. Currently the Netherlands, Great Britain, Germany and host country of Japan have placings, and the final invitations will come from the top 7 on the FEI ranking list along with regional allocations for geography.
"All the riders did really well, which is great," said U.S. Para chef d'equipe Michel Assouline. "I'm pleased with the group of riders; they did better tests and were better prepared for the competition. The team had our best average ever on the world stage with a score 75.55%."
At the CPEDI 3* Wellington, the United States chose to nominate a team of Tryon WEG medal veteran combinations: Roxanne Trunnell (Grade I) with Karin Flint's 7-year old Hanoverian gelding Dolton (by Danone I x Londonderry); Rebecca Heart (Grade III) with Rowan O'Riley's 10 year old KWPN gelding El Corona Texel (by Wynton x Goodtimes) ; Kate Shoemaker (Grade IV) and her own 12 year old Hanoverian gelding Solitaer 40 (by Sandro Hit x De Niro) and newcomer David Botana with Margret Steven's 18 year old Trakehner stallion Lord Loxley (by Unkenruf x Enrico Caruso) . The move proved to be a good one with team USA winning the weekend with a team score of 453.325.
Nearing World Record Scores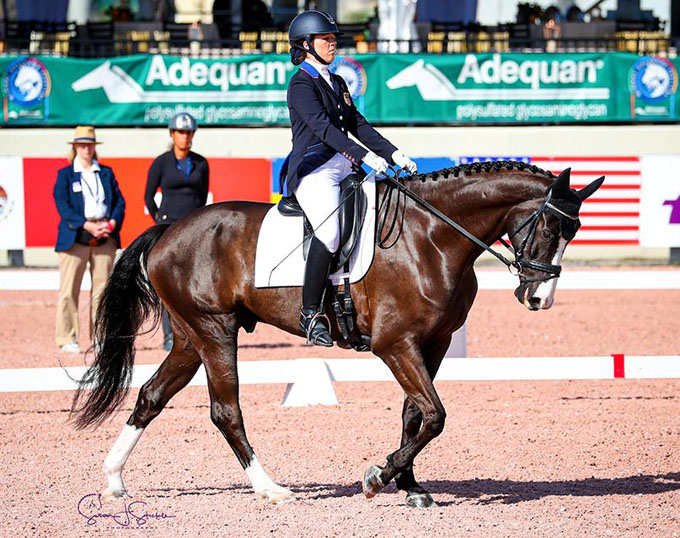 Roxanne and Dolton were still a relatively new partnership at the WEG, but this weekend all the hard work and training they have spent in the intervening time was evident in the accuracy and fluidity of her tests. She scored a 81.131% in the team test and an 81.964% in the individual test and whopping 83.167% in the freestyle which is very nearly a world record. 
"Roxanne Trunnell bumped up into the limelight this week," Assouline said. "When I saw [Dolton] as a young horse, I knew he had the makings of a world-class para dressage horse. … He and Roxanne have developed a wonderful partnership. I knew the scores would come, but it was only a matter of how long."
Trunnell has competed in Wellington in her fifth, consecutive year.
"I was extremely proud of how Dolton handled the windy weather on the first day," said Trunnell. "He has been really eager to go these past few days so it's been nice not having to remind him to keep marching, but at the same time I'm having to sit relaxed enough so as not to make him look like he's rushing. It's a really fine line. Dolton has taken it upon himself to make sure I'm safe on his back, so I think the windy weather really made him tune in and listen to what I was asking."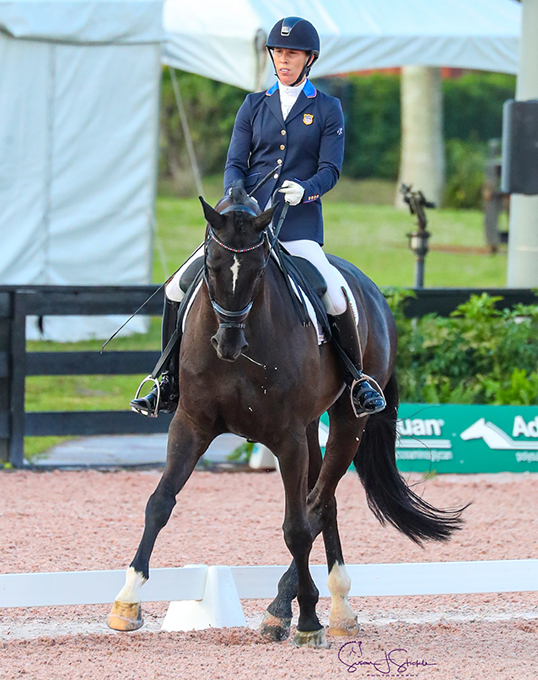 Kate Shoemaker and her long-term partner Solitaer 40 were to sole pair to contest the Grade IV division and the acquitted themselves really well earning victories in the Team Test and Individual test.
The show managers for the two Wellington CPEDIs and the Tryon CPEDI in June have given American para riders the opportunity to show their Freestyles under the lights to help prepare for Tokyo. At the Paralympics it will be expected to have classes at night due to the extreme heat. Unfortunately the atmosphere under the lights for the Freestyle proved to be too much for Soli and they withdrew from that class.
Rebecca Hart also had some challenges with her WEG bronze and silver medal mount El Corona Texel with tension in the windy stadium and was the drop score for the team. However her second ride on Rowan O'Riley's 9 year old Oldenburg gelding Fortune 500 (by Fidertanz x Don Romantic) proved to be consistent, sweeping the Grade III.
David Botana and Lord Loxley are a fairly new combination. They've been together since 2018 but have not yet been named to a championship team. However, he was the reserve national champion and is a top contender to be named for Tokyo. He had consistent scores across the weekend in a high scoring Grade I division.
Team Canada continues to fight for Tokyo spot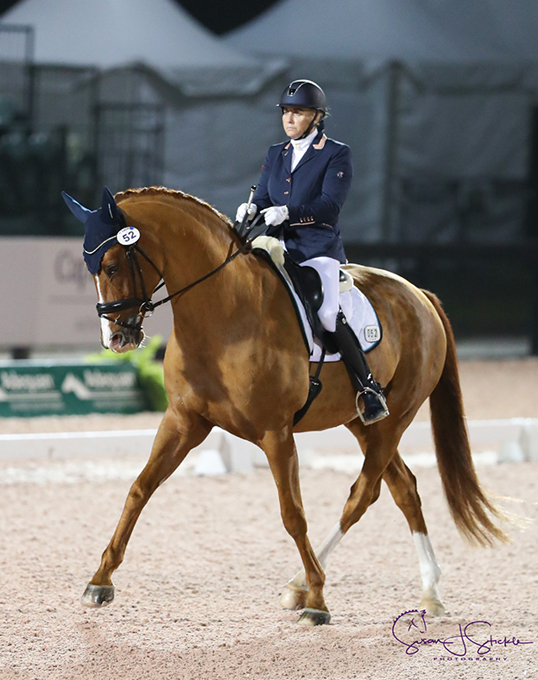 Team Canada needed a strong score to continue to work towards securing a Tokyo spot while they're currently not in the top 7, but their score of 422.208 vaulted them above Brazil this weekend to be first in line for a geographical allocation.
Providing two strong scores were veteran Grade I riders Winona Hartvikson on her new mount Onyx, a 16-year old gelding by Wolkentanz owned in partnership with judge Jane MacDonald; and Jody Schloss on her own 15-year old Danish Warmblood Lieutenant Lobin (by Lobster x Fanal Prydsholm) .
Relative new comers also contributed to team Canada included Grade II rider Jason Surnoski with Phoenix Cynthia Nugent's 20-year old Westfalian gelding (by Postdam) and the only Grade V rider Lee Garrod with her own 11-year old Oldenburg gelding Question (by Quarterback x Figaro).
London Swing and Marie Vonderheyden Earns top Individual Score
A new partnership, Grade I rider Marie Vonderheyden with London Swing, a 17-year old Hanoverian gelding (Londonderry x Rubinstein I) owned by fellow para rider Eleanor Brimmer, celebrated a successful weekend in Wellington with excellent scores.  Marie is new to Para and has been leasing London Swing as a schoolmaster to get some experience in the international arena. Marie is a dual citizen with France, and she aims  for the Paris Paralympics.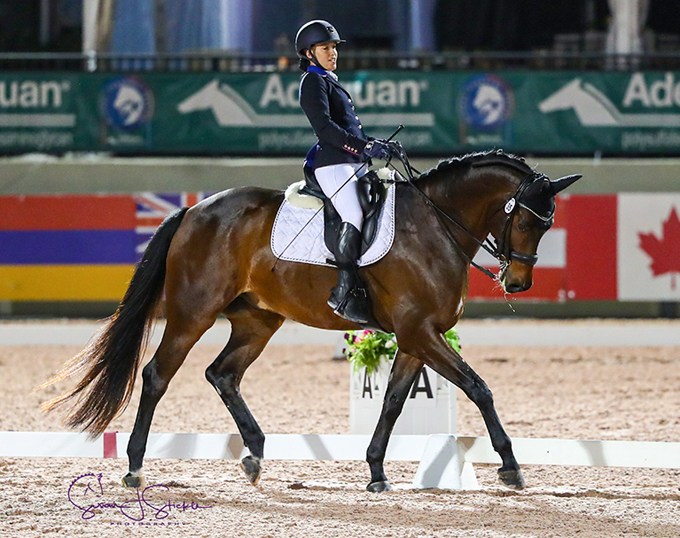 The competition also welcomed Mexican individual rider Erika Baitenmann Haakh with two horses in the Grade II division. She won the Grade II Team test with her Rio mount Lenora. Usually it is just the United States and Canada in these North American CPEDIs, but to add more flags is really exciting.
Also competing as Individual was long time Canadian para anchor Lauren Barwick with new mount Sandrino. She had good scores in the team and individual test but she was eliminated due to a her seat saver having been omitted from her permitted adaptive equipment on FEI classification master list.
De Lavalette and Sky High Gain Experience 
In North America the 1* and 2*- divisions are often not used because of limited opportunities for FEI shows. Therefore there is pressure on riders to show in the 3* star division to gain Paralympic qualification or not show at all. In Wellington there was a single entry in the 1* star division. Beatrice De Lavalette rode the Grade II tests with her own 5-year old Hanoverian gelding Sky High (by Scuderia x Lanciano). She also competed her more senior 12-year old KWPN mare Duna (by Vivaldi x Amethist) in the Grade II division to good scores, winning the Grade II freestyle.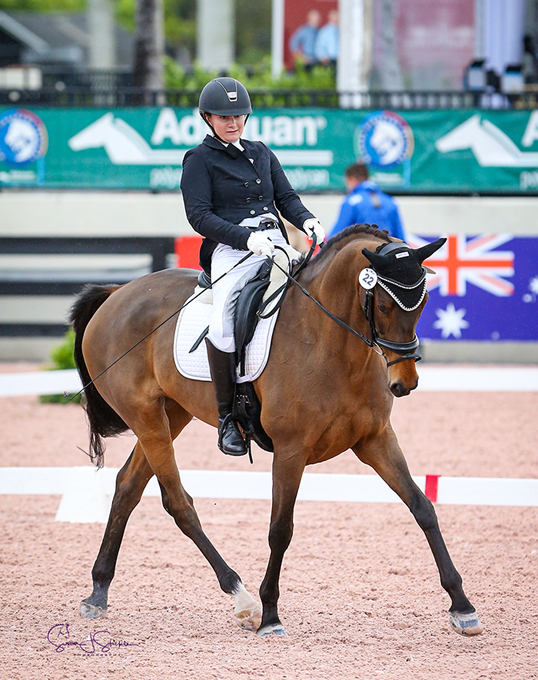 "For the Team test my coach Shayna Simon really told me to push her, to keep her upright — and she was right," said the 21-year-old of Duna. "I worked very hard during the test to make sure that she wasn't too far down and that she was active. It was hard, but definitely worth it."
De Lavalette was the most critically injured survivor of the Brussels Airport terrorist bombing in March 2016. She suffered partial paralysis and lost both her lower legs, making the accuracy with which she rides particularly impressive.
"I was very proud of my eight-meter circles today, because those are hard. Overall, it was a very good test, so I am happy," added De Lavalette, who has only been riding Duna since July. Previously, she had been competing a PRE, so switching to a warmblood was a major change. "When we first started with Duna it was a completely new, different horse. I had never had a warmblood before so we were able to explore those new sensations and paces," she concluded.
In the 2* star division Grade III rider Eleanor Brimmer rode her newly imported 6-year old Danish Warmblood Richelieu Stensvang (by Blue Horse Rockefeller x Blue Horse Don Schufro).
Text by Eleanor Brimmer, edited by Eurodressage - Photos © Sue Stickle
Overall Results, Rider, Horse, Team Test, Individual Test, Freestyle, Total Score Overall
Grade I
1. Roxanne Trunnell and Dolton, 81.131, 81.964, 83.167, 81.871 USA
2. Marie Vonderheyden and London Swing 75.357, 70.833, 76, 73.676 USA
3. David Botana and Lord Locksley 72.381, 71.548, 73, 72.172 USA
4. Jody Schloss and Lieutenant Lobin 70, 71.072,73.056, 71.040 CAN
5. Winona Hartvikson and Onyx 72.381, 70.476, 67.445, 70.632 CAN
Grade II
1. Beatrice DeLavalette and Duna 68.283, 71.569, 73.667, 70.674 USA
2. Erika Baitenmann and Leonora 70.101, 69.892, 70.333, 70.064 MEX
3. Jason Surnoski and Phoenix 69.192, 68.186, 72, 69.351 CAN
4. Alanna Flax-Clark and El Paso 68.182, 67.892, 69.056, 68.241 USA
5. Mia Rodier-Dawallo and Deledada X 63.081, 65.637, 67.722, 65.032
Grade III
1. Rebecca Hart and Fortune 500, 70.049, 68.186, 72.664, 69.827 USA
2. Meghan Benge ad Zoey 64.363, 65.882, 68.389, 65.776 USA
3. Rebecca Hart and El Corona Texel 64.314, 66.863, 0, 52.471 USA
4. Meghan Benge and Worth the Trip 60.922, 63.627, 0, 49.820 USA
5. Lauren Barwick and Sandrino 69.5, 0, 0, 27.8 CAN
Grade IV
1. Kate Shoemaker and Solitaer 40 71.667, 74.634, 0, 58.520 USA
Grade V
1. Lee Garrod and Question 67.326, 69.087, has 1.833, 69.932 CAN
Complete Scores: 2020 CPEDI Wellington
Related Link: Para News on Eurodressage