Germany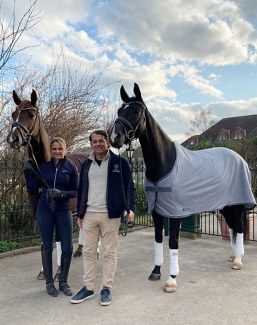 French dressage brood and stud farm Haras de Malleret continues to break news by announcing collaborations with Europe's top ranked dressage riders. Latest addition to the training team for Malleret is German OIympian European Championship silver medal winning Dorothee Schneider. 
Dorothee Schneider has agreed to develop two of Malleret's most promising dressage horses: Filarmonie de Malleret (by Furstenball x De Niro) and Dancielle de Malleret (by Danciano x Florencio) 
Malleret Distributes Horses with Europe's Best
Gérald Martinez, general manager of Haras de Malleret in Le Pian-Medoc near Bordeaux, France, has a clear vision for 2020.  Instead of hiring a high profile home trainer and stay local, he is crossing borders and striking collaborations with internationally acclaimed dressage riders.
After partnerships with French Olympians Jessica Michel-Botton and Morgan Barbançon, Swiss Grand Prix rider Antonella Joannou, and German WEG and European team rider Jessica von Bredow-Werndl, the German Olympian Dorothee Schneider is the latest impressive addition to his rider team.
"I'm lucky to have several talented horses at Haras de Malleret as well as in training with riders like Jessica Michel-Botton, Jessica Von Bredow Werndl, Morgan Barbançon-Mestre, or even this young French talent Alexandre Cheret Seguret," Martinez explained.
"It is extremely hard to entrust my horses to other riders," he added, "but by doing this I also want to send a message that it is quite possible to have horses trained to the highest level while respecting them and without driving them crazy in their head or break them physically. I want to prove and demonstrate that Haras de Malleret produces nice horses that are intended to be sold, but taking the welfare of the horse as highest standard."
Schneider Picks Filarmonie and Dancielle
Dorothee Schneider, who won team gold and individual silver at the 2019 European Dressage Championships in Rotterdam, has picked Malleret's cream of the crop: the 7-year old Filarmonie de Malleret and the 6-year old Dancielle de Malleret.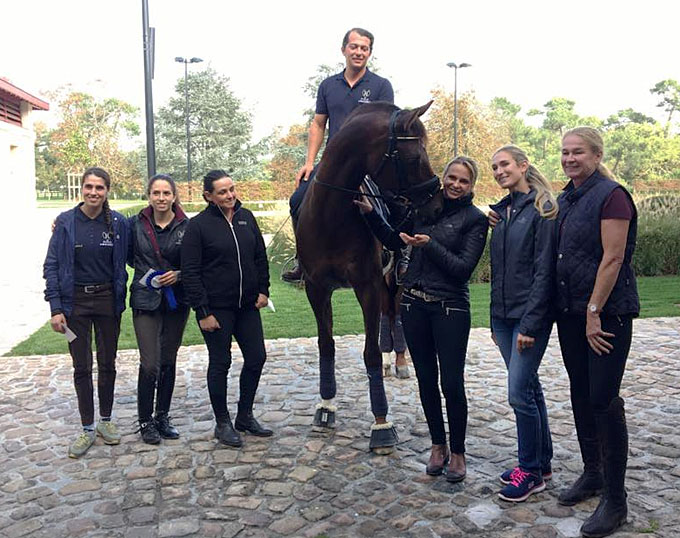 "I'm very happy about these two great mares and I'm looking forward to a good collaboration with Haras de Malleret," said Schneider. "Haras de Malleret, where I have been guest and taught seminars for a while, offered me these two great mares for further training. Dancielle and Filarmonie are here with me now for a week and have already got acquainted with the surroundings. I'm excited about working these two cool girls."
Schneider and Malleret began co-operating in 2017 when the acclaimed rider came to France to teach training seminars at the yard. 
"We've been working with Dorothee several years already, in particular by organizing training clinics at Malleret. Gérald has also got several private coaching sessions and the two of them share the same ethics and vision on dressage and horse sport. So this collaboration is only a natural result," said Alexandra Lafféa, Malleret's PR liaison. 
"One of the Best Riders in the World"
Martinez is convinced that Dorothee is one of the best riders world. He was mesmerized by her riding from the first moment he saw her, at the 2013 Bundeschampionate in Warendorf, where Malleret's Flinstone and Stolzenberg were showing too. 
"When I started the brood farm in 2013, I knew no one in the dressage world. I saw Dorothee in Warendorf and it was exactly at that moment that it became very clear to me that I had just seen one of the best dressage riders in the world," Martinez explained. "I gathered my courage and spoke to her, asking if she would come and coach me one day. She agreed and that confirmed my first good impression in Warendorf was the right one."
Martinez is thrilled with Dorothee's expertise and riding, which has been verified by the massive list of medals and achievements on the German's list. 
"She is really one of the best riders in the world, both of young horses and for the Grand Prix," Gérald added. "Dorothée has the knowledge, the finesse to accompany talented horses from their youngest age to 5 * level, while knowing how to preserve them and never overask them."
Related Links
Training Seminar with Dorothee Schneider at Haras de Malleret on 18 - 19 October 2017
Jessica von Bredow-Werndl to Develop Forsazza de Malleret
Jessica Michel-Botton Gets Ride on Filarmonie de Malleret
Haras de Malleret to Collaborate with Jessica Michel and Antonella Joannou