Blog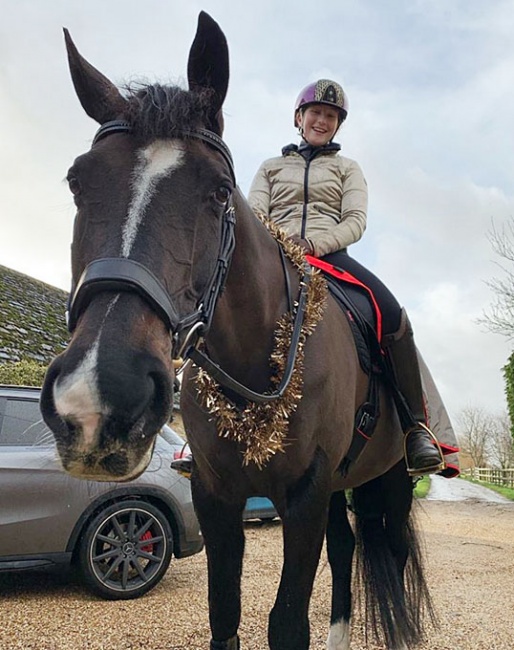 British young rider Rebecca Bell will be Eurodressage's new regular columnist disclosing life in all its aspects of a young dressage rider combining studying at university with team aspirations. The 20-year old Bell is currently reading English at Oxford University and has competed at the European Pony, Junior and Young Riders Championships five times. 
New Year's Resolutions
I'm not a big one for New Year's resolutions. Mainly, because convincing myself that this January I must, or must not do X, Y or Z is likely to start the year on a disappointing note, when in fact, this long, dreary and inevitably wet month is an exciting time.
I have just moved back into Oxford for the second last time - ever. Cliché, but as everyone says, the time has flown; it seems like yesterday that I arrived at Pembroke College for the first time. Similarly, it seems like last week that I rode down the centre line at my first CDI, and yet this is now my final year of U21s competition. Several things are converging this year; not only is it my final year at university, and my last chance to earn a place on an U21 team, but it's also my first, and maybe only opportunity to compete at a European Championships in my home country. Hartpury is a local venue for me, and the site of many important moments in my riding career – some illustrious, some very much not. To be able to ride down the centre line there on my British bred horse, Nibeley Union Hit, having attended my graduation ceremony on the afternoon of trot up day, could hardly be a better swansong. I know that it will not be easy.
My first task in making this goal a reality has been planning my year; inconveniently, many of my academic and riding commitments clash. Making sure that I have enough chances to achieve qualifying scores in-between coursework deadlines and examinations is not purely a logistical nightmare, either. I have to make sure I have left myself enough functioning brain cells for each task, too! So, into my garishly colourful planner (I like the layout, so have had to make peace with the style) the dates go. Shakespeare submission. Dissertation deadline. Which Premier League can I get to? Is that going to be realistic? 2020 suddenly seems rather short. I notice that they've changed the style of the planner this year, interspersing the polka-dot weeks with motivational and upbeat quotes. The quote at the bottom of the page for my finals week, during which I am likely to solely exist between my room, the library or examination schools is "soak up the sunshine." Somehow, I think that's unlikely!
So, by laying it all out, I pinpoint my pinch-points, and SOS my team in advance. By identifying the weeks where everything is going on, I can see where I'm going to need some extra help. Having the best people possible to give me that help is a great privilege; I know that 2020 is a very busy year for many of them, too.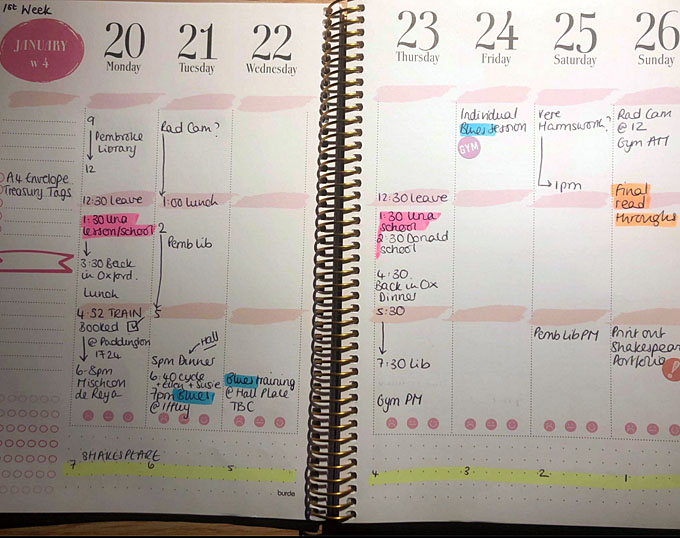 Though it's going to be challenging, I am very excited for this year at university. Amongst other things this term, I can't wait to compete at BUCS again. Getting on a strange horse to ride a dressage test and then hopping on another new ride to compete a round of Show Jumping has definitely helped me to be a braver rider. Caron, my trainer, insists that Dressage riders have to be just as brave as an event rider, to push to the limit of an extension, or make a pirouette as small as possible without causing it to go wrong. She's exactly right. BUCS has helped me to develop as a rider, as well as being an enormous amount of fun too.
It's a daunting year, but I also anticipate it being a very enjoyable one. I squeezed in one last show before returning to Oxford, my first test of this year. It was the epitome of why I do this sport; a sunny day, family members who came to watch and support, and a chance to put into practice recent training. It doesn't always come off, but this time it did, with a personal best at Young Rider level. I don't believe for a moment that 2020 will be a straightforward year, but you get out what you put in, and I really hope that this test sets the tone of things to come. Whatever your goals are this year, academic or equestrian, the very best of luck with them!
Related Link
Rebecca Bell: "Living Two Dreams: Oxford and International Dressage - It is Possible"