2020 CDI-W Wellington
Danish team rider Agnete Kirk Thinggaard is living the dream. In the autumn of 2019 she decided that there are alternatives to spending cold winters in Denmark. She shipped five horses to Wellington, Florida and is doing intensive training with coach Lars Petersen in preparation of Danish Olympic team selection. 
"The climate itself is totally addictive. Here there are sun and palm trees and it is always warm and lovely," said a thrilled Agnete. "It is absolutely crazy cool. You automatically get extra energy and profit just because of the weather."
Fivesome to Florida
Kirk Thinggaard brought a total of five horses with her to Florida this year for the 2020 Global Dressage Festival. 
She is in the fortunate position of having no less than four Grand prix horses to ride: Blue Hors Don Olymbrio (by Jazz/Ferro), Blue Hors Zatchmo (by Zack/ Donnerhall), Blue Hors Veneziano (by Vivaldi/ Donnerhall) and Atterupgaards Orthilia (by Gribaldi/ Donnerschlag). She also took 6-year old Vegas Volt (by Blue Hors Veneziano/ Don Gregory) to Wellington. 
All horses have settled in well at Lars Petersen and Melissa Taylor's Legacy Farm in Loxahatchee, a stone's throw from the Wellington show grounds.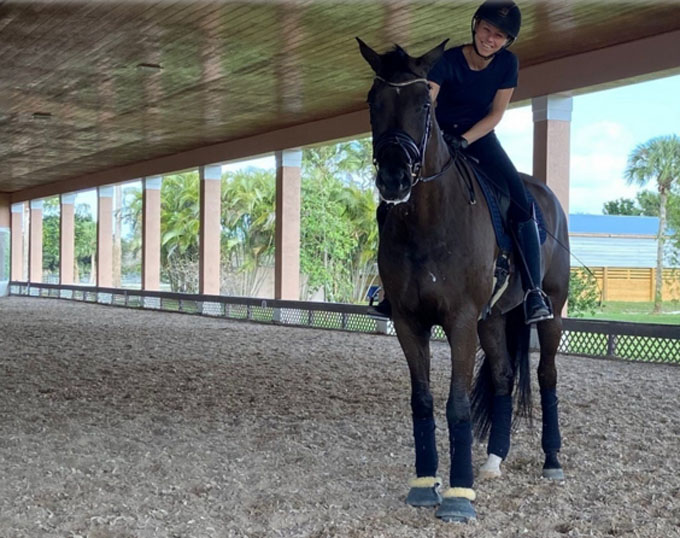 "They all coped well with the journey. The stallions lost a but of weight on the journey, but they have gained that again and really look good," said Agnete about the trip across the Atlantic. "They are happy, fresh and in a great mood. It is as if the heat and the sun also affect their mood for the better."
Mare Atterupgaard's Orthilia had to spend time in quarantine upon arrival in Wellington, but for the stallions the period is longer. Don Olymbrio and Zatchmo came out a week and a half ago and Veneziano is coming out this week.
"It is really tedious and takes a long time, but on the other hand, the facilities in the quarantine stable are top notch and there are super fields and trails to hack on, so it has been just fine," said Agnete . "We have been able to train in the quarantine every day. Well, it's in a show jumping arena, but the stallions have gotten used to the fact that a little bit of everything is happening around them as we ride. It's been good exposure for them."
Taking over Don Olymbrio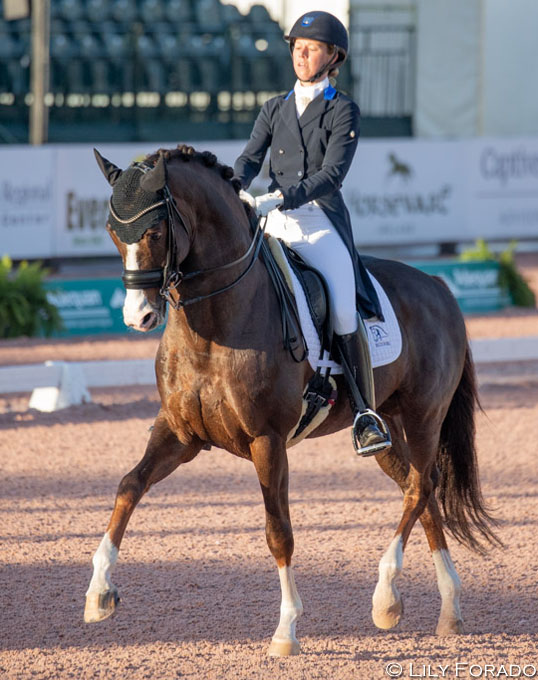 After the retirement of her number one Grand Prix horse Jojo AZ, Agnete Kirk Thinggaard took over the ride on Don Olymbrio to have a clear shot at capturing a Danish team place for the 2020 Olympics in Tokyo.
Daniel Bachmann Andersen trained and competed the stallion up to Grand Prix level and has put all the buttons on the horse. Now Agnete needs to find the gears on the licensed Dutch warmblood stallion. 
"It has been a pleasure to take over a well-trained horse like him. He is polite, incredibly talented and just so lovely to ride," said Agnete. "I think we have pretty good control over most of the training, so the next step is the shows, which, as I said, begin this week. We take one event at a time and make plans for subsequent events on a continuous basis."
Training at Legacy Farm
At Legacy Farm, Agnete trains with Lars every day, but not all horses are schooled every day. She usually rides two horses for Lars and then she alternates a bit between the horses, so that they constantly get one or two days off from training.
" It really gives a boost to my education. Before, we trained mostly via Skype, and then when he was at home in Denmark before the competitions, but in this period we can really get to grips with some things and get in depth with the basic riding and various issues each horse has. It works well," said Agnete. 
Agnete also brought Atterupgaards Orthilia, whose last competition was in October 2018. The mare has been struggling with niggling injuries, but is now back on track.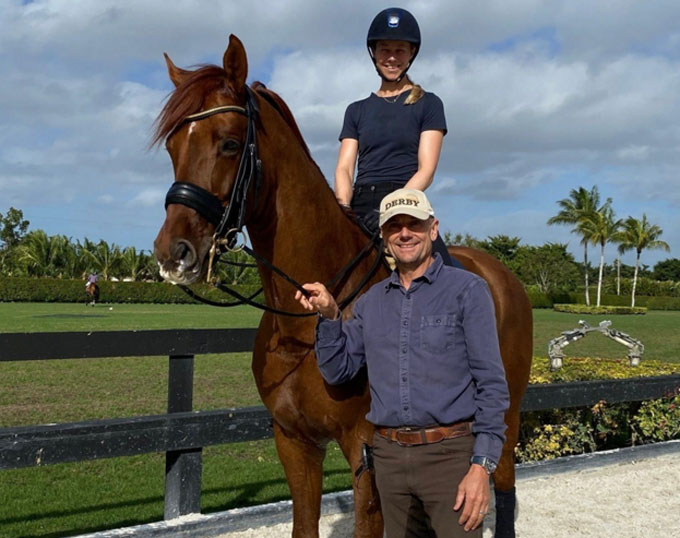 "She is now done with her actual rehabilitation and now we must train her up again," Agnete explained. "She is as amazing as she has always been, but it is clear that I am moving slowly and taking good care of her so that we do not get hurt again."  Kirk hopes to ride Orthilia in one or two shows later in the season. 
Agnete brought two grooms to Florida, Trine Ølgod and Katrine Seidelin, who are both enjoying working in the sunshine. 
"They knuckle down and are absolutely indispensable for this adventure to be realized," said Agnete. "It's team work, and no rider can work optimally without good grooms to take care of everything. It really is a team that has to work for it all to make those 6 minutes in the competition arena happen. I am really happy with my team."
Ready for the First CDI
Agnete could not compete in the first CDI of the 2020 Global Dressage Festival at the beginning of January, as her stallions had not yet left quarantine, but Don O and Zatchmo are all geared up for their first CDI-W this weekend, 23 - 26 January 2020.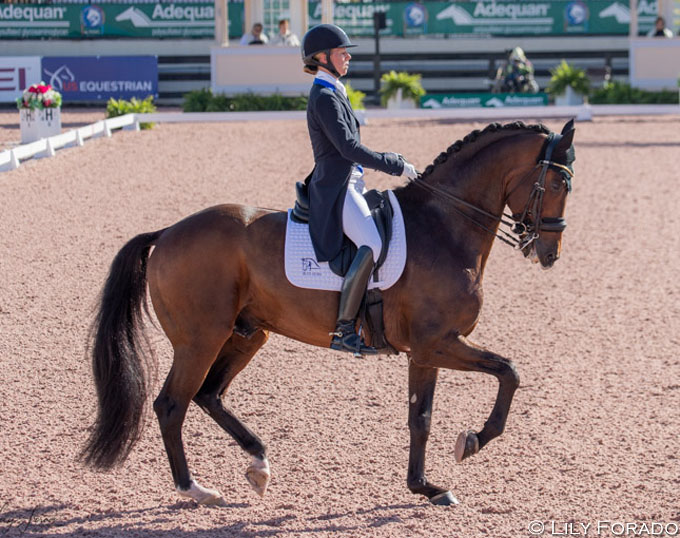 Agnete rode both stallions in the 3* Grand Prix on Thursday 23 January 2020 and placed second with Zatchmo (72.391%) and fourth with Don Olymbrio (71.783%).
Veneziano needs to go in two national Grand Prix tests, because riders are only allowed to start two horses in the CDI. Although Don O is a seasoned competitor at Grand Prix level under Bachmann, for Agnete it is her first outing on the liver chestnut. Also Zatchmo and Veneziano lack mileage at Grand Prix. 
"Experience must be gathered on all three horses, lots of experience, and preferably in record time," Agnete said with a smile as well as undoubted seriousness.
Photos © Lily Forado - private
Related Links
Agnete Kirk Thinggaard to Snowbird in Florida with Trio of Horses
Louise Leatherdale Buys Thomas Kirk Kristiansen's Wellington Farm
Blue Hors Don Olymbrio Changes Rider: From Daniel Bachmann Andersen to Agnete Kirk Thinggaard
Agnete Kirk Thinggaard to Retire JoJo AZ from Sport
Agnete Kirk Thinggaard Joins Team Blue Hors, Takes Over Ride on Veneziano