Austria
Nina Stadlinger's Olympic dressage horse and "one hit wonder" Egalité has passed away at the blessed age of 30 on 7 January 2020. 
"He was so healthy until the the 6th of January, when we fought for his life for nearly 10 hours and finally decided to put him to sleep because of a severe colic," Nina Stadlinger told Eurodressage.
Egalité was a 1990 born Westfalian gelding by Ehrentusch out of Funerailles (by Frühlingsrausch x Milan x Rasputin). He was bred by Josef Ulmker and originally registered with the FN as "Egalitee". 
Start in Germany
The bay gelding was first competed as a 3-year old by Marion Wilbers. Under the name Esquire he sold to Thomas Unger at the 6th Westfalian Elite Auction in Munster in October 1993. 
Unger began showing the gelding in 1994. In 1997 he took the horse to Katrin Bettenworth's yard to be sold and she briefly competed the horse, alternating with Unger. 
Through Swiss horse dealer Bernhard Ix, Egalité sold for a staggering amount of money - at the time in 1997 - to Austrian Michael Stadlinger as a junior rider's horse for his daughter Nina
From Juniors to the Olympics
Stadlinger and Egalité became a one-hit wonder. Her junior horse was so high quality that it took her all the way to the Olympics, trained by Günther Zach.
In 1998, Stadliner and Egalité competed at the European Junior Riders Championships in Hickstead, England and finished fourth in the individual finals.  In 1999, they won team bronze at the European Young Riders' Championships in Ksiaz, Poland. Individually she was tenth.
The exact same results - 10th individually - were achieved at the European Young Riders Championships of 2000 in Hartpury and in 2001 in Iserlohn, Germany.
Rocket Launch at Grand Prix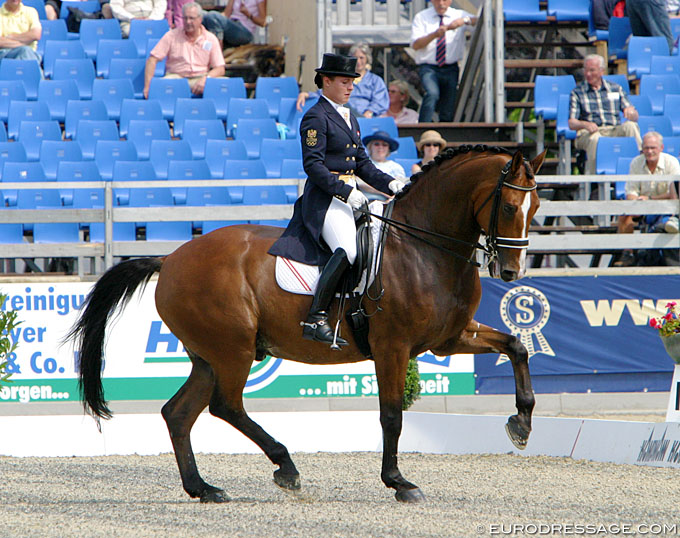 In 2001, Stadlinger and Egalité had already competed in two Grand Prix classes, just for fun.
In 2002 their Grand Prix career took a rocket start. After achieving excellent scores at their CDI debut in Jozefin, a stellar first 2002 CHIO Aachen followed and she also won the CDI Achleiten. They represented Austria at the 2002 World Equestrian Games in Jerez de la Frontera.
The pair became a solid member of the Austrian dressage team competing at the major (inter)continental championships without fail between 2002 and 2007. At the 2003 European Championships in Hickstead they were 16th and their career highlight - the 2004 Olympic Games in Athens - they landed place 25.
A the 2005 European Championships in Hagen they finished 43rd, and at the 2006 World Equestrian Games in Aachen they were 54th. At their last championships, the 2007 Europeans in Turin they were 30th. 
Sad Ending of a Brilliant Rider's Career
Stadlinger and Egalité did their last show in their home town Salzburg in October 2007. They finished second in the Grand Prix (68.542%) and second in the Kur (72.100%).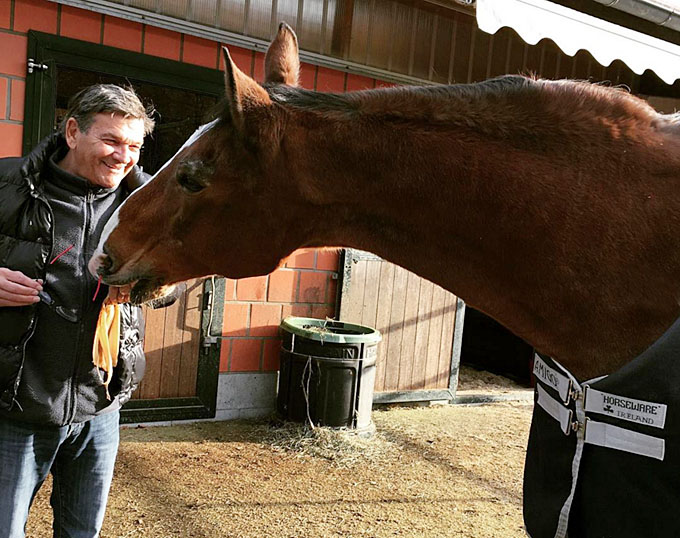 The retirement of Egalité in the autumn of 2007 also meant the slow end of Nina Stadlinger's riding career. Although she initially kept riding and had Liberte VC as successor in 2008 and 2009 (11th at the 2009 Austrian Championships), she only returned once to the CDI ring -  at small tour level in 2012 aboard Saxonian gelding Quandu (by Quando Quando x Korsar).
In 2012 Stadlinger was diagnosed with multiple sclerosis which put an abrupt end to her career. In 2017 Nina (39) married Austrian show jumping rider Wolf-Dieter Rihs (69), who represented Austria in eventing at the 1972 Olympic Games in Munich
In December 2019 Nina posted this message on Instagram with the accompanying photo of Dieter and Egalité: "o happy with my two darlings. Egalité (Emil) looks and feels just great-he is turning 30 soon. I'm so thankful for his wonderful life and his fabulous condition and the way he gets treated every single day. Also my wonderful husband Dieter brightens my life so much!  I am a REALLY lucky woman. Thank you both so much for giving all your love to me and make my heart filled with happiness! Hope that I can give you a bit of all this back."
"He was my best friend for more than 20 years and we had so many wonderful and embarrassing moments together," Nina told Eurodressage. "He could underperform when an arena was too much for him and was really scared and a little crazy, but he could also be a real genius and for example so nice with children sitting on him."
Photos © Astrid Appels - private - No reproduction allowed
Related Links
Eurodressage Photo Database: Egalité
FOCUS: Nina Stadlinger and Egalité
Austrian Team Selected for the 2007 European Dressage Championships
Austrian Team Selected for the 2006 World Equestrian Games
Austrian Team for the 2005 European Championships Selected
Austrian Olympic Dressage Team Selected
Nina Stadlinger Rides Olympic Qualifying Score at CDI Stadl Paura
Stadlinger Falls off Horse
Scores: 2001 European Young Riders Championships
Scores: 2000 European Young Riders Championships
Scores: 1999 European Young Riders Championships
Scores: 1998 European Junior and Young Riders Championships
Scores: 1997 European Junior/Young Riders Championships