2020 CDI-W Wellington
The 15-strong Grand Prix Freestyle CDI-W, presented by U.S. P.R.E. Association, produced a flurry of personal bests, at the 2020 CDI-W Wellington on Friday 24 January 2020. 
One horse after the other rose to the occasion in front of packed crowds for the evening class under lights in week three of the 2020 Global Dressage Festival.
Lagoy-Weltz Achievs Second Consecutive Win of the Week
Honors were reserved for the last-to-go combination of Olivia LaGoy-Weltz (USA) and her 16-year-old Lonoir who pulled off a spectacular new personal best of 80.495%, breaking the magic barrier for the first time. Juan Matute Guimon of Spain finished second, with the rainbow of flags from different nations on the podium being rounded out by Canada's Lindsay Kellock.
LaGoy-Weltz had revised her previous floorplan with the son of De Noir and increased the level of difficulty, resulting in some very impressive transitions, like extended canter into collected walk to a Simon & Garfunkel-themed soundtrack.
"We tried to choreograph it to make 80% possible," said LaGoy-Weltz, who is back in the international ring with Lonoir after an 18-month absence following a farrier issue. "We spent months setting it up for the highest degree of difficulty possible and then I just hoped we pulled off the technicality and the judges like the music.
"He can be incredibly hot but he came out and handled the warm-up and the applause super well. This whole weekend for me, having not been in the ring for such a long time, I feel like we really achieved what we set out to. He's a super horse and we are just tapping into what's to come. Overall it was the perfect night."
Matute Guimon and Kellock in Top Three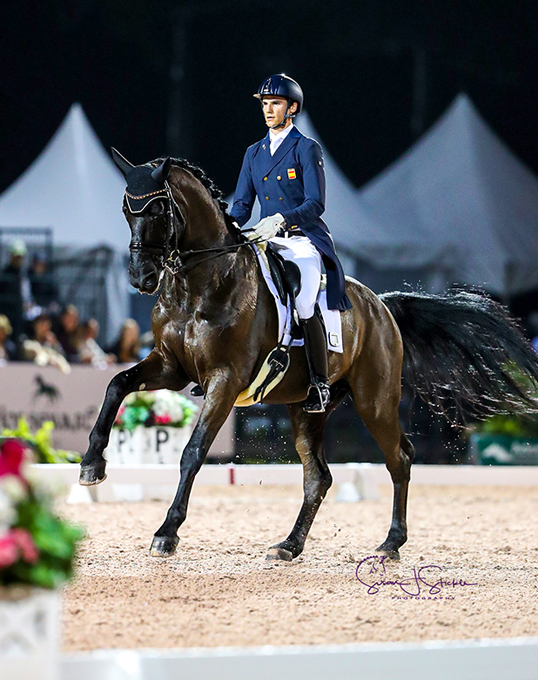 Matute Guimon's huge new personal best of 77.95% with his long-time partner Don Diego came in the very same arena that their pair rode their first grand prix in back in 2016. The 23-year-old came down the final center line on his father Juan Mature Snr's horse in positive two-time and then one-time changes, punching the air at the final salute.
"I was so happy," grinned Matute Guimon, who rode to a punchy Phantom of the Opera soundtrack. "I had such an unbelievable feeling form the first stride. We came with a mission to qualify for the World Cup Final in Las Vegas and this is a huge score for us, a personal best by far. I could not be more proud and thankful to pull off this performance here."
Lindsay Kellock's new personal best of 75.88% with Enterprise Farms LLC's 14-year-old Sandro Hit gelding Sebastien rocketed the pair to the top of the North American FEI Dressage World Cup League.
"He loves to perform, so when I went out there I felt the energy I had underneath me and knew he was going to do it," said Kellock, who rode to a Madonna compilation. "I made my choreography more difficult for this show and he definitely rose to the occasion; when I'm out there it feels like I'm dancing with him. We will probably do some grand prix specials now and hopefully work towards Tokyo. That's the goal."
Judge at C Jane Weatherwax (USA), who liked what she saw, said: "What I was most impressed with in this group was the harmony that was involved as well as the brilliance and the ease of being able to follow the choreography and the music for the top three. It was a pleasure to judge."
Darcourt and Bon Coeur Win 1* Prix St Georges
Nine starters contested the FEI Prix St. Georges CDI1* class, with the youngest horse in the field claiming the top spot. Swedish rider Caroline Darcourt piloted Bon Coeur 1389 to victory with 72.882%. Lövsta Stuteri's breeding stallion, by Benetton Dream FRH, is only eight years old but pulled off a harmonious and confident test to top the class.
Home rider Günter Seidel finished second on the 11-year-old Belissimo M gelding Beltano (71.324%), with Great Britain's Susan Pape filling third on another Belissimo gelding, the nine-year-old Bourani (70.529%).
Text by Alice Collins  - GDF press releases
Photos © Sue Stickle - Lily Forado
Related Links
Scores: 2020 CDI-W Wellington
Olivia LaGoy-Weltz is Back With a Bang in Week 3 of the 2020 Global Dressage Festival