2020 CPEDI Wellington
Team USA had a slight change up to their team members going into the second CPEDI in Wellington hosted in January, but it didn't change their winning ways. The U.S. Para Dressage Team concluded their second official outing of the 2020 season with a win in team competition.
Team competition began on Wednesday, January 22, and continued on Friday, January 24, while the individual FEI Para Freestyle Tests were hosted under the lights on Saturday evening.
U.S. Team Changes
Grade IV rider Kate Shoemaker had to withdraw from the show before the jog due to Kate having a scary immune issue affecting her eyesight.  
Roxanne Trunnell remained the anchor with Karin Flint's Dolton, a 7-year old Hanoverian gelding (by Danone I x Londonderry) in the Grade I.  In the Grade III, Rebecca Hart with Rowan O'Riley's 10-year old KWPN gelding El Corona Texel (by Wynton x Goodtimes) were called up again.
This week the second Grade I ride changed to Marie Vanderheyden on Eleanor Brimmer's London Swing, a  17-year old Hanoverian gelding (Londonderry x Rubinstein I) being promoted to the team after last show's success and Beatrice De Lavalette riding her own Duna, an 11-year old KWPN mare (by Vivaldi x Amethist) in the Grade II's filling in Kate's spot.
This show again had weather challenges; the first day team tests being very cold which made for fresh horses and for those with muscle spasticity, stiff riders.
Trunnell and Dolton Continue to Prove Form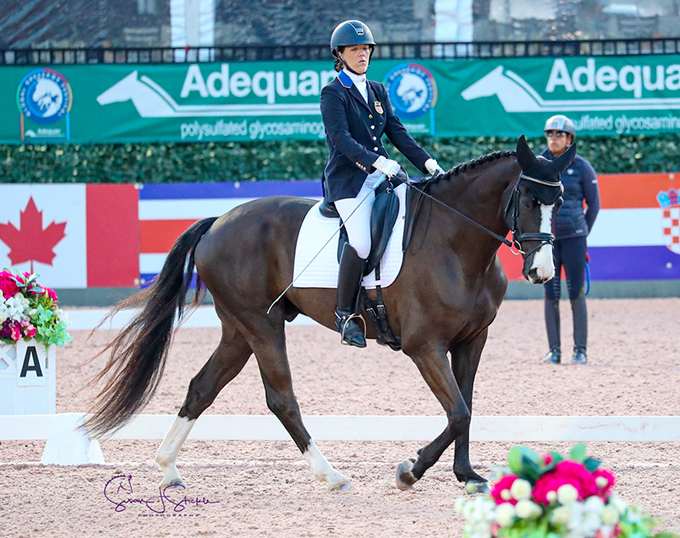 Dolton and Roxie were again very consistent, and although the scores weren't as high as the last show they still handily swept the Grade I.
"The scoreboard kind of bothered him during the freestyle that first week, but he's over that now. This week, I'm hoping to keep him up in the bridle more and keep him really marching, which he did really well today," Trunnell admitted after the team test. 
London Swing's experience made him very dependable and he and Marie obtained strong scores throughout the weekend, which was London Swing's final in CPEDI arena. Marie is going to pursue a study to help with her TBI, whereas London Swing is going into semi retirement as practice horse for a different Grade I rider.
Bea and Duna had an excellent team test getting their strongest score to date. However Bea became rattled in the Individual, going off course by walking instead of trotting into the area, and didn't quite get back to the brilliance of their team test. After challenges last week Tex was again spooky in the team test but Becca was able focus him in the Individual and he looked back in medal form.
"We have developed a consistency; every time we do a new test or a new show, I've improved," said De Lavalette, who was the most critically injured survivor of the 2016 Brussels terrorist attack. "Today, I did what I could with what I had. We've changed a couple things, so sometimes it works and sometimes it doesn't. It wasn't the best test, but every time I get on the horse I learn something new."
"I've only had her for six months, and I spent quite a lot of time in the hospital during that time which slowed the process of getting to know her, but in the last six weeks, it's been every day. She's a queen, but she knows when it's time to work," she added.
Assouline Thrilled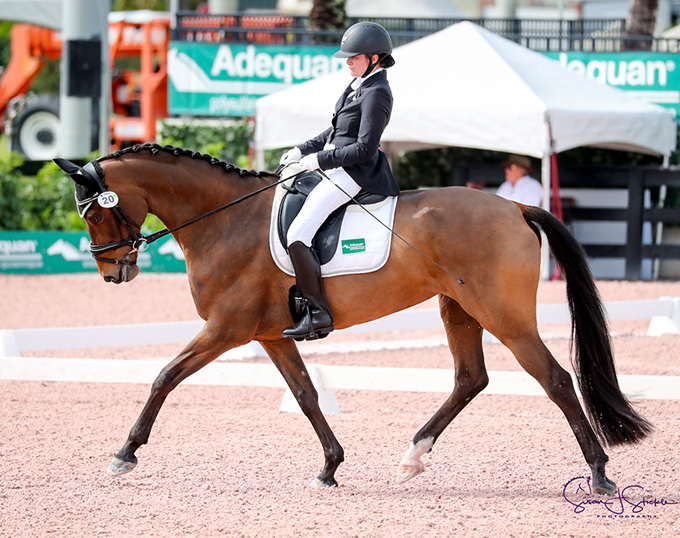 "We had in mind that we were going to try new combinations this week and what we did was put Beatrice and Marie into the group, and they did very well," said U.S. Chef d'Equipe Michel Assouline. "Marie was very consistent and finished on good scores. She had a high individual score of international quality in the Freestyle, and Beatrice did very well too. She had a great score the first day. She is going to continue working on fitness this spring, and she was able to score into the 70's, which is what we want to see."
"Roxanne and Rebecca did brilliantly – Roxanne did extremely well. As a coach and an observer, the quality of the work was incredible. I think it was one of the best Freestyles she's ever ridden and she's maintaining her progress," continued Assouline. "Rebecca experimented and rode in a double bridle on the second day, which she hasn't done in a long time, and we felt that it was a good decision. She had a great score in the Freestyle and the Individual Test. Our aim is to carry on with this progression and the final target is the June CPEDI in Tryon."
Canada Secures Tokyo Team Spot
Canada also made some slight adjustments to their team, adding veteran Lauren Barwick with Sandrino, a 7-year old Westphalian gelding (by Spirit of Westfalia x Pavarotti) to the team in Grade III, maintaining their two grade I riders Winona Hartvikson on Onyx, a 16-year old gelding (by Wolkentanz) and Jody Schloss riding her own 15-year old Danish Warmblood Lieutenant Lobin (by Lobster x Fanal Prydsholm). They also kept their Grade V rider Lee Garrod with her own 11-year old Oldenburg gelding Question (by Quarterback x Le Figaro).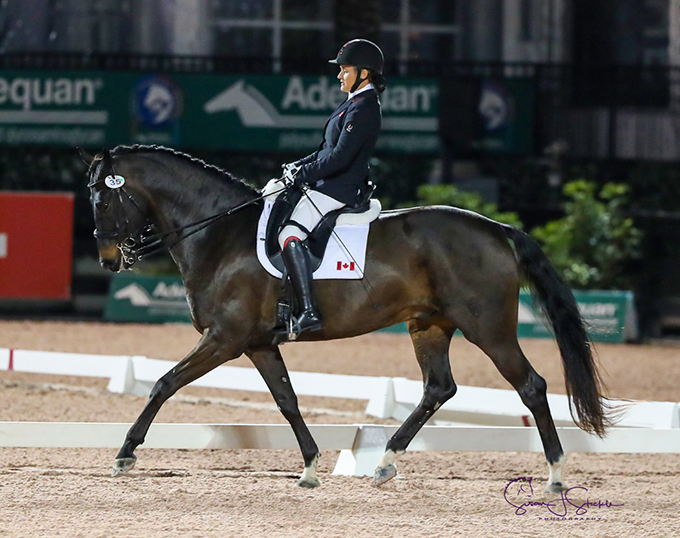 It was important for Canada to put forth a strong performance to maintain their ranking and earn a geographical allocation for Tokyo, which they seem to have accomplished. if Brazil goes above Canada at next week's CPEDI in Genemuiden, The Netherlands, then Brazil would take the regional place and Canada would get two individual places. 
Lauren has only been together with her mount for seven weeks but her veteran expertise really shown through and she won all three of the Grade III classes, after dealing with a tough elimination last week due an equipment issue.
"I've only had Sandrino for seven weeks, and that's the first time I've ridden him to that freestyle," said Barwick. "Under the lights he was pretty electric. It didn't look like it, but he's usually very mellow and I was pretty much chirping to him the whole time. He did his job, and that was just so amazing.
"I have a choreographer, Karen Robinson, who sent me 12 songs for my other horse," added Barwick. "His scores were going down in the freestyle, which isn't normal for him, but I loved the music. Then Karen thought it would work better for Sandrino and, sure enough, the judges liked it and the beat is good. He's smaller; my other horse is 17.3hh. You need to be a bit of a ballerina quarterback coming down the arena and my other horse is more like a linebacker."
Sydney Collier and All In One return to Competition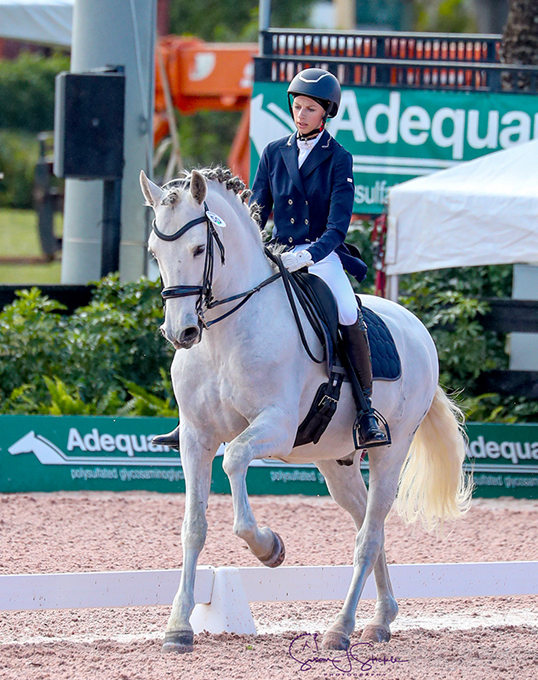 Sydney Collier was slated to enter the show in week one but had to withdraw due to her horse having a bad case of hives. She came in strong this week and was consistently second behind Roxanne. Sydney was last on the team for Rio as a Grade II, but has since been reclassified as a Grade I. She has an excellent partner in Georgina Bloomberg's All In One, a 10-year old Hanoverian gelding (by Abanos x Dauphin) and is working to establish herself again as a top team contender.
Also looking for a spot on team team to Tokyo was American David Botana with Margret Steven's 18-year old Trakehner stallion Lord Loxley (by Unkenruf x Enrico Caruso). This week competing as individual he also acquitted himself well. Para teams are limited to two riders per Grade and with so many strong Grade Is the choice will be down to the wire.
This week Mexican rider Erika Baitenmann Haakh returned to compete and her compatriot Ignacio Trevino Fuerte also joined her competing under the Mexican flag as a new Grade III rider. Erika and her mare Leonora came away with the Grade II freestyle win. Global also welcomed Cayla Van Der Walt in the Grade V with her own Daturo II riding for the Republic of South Africa. Kayla won the Grade V team test.
Brimmer and Richelieu Stensvang Develop Partnership in 2* Division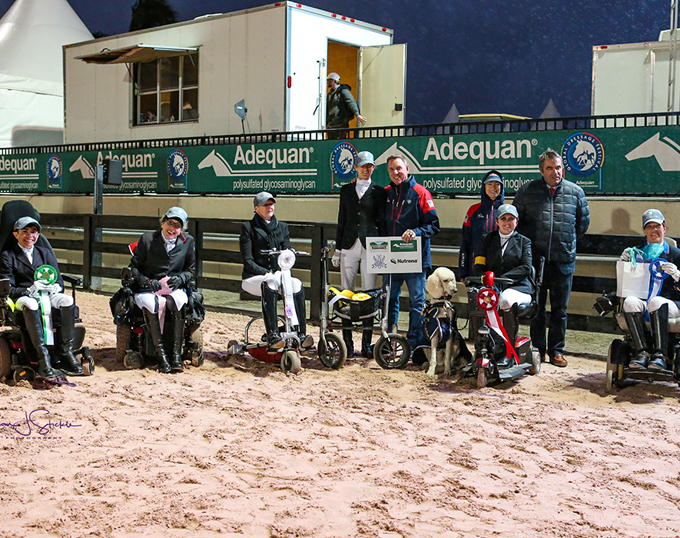 In the two star division Eleanor Brimmer put forth consistent performances on the 6-year old Danish Warmblood Richelieu Stensvang (by Blue Horse Rockefeller x Blue Horse Don Schufro) . He was found in Emma Ahlburg's stable in Denmark three months ago with the help of her coach Andrea Woodard, who also trains USA star Roxanne Trunnell.
In the one star division Beatrice De Lavalette returned with her young horse Sky High 15 and Cynthia Screnci brought out her partner Eragon VF who is returning to fitness after some downtime.
"It was such a different atmosphere running with the CDI. We had so many people engaging with the program and our athletes. I think the competition schedule was very beneficial, not only for our competing athletes, but also successfully brought more exposure and interest in the program, which is very promising," Assouline concluded.
- by Ellie Brimmer, edited by Eurodressage
Photos © Sue Stickle
Related Links
Scores: 2020 CPEDI Wellington
The Race for Paralympic Places Continues, Half-way Through a Frantic January 2020
Team U.S.A Secures Victory with Near World Record Scores at 2020 CPEDI Wellington