U.S.A.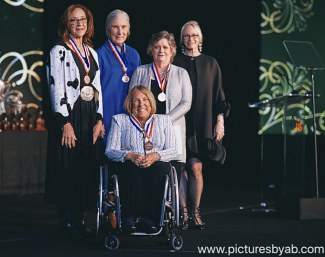 On January 10, 2020, equestrians gathered at the U.S. Equestrian Federation Annual Meeting in West Palm Beach, Florida. Top athletes, owners, horses, and supporters were honored for their dedication to the equestrian sport. 
USPEA President Hope Hand (Newtown Square, Penn.) was awarded the Pegasus Medal of Honor that evening in front of a large and grateful crowd.
Hand was commended on her interminable push over the past 25 years for growing the Para-Equestrian discipline from the grassroots through the high-performance level. The Pegasus Medal of Honor was created as an annual award to recognize individuals who have exhibited outstanding service to horses and the sport through their dedication. The Pegasus Medal of Honor was earned by individuals who have excelled in attracting people to the sport and have contributed to horse sport by advancing its popularity. Hand's contributions to the sport have extended from being a Paralympic athlete to President of the United States Para-Equestrian Association to numerous board and staff positions within the international sport. Hand's efforts occur on a daily basis to support and grow the sport she loves for both the horses and disabled athletes. Hand wears many hats including being both ambassador and role model.
Hand has been a part of Para-Equestrian since it was a network of therapeutic linked shows, borrowed mounts as catch rides, the introduction of Paralympic Equestrian, joining USEF, the addition of Para-Driving, and the first World Equestrian Games with Para-Equestrian Dressage. Hand has been the wheels that made Para-Dressage a talked about sport but she rode to top medals in her equestrian career.
Hand was an alternate of the 1996 Atlanta Paralympic Team and competed at the British Invitational in 1997, earning gold and a bronze. In 1998, she was one of the four disabled riders competing at the Bradshaw Challenge of Champions. As a member of Team USA, she won a bronze medal at the 1999 World Dressage Championships in Denmark and competed at the 2000 Paralympics in Sydney, Australia. From riding to ambassador Hope has helped propel the sport to where it currently stands.
In 2018, Hand witnessed the U.S. Para-Equestrian Dressage team earn four medals at the FEI World Equestrian Games™ Tryon. For Hand, this was a pinnacle moment where every phone call, every plane flight, every clinic and every ride down centerline was worth it all. With her cheerful personality and ability to accomplish any goal she sets forth, the Para-Equestrian sport continues to have a champion leader who gives it her all for the riders, coaches, sponsors, volunteers, show managers, and all involved.
Many of those riders, coaches, sponsors, volunteers, and show managers would say their first interaction with Para-Equestrian began with Hope Hand. Her words of encouragement and expertise are always welcome to newbies in the equestrian world.
Top international athlete Katie Jackson remembers that moment for her, "Hope was one of the first people I met when I began looking into para-dressage after my cancer. I will always be grateful to her for how comfortable and welcome she made me feel as we sat together and she shared information with me. Her enthusiasm and love for the sport were immediately apparent. Hope has dedicated herself to furthering the para-equestrian sport and is someone I look to as a role model. She is generous in sharing her knowledge and experience and has devoted significant amounts of her time to para-sport on all levels. From her involvement with USEF, USPEA and her participation at the FEI level, to welcoming new riders at symposiums across the country and being ringside, always smiling and cheering on the riders, Hope is a true ambassador of our sport. I cannot think of a person better suited to receive the Pegasus Medal of Honor."
Tina Wentz who served as a National Para equestrian classifier and later a FEI International classier and currently serves on the board of the USPEA, is a selector for the U.S. Team, and was mother to the late Paralympian Jonathan Wentz joins Hand at many events and has been a part of the sport since 1998. Wentz said sincerely, "Sleep may be the only thing Hope Hand does not do well and it would be no wonder since she gives 110% of her boundless energy and time to Para-Equestrian Sport and Para-Dressage. Constantly promoting, recruiting, educating and encouraging everyone she meets as she travels at her own expense to all US International and National Championship competitions and to numerous Para Dressage symposiums, clinics, and Centers of Excellence. Hope not only knows every US Para-Dressage athlete from emerging to elite but recruited many of them and is available 24/7 to all to advise, encourage and educate them on their journey to be the best. Hope is well known in the Equestrian world for her tireless work in advancing Para-Equestrian sport and has served and is serving on numerous Boards and committees. All in the pursuit of bringing competition excellence to the US in Para-Dressage."
Managing Director, USEF Licensed Officials Sally Ike commented, "I hadn't known that Hope was going to receive the Pegasus award until that evening when I saw her before dinner and congratulated her. Her acceptance speech brought back so many memories when she mentioned my name. I was first introduced to Hope about 25 years ago when I had a phone call from Jumper rider Debbie Stephens. Debbie called to let me know that her friend Hope Hand was going to call me. Most specifically, Debbie alerted me that Hope was in a wheelchair, and then clarified her statement by saying that there was nothing handicapped about her. Hope called, and brought some of her friends to help me with a clinic we were doing at the USET in Gladstone. They did wheelies down the ramp to the USET's Indoor. The first Paralympic Games were a few years afterward. An argument could be made that the Para-Equestrian movement in the United States began those November days at the USET. We have so much to thank Hope for; there is not a more deserving winner of this award."
When Hope is not on the road or in a plane she is back home with her husband Stan (who she has been married to for over 37 years) on a 16-acre farm living just behind Radnor Hunt in Chester County, Pennsylvania with daughter Amy, son in law Eric, and two grandchildren.