2020 CDI-W Wellington
It was a head-to-head between two titans in the Grand Prix CDI-W,. The two as-yet unbeaten USA pairings of Steffen Peters (Suppenkasper) and Olivia LaGoy-Weltz (Lonoir) tussled for the top spot on the opening day's action of week five of the 2020 Global Dressage Festival (GDF) in Wellington, Florida, on 6 February 2020.
Brick by Brick
It was Peters, the last to go of the 23 combinations, who stamped his authority on the class, claiming victory with a new personal best of 76.869% on Four Winds Farm's 18.2hh gelding by Spielberg — including a high score of 79.13% from Swiss judge Hans Voser (Peters' lowest score was 75.543%). The test was peppered with eights and nines for a wide variety of the high-quality work.
"Every show has been getting a little bit better," said the 55-year-old California rider, who has built the giant horse's confidence brick by brick in the early part of the GDF 2020 season. "I was super excited because in the walk I heard the tents flapping, but 'Mopsie' didn't hear it and that's a huge step forward because that really threw him off the first week when we competed here. The Wellington arena is the plan to give him the exposure for the future.
"When a horse is this rideable, so soft in the contact, so perfect in the frame, he goes forward at any time, he comes back at any time, he goes sideways at any time so easily — so extremely rideable — it's a feeling that you can't give less then a 10," he added. "I wish the judges could experience the incredible feeling that this horse can give."
Despite career-high scores, Peters feels that there is still even more to come from the 12-year-old as he continues to gain in confidence in the ring: "It's super exciting to get a 79% from one judge. Both Debbie [McDonald] and I feel that there might be an 80% in there and it doesn't hurt to dream about and visualise that. The goal is there."
Last Hurdle Before Las Vegas World Cup Finals Ticket
The top 15 combinations from this class return on Friday night to contest the World Cup™ Grand Prix Freestyle to music under lights and in front of packed stands.
Friday night's freestyle will present unique challenges for the incredibly sensitive and reactive Suppenkasper, but Peters asserts that everyone will know right away how the horse is coping with the atmosphere: "The first halt will tell everything," he explained. "If I get him to stand still right at the beginning of the arena, we're starting with a huge extended trot, then coming to the piaffe. If those early movements work, I think most likely we're in good shape. But it's a huge hurdle.
"If it goes great, then that's the ticket to the World Cup™ Final in Vegas [in April]. Some people say you can't talk that way or you'll jinx it, but I've learnt to dream more, visualize more — and why shouldn't it happen tomorrow night? I have amazing memories from 2009 [when Peters won the Final on Ravel] and I look at the picture on my phone of me holding up that World Cup trophy every single morning. I have a certain routine from lots of coaches and I listen to people like Denzel Washington, Oprah Winfrey and Morgan Freeman who motivate me. I go through that routine every single morning," concluded Peters, who was on the bronze medal-winning USA team at the Rio Olympic Games in 2016.
The top six in this class all broke the 70% barrier, with Lagoy-Weltz coming closest to Peters on 73.891% and Denmark's Agnete Kirk Thingaard filling third with 71.413% on the 11-year-old Blue Horse Zatchmo, the youngest horse in the field.
Seidel and Beltano Take PSG 1* Win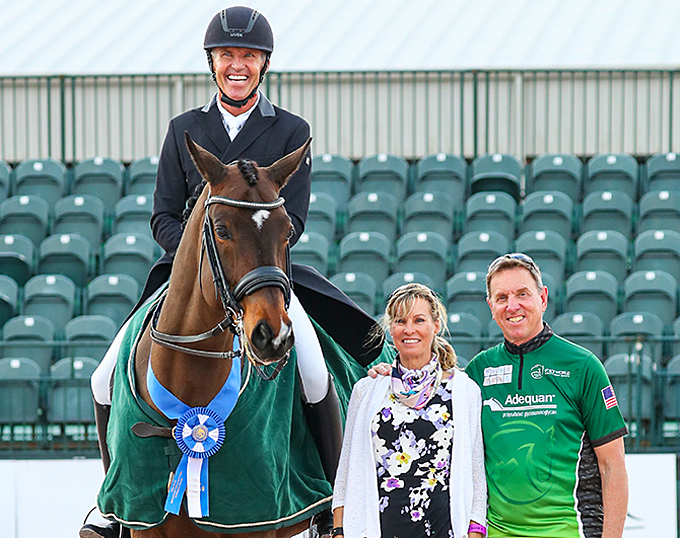 Guenter Seidel (USA) and Louise Leatherdale's Beltano recorded their first international win together, topping the Prix St. Georges CDI1* with 72.892%. The 11-year-old gelding by Belissimo M pipped Bon Coeur and his Swedish rider Caroline Darcourt into second by the narrowest of margins, with just 0.1% dividing the top two in a class of 16 starters. The winning score was a new personal best for Seidel and Beltano at the level.
In the CDI3* class at the same level, Danish rider Carina Nevermann paired up with Korean rider Dong seon Kim's eight-year-old Bordeaux gelding Bordolino 8 for the first time, and topped the board with 70.931%. She was the first to go and was riding the youngest horse in the class. Danish professional Carina Nevermann Torup is in Wellington for the winter as one of two main riders at Helgstrand Dressage's sales barn. 
Text by Alice Collins, edited by Eurodressage - GDF Press release
Photos © Sue Stickle
Related Links
Scores: 2020 CDI-W Wellington
Guenter Seidel is Back with Second Leatherdale Horse Equirelle W
Agnete Kirk Thinggaard Savouring the Florida Sun, Kicks off First CDI in Wellington
Irving and Peters Win Grand Prix Classes on First Day of 2020 Global Dressage Festival