2020 CPEDI Wellington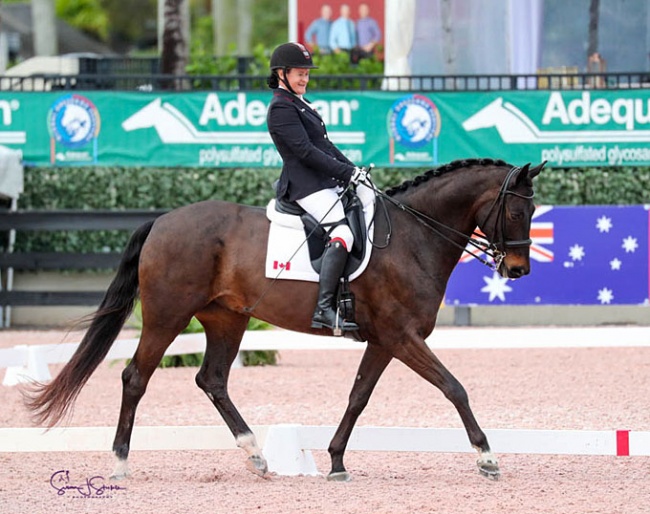 Watching Lauren Barwick and Sandrino compete at the Global Dressage Festival (GDF) in Wellington, FL, during January 2020, anyone would be forgiven for thinking the Canadian Paralympian from Reddick, FL, and Lee Garrod's gelding were a veteran partnership. But the truth of the matter is, their journey together has only just begun.
New Partnership
Lauren acquired the ride on the eight-year-old Westphalian (by Spirit of Westfalia x Pavarotti) on 24 November 2019, with a shortened timeline to bring him into the international ring in time to qualify for the Tokyo 2020 Paralympics.
In addition to the usual training of movements and tests, Lauren and her assistant, Erin Paul, needed to fast track Sandrino's education on Lauren's specific needs as a Grade III athlete.
After an accident in 2000 left her paralyzed from the waist down, Lauren uses the FEI approved compensating aids of her voice and two dressage whips as substitutes for leg aids.
Retrain Sandrino for Para Dressage
The first step in the process was to retrain Sandrino's understanding of the dressage whips, or "sticks", as Lauren prefers to call them. She explained: "[The horse] has to know that he is not going to be reprimanded with the sticks and that they are just an aid. So, we rub him with them and carry them without using them much at first. We also start using them on the ground so he can understand how to move off them without me in the saddle; if a horse is confident on the ground, often they will understand in the saddle. Then we use the stick as our new aid and follow up with the old aid. So, use the sticks, then use the leg. Eventually we need to use the leg less and less."
The dressage whips are intended to relay commands for lateral movement, rather than forward movement. When forward movement is called for, that's when Lauren's voice commands come into play.
"I train my horses to one cluck for trot and two clucks for canter," said Lauren. "The two clucks are because the first cluck is a predatory sound to create awareness and the second that comes closely after is the command. Of course, I use my core and seat to also suggest something is about to happen. For more gait-within-gait, like an extension in the trot without changing to canter, I teach them to move forward from a long kissing/smooching sound. I get really good at making these sounds and when my assistants start riding my horses, I tell them they need to start kissing their boyfriends more! So, it's the same thing: we come with the sound, then the sticks, then the old aid that they understood. Again, we teach this on the ground, as well. The other big voice aid I use is breath out; it signals to slow or halt. We ride around cones, barrels, trees and fence lines and stop while I do a large exhale – it's kind of like an invisible voice command."
Show Debut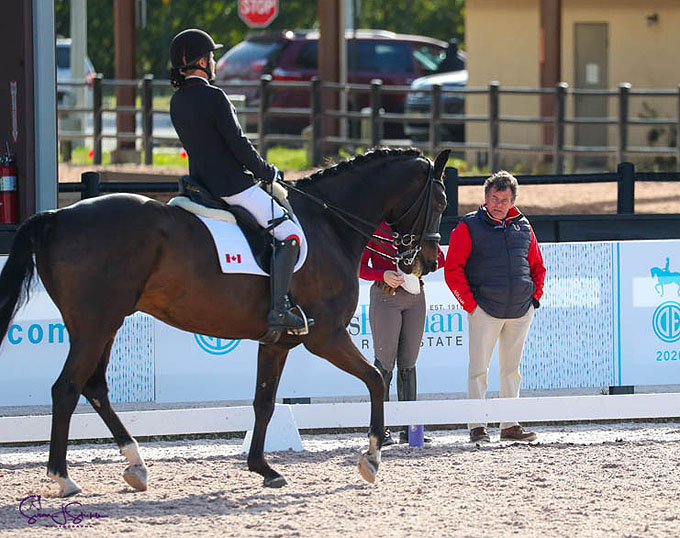 Lauren and Erin began to unpack all these concepts into their very first week with Sandrino. In no time at all, it was time to compete at their first show: a national competition that was a qualifier for GDF.
"Normally I would never try to put a test together in such a short period of time; instead, I would give the horse time to learn how to go without the use of my legs," commented Lauren. "There are numerous tasks in our technical test that we had to just put a Band-Aid on so that we could get the test put together."
The Band-Aid worked, and Lauren and Sandrino qualified for GDF. Turning their focus to international competition, they then zeroed in on the technical movements with the largest coefficients to optimize their chances of a high score. For the CPEDI 3* Grade III tests, these movements included leg yields and three- and four-loop serpentines that incorporated three to five medium walk strides across the centreline. 
"The four-loop is quite challenging as we are in a 20m x 40m arena, which means we do a 10m half-circle and then walk and repeat," explained Lauren. "For some of the advanced horses, they can get a little collected and think canter or piaffe steps. For us, the legs yields ended up being the hardest thing to train because when I touched Sandrino with the stick, he thought canter. I would hold my breath every time I had to do them."
Lauren added, "The other main thing I try to get good early is the halts since there are three of them in the test. Halts are a challenge for me to feel if [the horse is] square in the hindquarters because I have no feeling from the hips down. If they adjust a hind foot to square up, I really don't feel it, so I need to have a horse that is very honest about squaring up. I have good trainers and assistants who understand what I am looking for in feel and timing. Our Team Canada technical support was super in helping me realize what I could ask for and what to not over-think or over-ask for. I've been reminded to keep it simple, easy, and build Sandrino's confidence, as he's only eight."
Struggling with Saddle Fit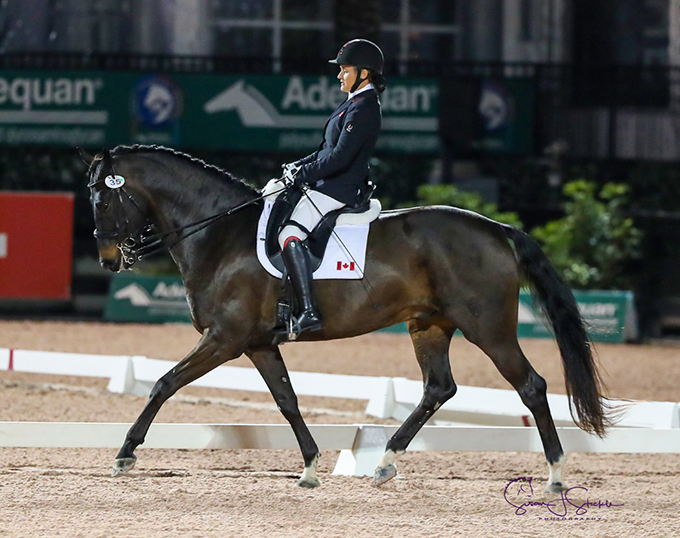 Despite so many elements to consider and practice, training was actually the least of Lauren's worries: the combination also struggled with the all-too-common problem of saddle fit. Lauren's saddles are specifically adapted so that she can balance, but Sandrino felt restricted in her current options. So, Lauren rode Sandrino in a saddle that fit him well but didn't support her in the way she needs.
And so, having tackled incredibly complex training questions in a matter of mere weeks and making do with the equipment at hand, Sandrino made his FEI debut under the bright GDF 1 lights. On Jan. 9, 2020, he and Lauren came away with a commendable score of 69.500% in the CPEDI 3* Grade III Team Test. Two weeks later, the combination returned for GDF 3 to record their first two wins and Sandrino's first score above 70%: an impressive 75.133% in Jan. 25's CPEDI 3* Grade III Freestyle. 
"You have to have fun out there and I think he has that sparkle," said Lauren of Sandrino. "He is a super smart guy and honestly has a great head and temperament. He might get a bit exuberant, but he really wants to be obedient. Those two things in the dressage arena, along with partnership, will make us a winning team."
Text by Equestrian.ca - Photos © Sue Stickle
Related Links
Team USA Remains #1 after Second 2020 CPEDI Wellington
Team U.S.A Secures Victory with Near World Record Scores at 2020 CPEDI Wellington
Grade II: Naepel and Barwick Win Individual Gold Medals