Hanoverian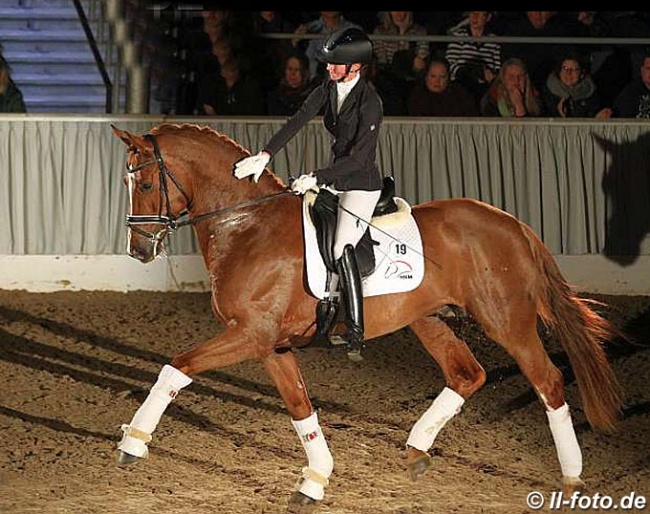 Four young dressage stallions - Zoom, Bailador, Damaschino, and Danciero - were awarded with the 2020 Weltmeyer Prize, by scoring top notes in their stallion performance tests. 
The breeders of these stallions were honoured at the show of the privately owned stallions in Verden on 9 February 2020. 
The Weltmeyer Prize recognizes young stallions, approved for Hanoverian breeding, that have obtained exceptional results in the performance test. While initially the Hanoverian Society only celebrated one top stallion each year, since the renaming of the award into Weltmeyer Prize, multiple stallions became winners of it each year. First there were three, last year five and this year four !
Bailador (by Benicio x Florencio - breeder: Susanne Geffke, Cuxhaven, station: Sönke Rothenberger and Birkhof Stud) completed his 50-day test in Schlieckau in November 2019 with an overall score of 8.61. He not only convinced with outstanding basic gaits but also with his very good interior.
In Warendorf, Damaschino (by Danone x Fidertanz (breeder: Burkhard Wahler, Bad Bevensen, station: Klosterhof Medingen)) was celebrated as the shining Bundeschampion of three-year-old stallions. At the test in Schlieckau in November, the expressive liver chestnut got the highest scores of the lot. The test riders scored 9.75. He received an even 10 for his overall impression. he won the 50-day test with a final score of 9.35. A great success for Burkhard Wahler: Last year his stallion Dostojewski (by De Niro x Latimer) was awarded the Weltmeyer Prize at the same place.
As a premium stallion, Danciero (by Dancier x Floriscount (breeder: ZG Broers and Weber, Aurich, station: Helgstrand Dressage)) was approved at the Verden stallion licensing two years ago. Three quarters of a year later, the black became Hanoverian Riding Horse Champion under Eva Möller. Danciero came fourth at the 2019 Bundeschampionate. Back in Denmark, he shone with an ideal score of 10 in the foreign rider test at the 35-day test in Randers/DEN and set an impressive mark with an overall score of 9.11.
Zoom (by Zack x Don Schufro (breeder: Dorthe M. Jeppesen, Lenzburg/SUI)) belongs to the Warendorf State Stud. He already attracted attention at his licensing in December 2016 and was awarded the premium status. Both sport tests showed that his valuable pedigree keeps what it promises. In March 2018, he was the outstanding winner of part I in Münster-Handorf with a final score of 8.51. Last year Zoom qualified with his rider Beatrice Buchwald for the Bundeschampionat for five-year-old dressage horses. He is now in training with Helen Langehanenberg.
Photo © LL-foto
Related Links
Despacito, Destacado, Dostojewski, Finnigan and So Unique Get 2019 Weltmeyer Prize
Don Martillo, Bon Coeur, Falihandro Win 2018 Weltmeyer Prize
Libertad and Emilio Sanchez Receive 2017 Weltmeyer Prize
Frisco and Lasogga S Receive 2016 Weltmeyer Prize
Donatus, Furstenhof, Dantano Win 2014 Weltmeyer Prize
Del Magico, Sporcken, Quasar de Charry Receive Inaugural Weltmeyer Prize
Dancier, Best Hanoverian Stallion of the Year 2002
Royal Blend, Best Hanoverian Stallion Born in 2001
Re Primeur, Best Hanoverian Stallion Born in 2000
Earl, Best Hanoverian Stallion Born in 1999