Germany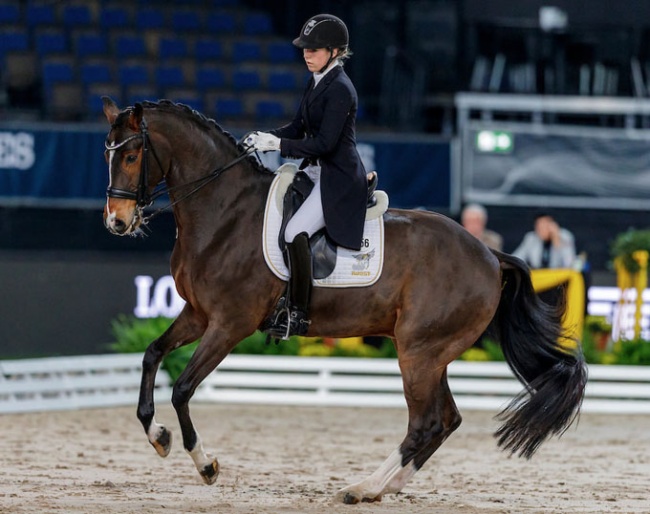 The German equestrian federation has announced the combinations that qualified to compete in the 2020 Piaff Forderpreis, the national show circuit for German Under 25 riders.
The combinations for each annual Piaff Forderpreis are decided at a special training and selection seminar at the DOKR headquarters in Warendorf.
This year a total of 28 riders with 36 horses came to Warendorf. Thirty pairs competed in the short Grand Prix test to assess their level. They were judged by Plewa, Ebert and Eisenhardt. Afterwards each ride is commented on by German team trainer Monica Theodorescu, so that each rider goes home with a video and tips for practice. 
"Most riders came with their home trainer. We assess and support them the first days of the training to get an image of the individual combinations," said German U25 trainer Sebastian Heinze. 
The winner of the practice test in Warendorf was the brand new pair Anna-Louise Fuchs on the 10-year old Chilly Jam (by Romanov x Compliment). Fuchs scored just over 74% in her brand new acquired horse which was previously trained by Antje Fehl and Alexandra Sessler. The new pair is coached by Dorothee Schneider. Paulina Holzknecht and Ein Traum were second, followed by Kristin Biermann on Queensland. 
Nominated for the 2020 Piaff Forderpreis show circuit are: 
Biermann, Kristin (- Queensland
Evelyn Eger - Whitley
Anna-Louisa Fuchs -  Chili Jam DSP
Paulina Holzknecht -  Ein Traum
Rebecca Horstmann - Friend of Mine
Jessica Krieg (- Sergio Leone
Leonie Laier - Seven Heaven
Lune Karolin Müller - Seal
Joana Peterka - Davidoff ter Kwincke
Cathrina Rasch-Günther ( -  Didgeridoo
Alexa Westendarp - Der Prinz and Hickstedt
The five members of the German Under 25 squad (Abbelen, Becks, Lindner, Netz and Schessl) are automatically qualified and did not need to show up at the selection seminar.
The Piaff Forderpreis begins in Mannheim (1 - 3 May), followed by Wiesbaden (29 May - 1 June), Bettenrode (8 - 12 July), Ising (4 - 6 September) and the finals are in Stuttgart (11 - 15 November). 
Photo © Stefan Lafrentz
Related Links
Bianca Nowag Wins 2019 Piaff Förderpreis Finals in Stuttgart
Westendarp Wins 2019 Piaff Forderpreis Selection Trial, Sixteen Riders Qualified for 2019 Show Circuit