2020 CDI Bawley Point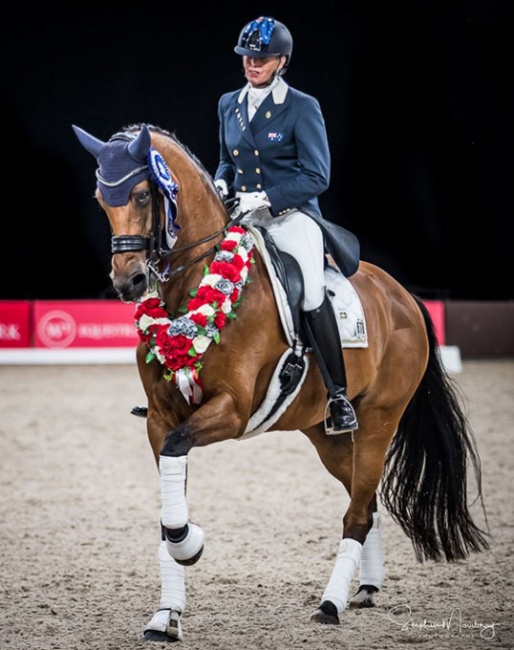 In front of an electric crowd in Willinga Park's Covered Arena, Mary Hanna and her 13-year- old KWPN mare Calanta made history, setting a new Australian Kur record score in the Grand Prix Freestyle at the 2020 CDI Bawley Point. 
Mary, a veteran of five Olympics, gave a powerful performance, scoring 80.145% and breaking Kristy Oatley and Du Soleil's 2018 record of 79.330%. Mary's score is the first time an Australian has ever scored in the 80 percentile for Grand Prix Freestyle.
"I never thought it would happen"
'I always dreamed I would score 80% but to be honest, I never thought it would happen. I waited long enough,' laughs the 65-year-old.
Mary has had a dream run during the two weeks of back to back competition at Bawley Point - the show is called Dressage by the Sea 2020 - winning all six Grand Prix classes, bringing her one step closer to Tokyo and what could be her sixth Olympic games.
Hanna has shipped all her two Grand Prix horses - Syriana and Calanta - home to Australia instead of keeping them in training at Patrik Kittel's in Germany over the winter. Mary's daughter Gitte Donvig got seriously injured in a riding accident, sustaining head trauma, in October 2019 and Mary wanted to stay close to her in Gitte's time of recovery. Hanna made more big changes to her life and also sold her equestrian property Statene Park on the Bellarine Peninsula. 
New Zealand on her Heels
Keeping the pressure on Mary throughout the entire competition has been two New Zealand riders, Melissa Galloway and John Thompson, and their young horses. And they didn't let up last night, with nail-biting performances from both.
Twenty-six-year-old Melissa and the New Zealand -bred Windermere J'Obei W placed second on 75.655% whilst John Thompson and JHT Chemistry came in third with another strong performance and a score of 74.905%
'Melissa is set to become New Zealand's top rider,' notes Mary Hanna. 'She has a wonderful, modern style of riding. It's Dressage for the future.'
Top Five
The high scores continued, with Alycia Targa and CP Dresden placing fourth on 74.3190% and Mary Warren on Mindarah Park Raphael placing fifth with 73.675% Last year's winner, Fiona Selby, put a beautiful test on the board scoring 70.840% however with a remarkably strong field, this score put her in 10th place. Such a high number of scores in the 70s is very encouraging for the sport of Dressage here in Australia.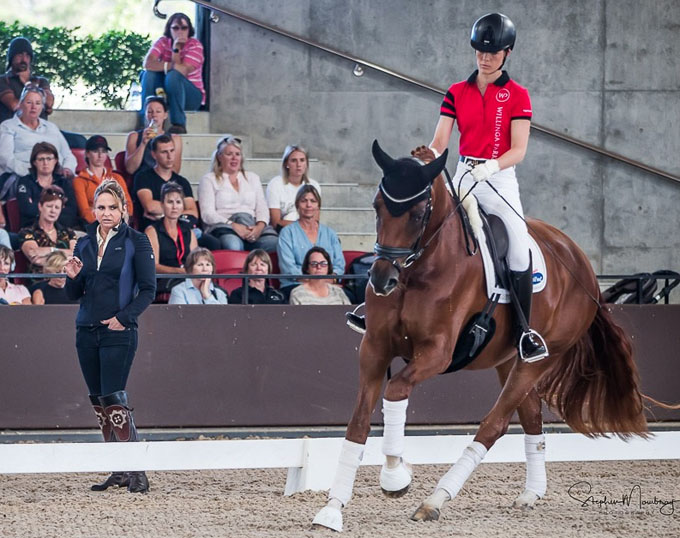 This year, Willinga Park welcomed the expertise of Gotthilf Riexinger as President of Ground Jury for the first event of Dressage by the Sea, along with a Ground Jury consisting of Anne Gribbons (USA), Magnus Ringmark (SWE), Susan Hobson (NZL), Maria Schwennesen (AUS), Mary Seefried (AUS), Ricky Macmillan (AUS), Kerrie Swan-Bates (AUS), Connie Murray (AUS) and Jane Ventura (AUS). Eduard De Wolff Van Westerrode (NED) was also presiding as FEI Foreign Judge.
'The concept of Dressage by the Sea has always been to bring leading judges from the international dressage industry to Australia, to give our riders the opportunity to benchmark themselves against world standings.' Says Terry Snow, Executive.
'It's heartening to see such outstanding results from both ends of the spectrum. We have a veteran superstar in Mary, alongside wonderful young riders such as Melissa Galloway,' says Terry Snow. 'We're proud to have this new Australian record scored here at Willinga Park. This perfectly supports our vision of raising the profile of the sport and providing an international platform to bring out the best in our athletes.'
Nine Day Dressage Festival
During the three-day break between Event 1 and Event 2 of Dressage by the Sea, Willinga Park is hosting the 2020 FEI Regional Dressage Forum which returns to Australia for the first time since 2005. The Forum culminates in a masterclass by world number two, Dorothee Schneider, on Thursday 27th February.
Willinga Park's, Terry Snow, says 'We've created a nine-day festival of dressage, where Australian riders not only get to compete in front of international level judges, but also immerse themselves in the industry from every facet. We're very pleased with how the format is being received.'
Photos © Stephen Mowbray
Related Links
Scores: 2020 CDI Bawley Point
Scores: 2020 CDI Bawley Point
Hard Work Pays Off for Mary Hanna, Syriana Shines at 2019 CDI Deauville
Gitte Donvig Hospitalized with Head Trauma After Fall from Horse