Danish Warmblood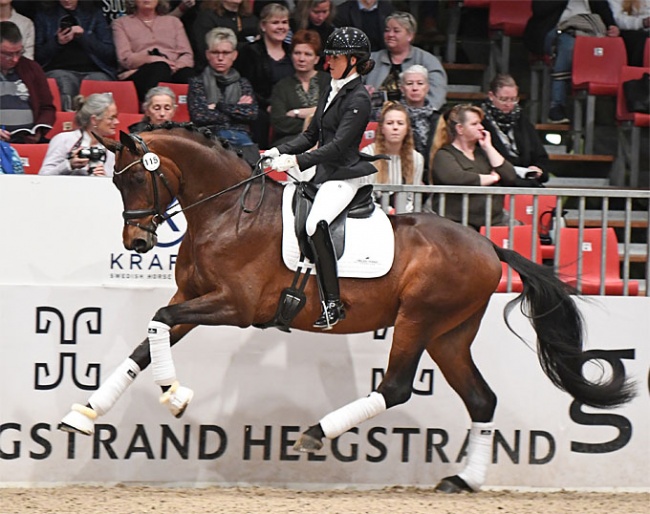 On the first day of the 2020 Danish warmblood stallion licensing in Herning, Denmark, 31 older stallions were approved for Danish breeding. 
Twenty 4-year old and older dressage stallions as well as eleven 4-year and older show jumping stallions have been fully licensed in Danish Warmblood.
The Danish warmblood society requires newly licensed 3-year old stallions to re-appear at the licensing the next year as a 4-year old before they are approved for life as a breeding stallion. 
4-year old:
Atterupgaards Barcelo (by Bon Coeur x Caprimond) - Owner: Helgstrand Dressage & Atterupgaard  - Breeder: Kristine Munch Nielsen – fully licensed
Danciero (by Dancier x Floriscount) - Owner: Helgstrand Dressage ApS og Paul Schockemöhle  - Breeder: Broers + Weber H. Broers & Joh. Weber  – fully licensed
Duke (by Dimaggio x Sir Donnerhall) - Owner: Kristin Andresen og Equi Stallion  - Breeder: Dieter Hilz  – fully licensed
Hesselhøj Downtown (by Hesselhøj Donkey Boy x  Zack) - Owner & Breeder: Dorthe & Hans Jørgen Hoeck – fully licensed
Ambjergs Delgadino (by Hesselhøj Donkey Boy x  Don Romantic) - Owner: Ahlberg-Ringkær & Lynge Lorenzen  - Breeder: Malene Clausen, Hadsund – fully licensed
Tophøjs Falchetto (by Floriscount x Solos Landtinus) - Owner: Helgstrand Dressage og Stutteri Tophøj  - Breeder: Anette Nilausen og Niels-Jørgen Johansen, Hobro – fully licensed
Fynch Hatton (by Formel Eins x Sir Donnerhall) - Owner: Helgstrand Dressage  - Breeder: Bernd og Ursula Ilting-Reuke, Tyskland – fully licensed
Fürst Highlight by Fürstenball x His Highness) - Owner: Helgstrand Dressage & Søren Grønborg  - Breeder: Thorsten Lang, Tyskland – fully licensed
Global Player (by Grand Galaxy Win xDon Schufro) - Owner: Helgstrand Dressage, HH Horses & Paul Schockemöhle,  - Breeder:  Henrik Hansen  – fully licensed
Giovanni – Bell (by Grand Galaxy Win x Don Romantic) - Owner: Helgstrand Dressage & Sølyst Heste  - Breeder: Tina & Nicolai Jepsen – fully licensed
125 Lord Europe (by Lord Leatherdale x Boston) - Owner: Helgstrand Dressage, Joop van Uytert & Paul Schockemöhle  - Breeder: Pleines Werner & Heike Pleines  – fully licensed
Monterey (by Morricone x Sir Donnerhal) - Owner: HP Horses & Paul Schockemöhle  - Breeder: Gestüet Lewitz – fully licensed
Bøgegårdens Santiago Bernabéu (by Bøgegårdens Santiago x Bøgegårdens Laurino) - Owner & Breeder: Stina & Jørgen Schmidt – fully licensed
Vendóme (by Veneno/Fidertanz) - Owner: Helgstrand Dressage & Stutteri EVO  - Breeder: Paul Paessens – fully licensed
Vivino (by Vivaldi/Dancier) - Owner: Helgstrand Dressage & Paul Schockemöhle  - Breeder: Ulrike Buurman – fully licensed
Blue Hors Zackorado (by Blue Hors Zack x Florencio) - Owner: Blue Hors  - Breeder: Paul Rode – approved for testing and one year breeding approval
5-year and older
Knock-Out (by Expression x Ferro) - Owner: Helgstrand Dressage  - Breeder: SMC Bloem – fully licensed
Total Hope (by Totilas x Don Schufro) - Owner: HP Horses & Paul Schockemöhle  - Breeder: Christine Arns-Krogmann – fully licensed
Vivaldi (by Krack C x Jazz) - Owner: Blue Hors  - Breeder: A. Versantvoort – fully licensed
Special Blend (by Sezuan x  Hotline) - Owner: Helgstrand Dressage  - Breeder: Hannelore Weber – approved for testing
Related Links
Danish Warmblood Breeding Goal: Refined Horses with Durability and Longevity
Blue Hors Stud Leases KWPN Elite Stallion Vivaldi for One Season