Workshops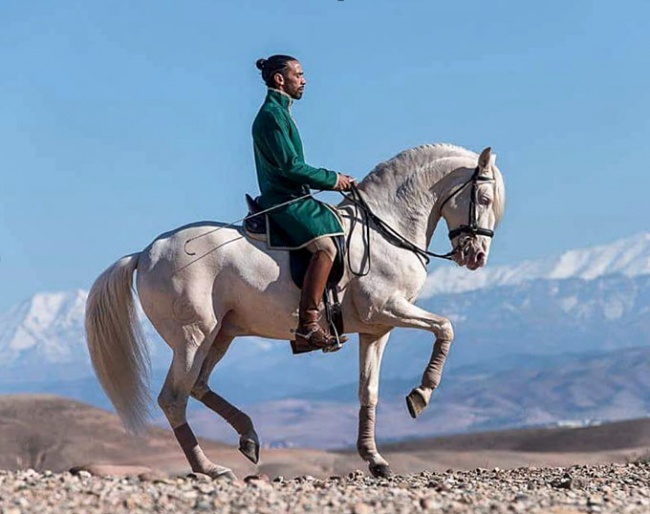 Yeguada La Pasión, based in Andalusia, Spain, is one of the world's top destinations for exclusive dressage workshops and horse-riding holidays.
This idyllic property was completely renovated in 2019 and is now home to over a dozen Iberian horses trained up to Grand Prix standard. Dagmar Vogt, the visionary behind Yeguada La Pasión, wanted to create the ultimate dressage facility that could cater to both recreational and elite riders.
"La Pasión is the perfect destination for riders who are looking for really well-trained horses. My training focussed mainly on improving the Piaffe, Passage and Pirouettesn," said Nina Luisa Stark, who is a semi professional equestrian rider.
Upcoming Dressage Workshops in April and July
Dagmar's team at Yeguada La Pasión – which is just a short walk (or ride) from the Atlantic Ocean – consists of more than 30 equestrian professionals, including her business partner and Maestro trainer, Ismael Romero Arroyo; Grand Prix rider, Jonathan Bautista; and dressage rider and horse acrobat, Sadek El Bahjaoui.
Sadek is an excellent dressage rider, an expert in liberty dressage and a horse acrobat who studied at the Academy of Equestrian Art of Morocco before going on to perform in various shows around the world and to participate in tournaments in difficult levels. His workshop will also include a meet-and-greet dinner, as well as a horse show on the last workshop day.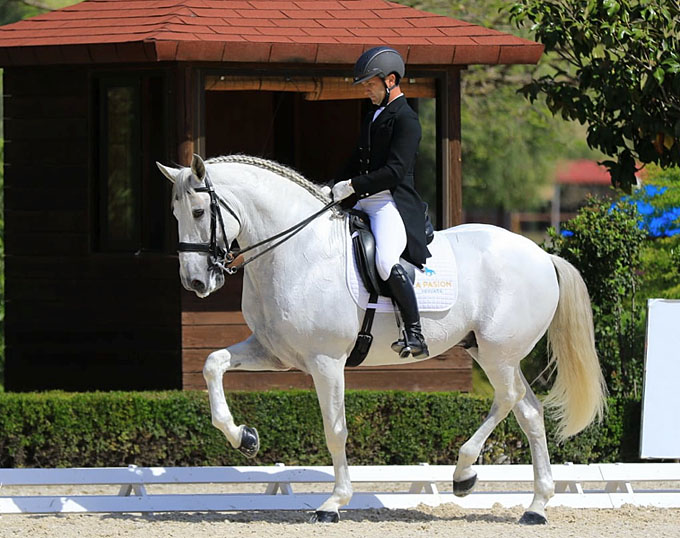 Jonathan Bautista, meanwhile, was trained by former Olympic champion and the technical director of the riding school in Jerez, Ignacio Rambla, from the age of 14 until 2019 - and with great success. Since 2016, Jonathan has trained Yeguada La Pasión's exceptional stallion, Gasoso, and has successfully presented him at many Grand Prix competitions. This year he leads the dressage course at Yeguada La Pasión. In the course, guests can learn and perfect piaffe, passage and pirouette, amongst other dressage arts.
Ismael Romero Arroyo will lead an Alta Escuela workshop during which the riding guest can learn the most challenging aspects of Alta Escuela. In the Workshop you can experience piaffe, passage, the spanish step, spanish trot, balanceo, quiebro, amongs others lessons. He has been teaching and practicing Alta Escuela for 22 years and the lessons of this play an important role in the education for the Iberian horses at Yeguada La Pasión. He is famed for having trained several of the world`s most exceptional horses in the show world. In addition to Alta Escuela lessons, guests can also take lessons in liberty dressage at show-level.
"For me, it's ideal if the horse masters all dressage lessons – both under the saddle and with freedom from the ground," said maestro Ismael Romero Arroyo.
Deepen and Perfect Your Equestrian Knowledge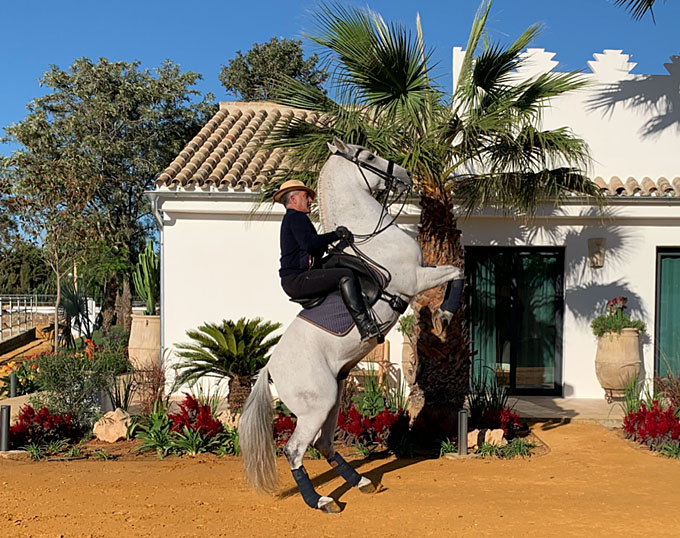 Ismael Romero Arroyo, Jonathan Bautista and Sadek El Bahjaoui will provide participants with technical feedback enabling them to deepen and perfect the understanding of equestrian skills. All workshop participants will receive a tailormade training program to reach their personal riding goals. All workshops will be held on the finely trained horses of Yeguada La Pasión.
After the dressage lessons, guests can enjoy the warm hospitality and excellent accommodation available on the stunning property of Yeguada La Pasión, which is based near to the beautiful white town of Conil de la Frontera that enjoys 300 days of sunshine each year and offers lots of activities for both guests and non-riding partners.
Coming up:
Dressage Workshop with Sadek El Bahjaoui - 17 - 19 April 2020
Alta Escuela Workshop with Ismael Romero Arroyo - 3 - 5 July 2020
Dressage Workshop with Jonathan Bautista - 17 - 19 July 2020
For more information, email info@lapasion.com or visit www.lapasion.com