Blog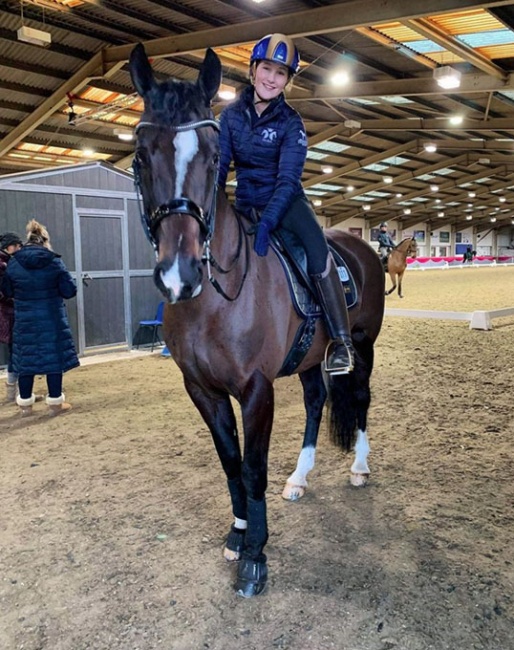 Since my last blog most of 'Hilary' term at Oxford has flown by; time here always seems to be condensed (the terms are only 8 weeks long), but this one has been especially densely packed! Shortly after returning to my studies in January, I submitted my 6000-word Shakespeare portfolio, and then it was straight into writing my Dissertation. I knew back in September when I planned my 2020 season that I wanted to be able to compete at CDI Keysoe, so I started planning and researching my Dissertation with a deadline a week earlier than the official one in mind.
Each Attempt Has to be Totally On Point
Due to this being my final year at university, I have very limited opportunities this year to achieve the scores required to be considered for the British team for the Young Rider Europeans, so I know each attempt has to be totally 'on point'. There's no way that I would have room to focus on riding my tests to the best of my ability well if my brain was still full of 8000 words of Tennyson, so I had to compartmentalise without sacrificing the quality of either of these two very important things.
To make this possible I set my 'virtual' deadline back in September, and have worked to it – the Dissertation is now written, and I'll hand it in a week early before heading home to pack the lorry and prepare. Because I was able to plan this far enough out, I haven't felt too pressurised. Preparing and planning like this is absolutely not a natural skill of mine (my mother will confirm!) and something I have had to work hard at.
My trainer, Caron Roberts, instilled planning and preparing in me very early in my riding career, and it has carried me through much of my education too: it sounds illogical, but I would be less organised and have less time to actually do my university work if I didn't ride, or organise my riding for several hours each week!
A Bit Blinkered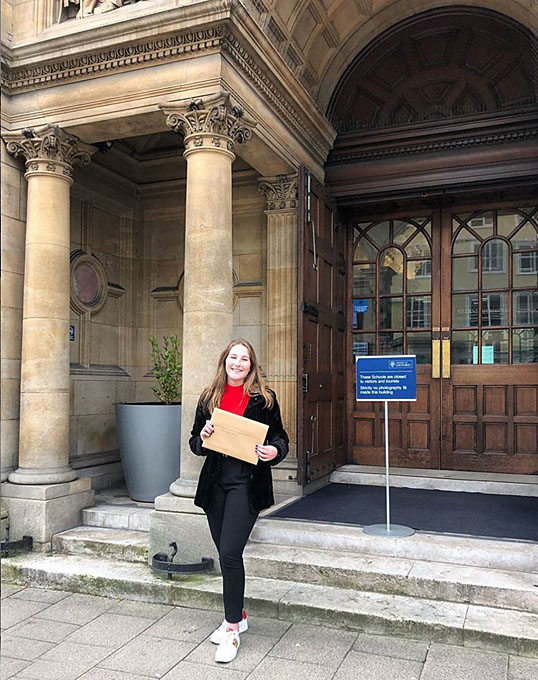 That being said, I'm very conscious that sometimes my life seems comprised of two halves – my education and my competitive dressage riding – and I can get a bit blinkered by that. Again, I am grateful to Caron for talking some sense into me and encouraging me to organise a month of travelling later this year, so that upon graduating and before I embark on my career, I hit pause for a moment.
I'll be spending two weeks in New Zealand and three in Australia, visiting family and friends whilst in Australia. Of course, it has to still involve horses, so the first thing that I've looked into booking in NZ is riding on the beach, and I am incredibly keen to fit some teaching in whilst I'm in Australia. As I'm sure the poor souls who have sat next to me in the library in my riding kit will attest, you can take the girl out of the stables, but you can never separate her from horses entirely!
So, appropriately, my light relief this term has been competing with Oxford University Equestrian Club. We had a successful match at Northampton a few weeks ago, winning as a team, and I managed to place 1st individually. I feel like my confidence Show Jumping has really improved, and since I'm a wuss at heart I'm very proud of that!
Staying Fit in College
The friends that I have made through OUEC are ones that I hope will last a lifetime. Our Tuesday evening strength and conditioning sessions down at the Iffley Sports Centre might reach an almost unbearable decibel level and pitch, but the hour of concentrated physical exercise and equally dedicated messing around is so restorative, and certainly a highlight of my week.
In fact, my time spent training with Oxford University Sport this term has yielded huge mental benefits, as well as physical ones. Taking an hour out at lunchtime to go and do my strength and conditioning programme leaves me so much more productive when I return to the library afterwards.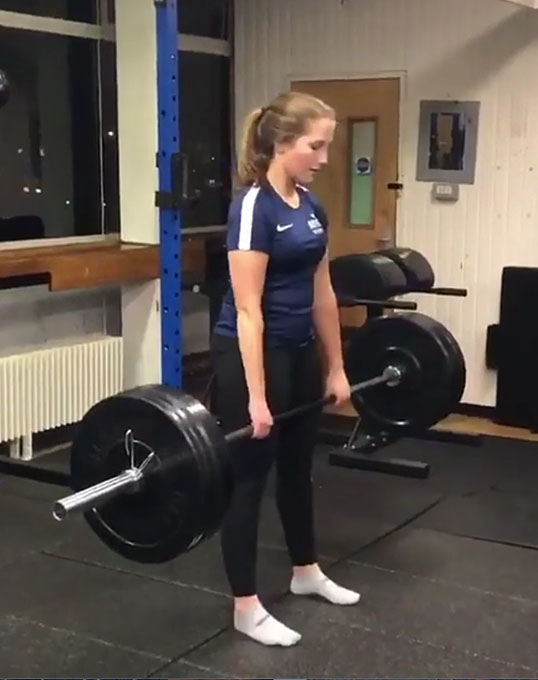 I have had the privilege of being selected as part of the Individual athlete 'Blues Performance Scheme' this academic year, and being able to access a Nutritionist, Sports Psychologist and have weekly individual strength and conditioning coached sessions has helped me enormously. I feel on great physical and mental form at the moment, despite this probably being the most pressurised and ambitious year of my life so far – so thank you, Oxford University Sport, for the opportunity.
Getting Ready for Keysoe
For the past 6 weeks, of course, my entire team has been doing the same for Una that OU Sport has been doing for me – and she is feeling fantastic. We hired an arena the other day to run through my test away from home and she was brilliant (here's hoping we can repeat that next week!).
I have put a lot of expectations on myself for CDI Keysoe, it is a very important show and given how hard I've been working, I naturally want to prove this with good results in competition. I don't feel stressed, though, because I know that these expectations are within my grasp thanks to my team at home, who with Caron and Chloe at the helm have treated my horse like a queen and made her feel like one too! Not only that, but Keysoe is a chance to catch up with some of my very best friends in the sport.
My fellow Young Rider Alexandra Hellings (who is studying Maths at Sheffield University) is my rock, even though we don't see each other very often. She's always there to talk when I need it – we're on the rollercoaster of riding and education together, after all! So, the overwhelming emotion that I feel looking ahead to next week is excitement. I can't wait to get down that centre line and give it my best shot, and I really hope that Una and I can do our amazing team proud.
- Rebecca
Related Links
Rebecca Bell: "New Year's Resolutions"
Rebecca Bell: "Living Two Dreams: Oxford and International Dressage - It is Possible"