F.O.C.U.S.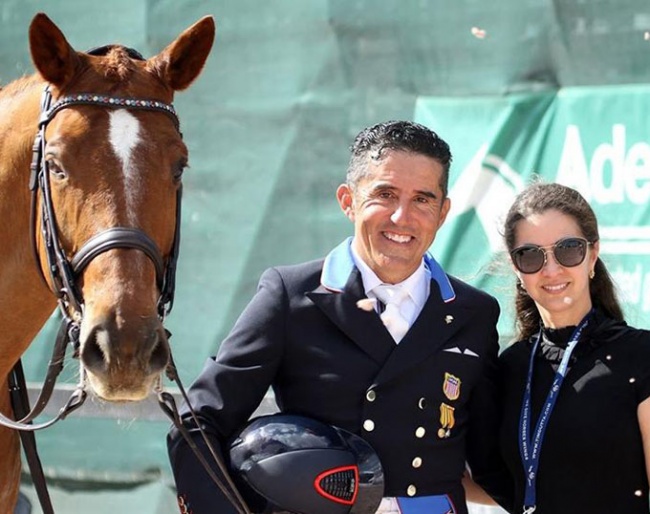 Cesar Parra and his team can look back on the shortened Florida competition season of 2020 with the satisfaction that a fresh approach in strategy worked. With his ever evolving program for his horses, his students, and himself, Parra knows it takes a team.
Don Cesar Moving On Up
Shining bright at the Palm Beach Dressage Derby February 26- March 1 in the FEI Intermediate I Freestyle CDI3* was Parra's own GK Don Cesar his 10-year-old Westfalian gelding by Desperados x Manhattan. Don Cesar, a 25th Wedding Anniversary gift for his wife Marcella Ortiz in 2017 is proving himself to be an exciting up and coming mount for Parra. It has been this season, that Cesar has included his wife's input in his training and showing, as his eyes on the ground when he trains and competes.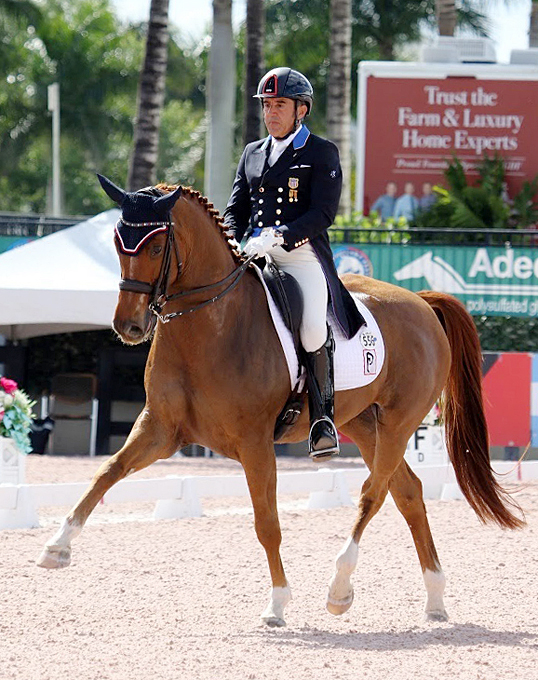 "Don Cesar has been a very interesting horse for me to work with as he has challenged me to find new creative ways to build a deeper level of trust with him. We have found that this is critical to his correct development. I confess I have been bribing him with many sugar cubes while working with him in hand partly to accomplish this along with getting out of the arena to go for a hack and relax together. I have learned that this positive approach really gives him the confidence in me that he needs to go boldly into the more electric environments and perform at his best because he knows that I've got his back and he can rely on me to support and encourage him if he feeling a little overwhelmed."
Cesar Parra and Don Cesar have excelled in the Markel/USEF National Young Horse Championships where they have been a fixture in the program. They were the only US entry in 2017in the 2017 World Young Horse Championships in Ermelo, Netherlands.
Jida Selly A - Another Horse For the Future
Also proving herself to be an exciting horse for the future at the Palm Beach Dressage Derby National was Parra's own Jida Selly A. Parra and Jida received some very encouraging commentary from both judges about Jida's talent and future in the FEI Preliminary YH Test for 6 Year Olds. Coming off of a promising 5 year old year, Jida Selly A finished third in the country last year with Cesar's student, Merita Hagren in the Markel/USEF FEI 5 Year Olds at the Festival Of Champions at Lamplight Equestrian Center in Wayne, IL.
Parra says it has been a pleasure to see Jida and Merita enjoy such success and now, take over the reins himself. "Merita did such a great job on Jida and really gave her the foundation she deserved as a 5 year old to make the transition into the 6 year old classes with me this year a smooth, enjoyable one. Everyday that I get to work with her, I am reminded how special Jida is and feel so grateful to be able to call her mine."
Anne Gribbons Continues Her Support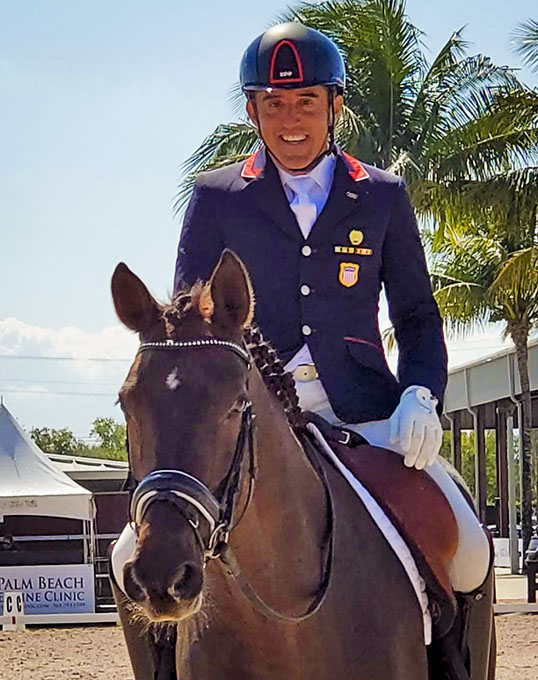 Parra's coach, former Olympic coach and 5* judge, Anne Gribbons sees an exciting future for both rising superstars. "I am very excited about all of Cesar's horses at the moment, actually. Don Cesar and Jida are truly horses who both have more than enough quality and potential to become team horses for the US Team when they are ready in their training. Cesar certainly has an excellent eye for picking top athletes and I have enjoyed working with him, his team and his horses immensely."
Teaming Up With Others Adds New Dimensions
Parra points to embracing other professionals' strengths and team work as a big part of the winning equation. "I have been teaming up with Tina Konyot, Dave Thind and my wife, Marcela down here this season and am really loving what each of them are adding to my program.
I respect Tina hugely as a top trainer, talented rider and fellow Olympian. She has been helping me by riding some of my horses and training with me. I have enjoyed sharing input and insights with her.
Dave specializes in a really exciting new method called Feldenkrais which has really helped me to tap into my own body's ability to ride with the best, most correct seat possible. I have felt a huge difference in the way my seat has evolved in just a few sessions with Dave.
And of course, nobody knows me better than my wife, Marcela and after watching me ride everyday for the past 30 years, she has really developed and excellent eye. Now we spend our days getting to work together on the horses that we love so much, me in the saddle and her in my ear coaching me. She knows when I need to be pushed and when I need a hug from her and an encouraging word. What can I say, I am a very lucky man!"
Open To Learning New Approaches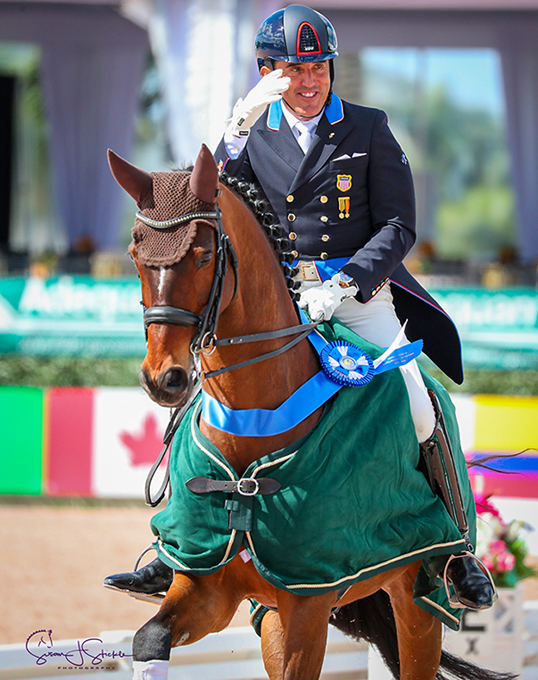 Parra sees the importance of embracing team work for his horses' sakes. "Our goal is to create a happy horse athlete that together with the rider forms a correct yet soft and harmonious picture together. By continuing to be open to learning new approaches, I feel that I am continuing to evolve into a better version of myself for my horses each day.
Of course, dressage is a journey and along the way there are bound to be speed bumps of decisions we look back on and wish we made differently, but the key is to learn from them, not make them again and keep moving forward with positivity, embracing one's values, which for me is that the horse's happiness absolutely must come first. This is why I feel it is so important as professionals to see our fellow professional colleagues as assets instead of as threatening competition.
The industry is constantly evolving, and so in order to stay at the top of it, we too must always be open to learning and evolving along the way. We all have different strengths and if we choose to team up and work together as a team to put the horses first by allowing our strengths to bring out the best in the horses, we all win."
Photos © John Quintero / Sue Stickle
Text by Stacy Brass and Mary Phelps - Article first featured on Horsesdaily.com
Related Links
Cesar Parra and Mr Bumblebee Sweep 3* Small Tour at 2020 CDI Wellington
Betsy Steiner and Swiss W Win Final CDI Class of 2020 Global Dressage Festival Season
Jessica Jo Tate and Faberge Bag First Wellington Victory at 2020 CDI Palm Beach Derby
Cesar Parra and GK Don Cesar Head to the U.S. Developing Horse Championships # 1 In the Rankings
Dr. Cesar Parra awarded San Jorge Military Medal from Colombian Army
Performance Farm Commits to Helping U.S. Young Riders to Reach their Goals
GK Horses Officially Presents Dressage Project at Four Seasons in Florence
Cesar Parra and GK Horses Sign Exciting Partnership Pact