2020 CDI Hastings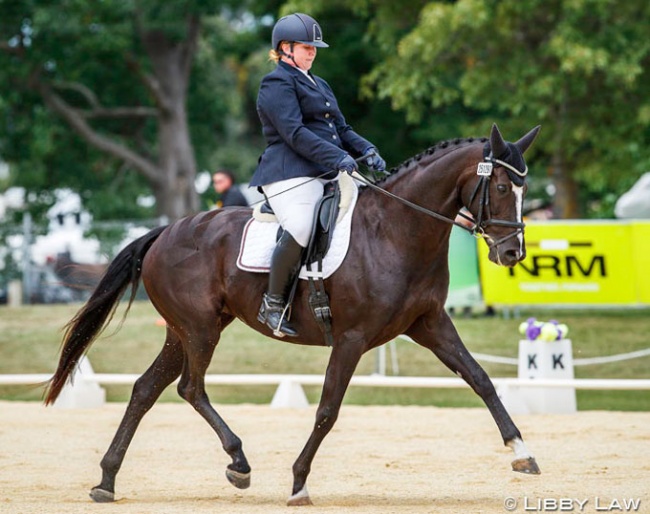 The 4-year old CDS Donstar, the 5-year old Kameroen, the 6-year old Jalyn Special Effects, and the 7-year old NRM Timbermill Prequel became the winners of the young horse classes at the Horse of the Year Show - CDI Hastings on 13 - 15 March 2020. 
Right after Hastings, the 2020 New Zealand Dressage Championships in Taupo were cancelled due to corona. The event also included the National Young Horse Championships. For several riders HOYS at Hastings was the preparatory event for their New Zealand Championships, which at the moment will not have a 2020 edition, it seems.
There was only one young horse round in Hastings and the divisions were small, but that does not diminish the efforts of the ones who showed up. The 4 and 5-year old classes were judged by Hobson and Eivers, the 6 and 7-year olds were judged by Hughes-Keen and Warren-Davey.
In the 4-year old division Cooper Oborn steered his New Zealand bred stallion CDS Donstar (by Donnerrubin out of Gymnastic Grace) to victory on an 81.0 point score. The horse is bred and owned by Jacinda Younger of Cheraux Dansants Stables. Rider Cooper relocated to New Zealand from Australia in July 2018. The pair edged out Amanda MacPherseon aboard the chestnut Hanoverian gelding Frieden Star (by Fidertanz out of Remi Royal Star). bred by Audrey Kirchner, this gelding scored 77.2 points.  MacPherson is a mom of three and grandmother of 2 and is back out competing nationally. 
In the 5-year old class Bridgett Barclay topped the board on the imported Dutch warmblood Kameroen (by De Niro out of Estada), bred by M. van Heel and owned by the rider. They topped the board with 72.2 points. Allie Harper and the NZL bred Hanoverian Hi D'Zine MH (by His Highness out of D'Zine) were second on 67.8 points.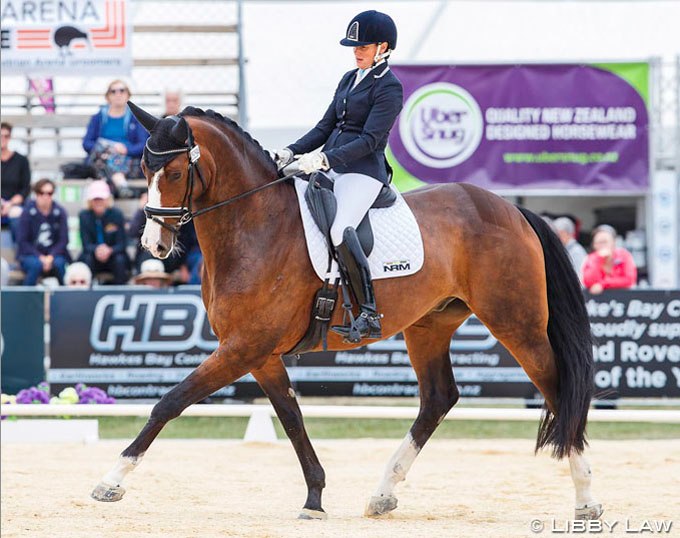 Hannah Gibson and the Australian warmblood mare Jalyn Special Effects (by Sir Donnerhall out of Jalyn Royrumba) commanded the 6-year old division on a score of 72.3. The black mare is bred by Rebecca Rundle in Australia and was purchased by the rider as a 3-year old when she was 6 weeks under saddle. "She is my first purpose bred dressage horse, and I have produced her myself having a lot of fun along the way," said Gibson. The runner-up was Rosanne Rix aboard her own black gelding Lindisfarne Danseur (by Donnerrubin out of Vienetta (by Voltaire II)). They totalled 71.6 points. The horse is jointly owned by Rosanne and Antonia Nicholson.
New Zealand Grand Prix professional Vanessa Way is developing a new FEI prospect up the levels, NRM Timbermill Prequel (by Prestige VDL out of Crystal) and won the 7-year old division with 78.8 points. Bred by Kerry Sanders, the bay gelding is owned by Vanessa. Kellie Hamlett and the New Zealand warmblood Astek Geronimo (by Kinnordy Gym Bello out of GT Fleur di Mimosa) scored a second place, right on Vanessa's heels with 78.6 points.  From Rotorua, Kellie owns and runs a recruitment and human resource consultancy business. She has owned Geronimo since May 2017 and is currently a member of the NZ Dressage Development Squad.
Photos © Libby Law
Results 
4-year olds - Round 1
1. CDS Donstar - Cooper Oborn - 81
2. Frieden Star - Amanda Macpherson - 77.2
3. Ruby MH - Reece Downham - 75.2
4. Don Brombeere - Kelly Shaw - 71.9
5-year olds - Round 1
1. Kameroen De Jeu - Bridgitt Barclay - 72.2
2. Hi D''Zine MH - Allie Harper - 67.8
3. Jagermeister CD - Cassandra Dally - 66.8
6-year olds - Round 1
1. Jalyn Special Effects - Hannah Gibson - 72.3
2. Lindisfarne Danseur - Rosanne Rix - 71.6
3. Devonian STS - Toni Louisson - 68.3
4. Ganache MH - Kathryn Corry - 68.2
5. Fanfare MH - Casey Burton - 67
7-year olds - Round 1
1. NRM Timbermill Prequel - Vanessa Way - 78.8
2. Astek Geronimo - Kellie Hamlett - 78.6
3. RM Suzie Q - Debbie Barke - 77.8
4. Josephs Dream -  Anne Watts - 63.6
Related Links
Quendrix, Fanfare MH, JHT Anatomy Win 2019 New Zealand Young Horse Championships
Fanfare MH, Aroha MH, HP Fresco Win 2018 New Zealand Young Horse Championships
Stoneylea Welt Princess, HP Fresco, River Park Luciana Win 2017 New Zealand Young Horse Championships
Sartorial Hit SW, Glamorgan By Design, Leo Donna Win 2016 New Zealand Young Horse Championships
New Zealand Judges on Young Dressage Horse Training Trip in Pursuit of Knowledge