Hit & Run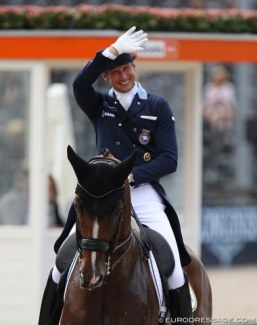 In corona times we are all ordered to stay at home, self quarantine, and do social distancing. With more time on your hands to spend online, Eurodressage launches a "Hit & Run" interview series so that you get to know the world's most famous dressage riders and personalities more closely. 
Patrik Kittel is a long-time Swedish team member, based in Germany with his wife, Australian dressage Olympian Lyndal Oatley. He won kur bronze at the 2011 European Dressage Championships in Rotterdam. He is a six-time Swedish Grand Prix Champion.
Hit & Run - Patrik Kittel
What is your earliest memory? 
Me hugging my teddy bear with my mom 
Which person alive do you admire the most and why?
I admire people that work hard, are kind and positive; people who try to make themselves better instead of make others worse so that they can look better themselves
When were you the happiest?
on a sporting level when I took a medal with Scandic, on a personal level when my daughter was born 
What is your biggest fear?
To die. Not to to wake up like this morning and seeing Lyndal and Ems sleeping safe and sound
What was your first though today?
I love my life. I am so lucky even when the alarm goes at 5h30
What is your most annoying character trait?
Patience is not my virtue
Which trait do you dislike the most in other people?
People that are friendly to your face, but try to stab you in the back the moment they can 
What is your dearest possession?
My life and everything in it 
If you look into the future, what do you see?
I see a man looking at his family and what he has accomplished. Sit and watch the new generation of riders and horses, thinking back on a lucky blessed life.  I live my day as it were my last. I always do that and I am truly grateful for everything I have 
What makes you unhappy?
When my family or my horses are not safe or when they are sad 
What is the love of your life?
My family and my horses
What was the best choice you ever took in life?
To follow my mum's advice and listen to my heart
What's your guilty pleasure?
You asked me this before and it's still my wife Lyndal 
What do you owe your parents?
My life. Without them I would not be born but also a growing up in security and learning that you have to make your own future
Who can sit next to you at your dream dinner table?
It will be a long table with family, friends, animals. It's my dream, I can do whatever I want 
What was the worst job you ever did?
I don't think I had a worst job. I learn from each experience even if it is cleaning 80 boxes by hand with a sponge and half of them had diarrhea. It's part of learning process.  Stay humble and keep working 
What was your biggest disappointment in life?
None! Why be disappointed? Do something about it instead 
What would you change if you can go back into the past?
Nothing. I can't change it anyway 
Name one thing that would improve your quality of life?
More sun in Germany 
What is your biggest achievement?
My daughter
What is the most important life lesson you have learnt?
Stay focused, stay humble, and make yourself happy before you try to make anyone else happy 
Where would you like to be right now? 
Exactly here, at our farm knowing my family is sleeping, watching out the window as the sun is coming up, hearing the birds, the horses.
What's your favourite scent?
The smell of cleanliness
Which character would you dress up in for Halloween?
Either a ghostbuster or James Bond. I love the saying "Bond, James Bond"
To whom would you like to say sorry?
I don't know if I have hurt someone. I try to say sorry at once. Saying sorry after making mistakes is, to me, the strongest act a person can do. 
What does love feel like for you?
Happy, safe, peace, just love. It's a feeling you can hardly describe
When are you most relaxed?
When I having Sunday off with the family 
What super power would you like to have?
The superpower to heal right now. First choice on the agenda: Corona
When did you last cry, and why?
Some days ago when I was having a bath whit Ems. Lyndal came in she took her face and gave her the most honest little kiss of pure love. We both started crying 
When were you closest to death?
Many times but falling off a catamaran in the middle of the night in the Ost See. I was 6, didn't know how to swin and had no life vest on. I saw the boat sail off. After some minutes the boat turned around and sailed right back to pick me up. For sure I was close to death.
How do you want to be remembered?
As someone how did something good. How I tried to be positive, creative, someone with vision and, most of all, someone that showed that anything is possible if you work hard. You can come from nothing and become anything you want.
Related Links
Between Heaven and Hell: Patrik Kittel Hitting the Big League with Scandic