Hit & Run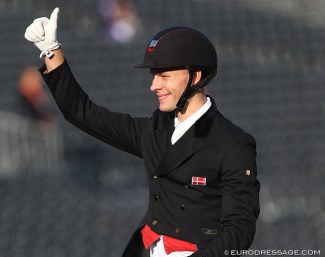 In corona times we are all ordered to stay at home, self quarantine, and do social distancing. With more time on your hands to spend online, Eurodressage launches a "Hit & Run" interview series so that you get to know the world's most famous dressage riders and personalities more closely. 
Danish professional dressage rider Daniel Bachmann Andersen is the head rider at Blue Hors stud in Randboel. He won the World Cup qualifiers in Herning (2018) and Den Bosch (2019) and has represented Denmark at the European Championships (2015, 2019), World Equestrian Games (2018), World Young Horse Championships (2017), and World Cup Finals (2018, 2019). 
Hit & Run - Daniel Bachmann Andersen
What is your earliest memory? 
Asking Morten Thomsen about piaffe passage, when I was 10 years old 
Which person alive do you admire the most and why?
Isabell Werth, she's a fantastic horse person. 
When were you the happiest?
At the birth of both our children
What is your biggest fear?
To loose my family. 
What was your first thought today?
It's going to be a nice day and very good weather
What is your most annoying character trait?
I am a terrible perfectionist. 
Which trait do you dislike the most in other people?
Dishonesty 
What is your dearest possession?
My family
If you look into the future, what do you see?
Try to be a better horseman and rider and stay healthy 
What makes you unhappy?
If things are out of order  
What is the love of your life?
My beautiful wife Tiril 
What was the best choice you ever took in life?
There a several, but when I went to Germany working for Rudolf Zeilinger for 6 years; and getting together with my wife; getting children. Started working for Blue Hors 
What's your guilty pleasure?
Licorice 
What do you owe your parents?
Thank you for letting me follow my dream and move to Germany at the age of 16
Who can sit next to you at your dream dinner table?
With our group of best friends.  
What was the worst job you ever did?
I haven't had any bad jobs. I have been very lucky to be at very professional stables all my life. . 
What was your biggest disappointment in life?
I haven't had any big disappointments, maybe I'm not old enough. .
What would you change if you can go back into the past?
I wouldn't change anything as I am quite pleased with how my life has turned out to be so far. 
Name one thing that would improve your quality of life?
More than 24 hours in a day .  
What is your biggest achievement?
It's difficult to mention just one achievement, but I'm overall very thankful for being able to produce several Grand Prix horses. 
What is the most important life lesson you have learnt?
Be patient and humble 
Where would you like to be right now? 
With my family, enjoying each other and our life together with the horses.
What's your favourite scent?
A clean stable with fresh hay
Which character would you dress up in for Halloween?
Dracula
To whom would you like to say sorry?
No one
What does love feel like for you?
When my family loves me even though I have spend all my time away at shows for a lot of time. 
When are you most relaxed?
On a skiing holiday in Norway and at home. 
What super power would you like to have?
Time control
When did you last cry, and why?
When I got married to Tiril. I got very emotional seeing her in the church.
When were you closest to death?
Not sure.
How do you want to be remembered?
As a good horseman, trainer, friend, father and husband. 
Related Links
Vallentin and Bachmann Win the 2019 Danish Dressage Championships
Daniel Bachmann and Don O Do the Double at the 2019 CDI-W Herning
Daniel Bachmann On Fire with Blue Hors Zack and Don Olymbrio in Den Bosch