Hit & Run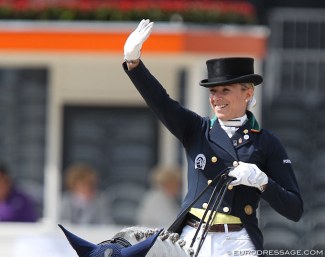 In corona times we are all ordered to stay at home, self quarantine, and do social distancing. With more time on your hands to spend online, Eurodressage launches a "Hit & Run" interview series so that you get to know the world's most famous dressage riders and personalities more closely. 
Portuguese Maria Caetano is Portugal's leading dressage rider, having competed at two World Equestrian Games (2014, 2018) and six European Dressage Championships (2009 - 2019). She is a quadruple Portuguese Grand Prix Champion. Maria is based in Krefeld, Germany, with her business but COVID-19 has made her work more challenging than ever. "With this situation some of my grooms left to Portugal, so I'm running a stable with 12 horses alone with one groom," said Maria. "But It's a good time to train youngsters and be healthily busy. You have to look at it on the bright side."
Hit & Run - Maria Caetano
What is your earliest memory? 
To sit on a horse on my father's arms
Which person alive do you admire the most and why?
My father; everything he did for our family, his career, my career and mainly the great sense of fairness and justice that he transmit to us everyday towards life.
When were you the happiest?
As long as I can have my horses and family with my I'm happy anywhere 
What is your biggest fear?
To disappoint my beloved ones
What was your first thought today?
With the current situation, when can I see my family again?
What is your most annoying character trait?
My difficulty to delegate tasks concerning my horses. I always want to do everything myself
Which trait do you dislike the most in other people?
Misleading characters 
What is your dearest possession?
My dachshund Afonso 
If you look into the future, what do you see?
Me driving my truck to competitions, as always, but hopefully one day with "extra help" from my kids
What makes you unhappy?
To see my dearest ones unhappy
What is the love of your life?
My job... My sport
What was the best choice you ever took in life?
To dedicate my life to horses
What's your guilty pleasure?
Pizza and beer  
What do you owe your parents?
Everything
Who can sit next to you at your dream dinner table?
My Prince Charming
What was the worst job you ever did?
To iron men shirts
What was your biggest disappointment in life?
When I feel the envy and negative feeling from others.
What would you change if you can go back into the past?
I would start my international competition career even earlier, as a pony rider  
Name one thing that would improve your quality of life?
To be closer to my family  
What is your biggest achievement?
To be able to teach all my horses from young horses to Grand Prix. 
What is the most important life lesson you have learnt?
When my GP horse Util passed away one week before the World Equestrian Games in Kentucky. I learnt that you should be happy with every single small achievement you get, because from one moment to an other you can just loose everything 
Where would you like to be right now? 
Right where I am (Krefeld) but without all this crazy and difficult boundaries to see my family 
What's your favourite scent?
The green hay smell 
Which character would you dress up in for Halloween?
Wonder Woman from "Superman"
To whom would you like to say sorry?
To everyone who sometimes had to put up with my bad temper days 
What does love feel like for you?
The most important thing on earth
When are you most relaxed?
When I'm at the stable. 
What super power would you like to have?
To make people around me happy every day
When did you last cry, and why?
Yesterday, talking through Skype to my family in Portugal about these difficult times.
When were you closest to death?
I was just close to dying for love.
How do you want to be remembered?
a passionate and fair sports woman
Related Links
Caetano and Coroado Write History for Lusitano Breed by Cracking 80% Barrier
Monteiro, Lopes, Meneres, Caetano Win 2017 Portuguese Dressage Championships
Caetano In Winning Mood on New Small Tour Ride Biso das Lezirias at 2016 CDI Lisbon
Maria Caetano Wins 2014 Portuguese Dressage Championships
Maria Caetano Crowned 2013 Portuguese Grand Prix Champion
Maria Caetano, 2008 Portuguese Grand Prix Dressage Champion
Maria Caetano To Represent Portugal at 2006 Young Rider World Cup Finals