KWPN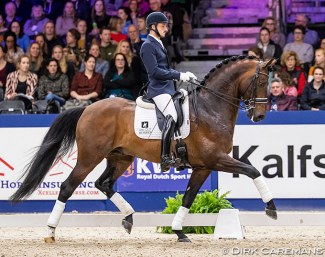 The 7-year old KWPN licensed stallion Inverness has been sold to the Korean father-daughter duo Chi Sung and Jee Sun An of W Horseland. The stallion will be trained by Belgian Brecht d'Hoore in The Netherlands. 
Inverness is a 2013 born bay stallion by Everdale out of Cyraniek (by Johnson x Variant). He is bred by Y. van Maasacker.
Gert-Jan van Olst presented the colt at the 2016 KWPN stallion licensing. At the KWPN Autumn Stallion Performance test he scored 81.5 points. 
Inverness was only lightly competed by Benjamin Maljaars and Franka Loos in the KWPN Stallion Competition circuit. He was offered for sale in the 2018 Van Olst Sales but withdrawn before the sale.
The bay has now been sold to W Horseland and he will be developed by Brecht d'Hoore.
"I'm very happy to have been given the chance to ride this horse," said D'Hoore. "We've been together for two weeks and it's a super match. Inverness is a horse with a lot of talent and a real personality. We'll take our time to get to known one another, but there seems to be much in the tank for Grand Prix."
D'Hoore has been collaborating with the Koreans of W Horseland since they purchased WCYH participant Favian WH from the rider. Since then the An family has expanded their string of horses in Holland with additions King's Dream WH (by Everdale x Gribaldi), Sammy de Luxe WH (by Scuderia x Wolkenstein II), Nyx WH (by Ferdinand x Negro), and Dahlia WH (by Johnson x Hamlet). The latter went to Korea as a schoolmaster for Jee Sun and has also produced an ET foal by Toto Jr. 
Photo © Dirk Caremans
Related Links
Imposantos, Total U.S., Gunner KS Win 2018 KWPN Stallion Competition
Crosby, Price Highlight of the 2018 Van Olst Sales
2018 Van Olst Sales Collection Highlight: Inverness
Imagine, Total U.S., Great Lady TC In the Lead after 2017 Pavo Cup Semi Finals
Inclusive and Iconic B, Winners of the 2016 KWPN Autumn Stallion Performance Test