Germany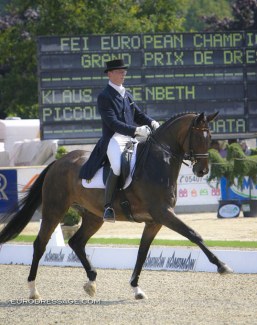 Klaus Husenbeth's German WEG team horse Piccolino has passed away on 24 March 2020. He was 28 years old. 
Piccolino was a 1992 born Hanoverian gelding by Prince Thatch xx x Ganymed x Duerkheim.
He was acquired by the Husenbeth family at the 1996 Hanoverian auction in Verden. 
He was first competed in the L-level dressage horse tests by Britta Husenbeth in 1997 before Klaus took over in 1998. The pair won bronze at the 1998 Bundeschampionate in Warendorf in the 6-year old division. 
In 1999 they moved to small tour level and did their first national Grand Prix test in 2000. Their CDI debut was in Dortmund in 2001.
Fixture on the German Team 2002 - 2005
At Grand Prix level Piccolino became a fixture at the highest echelon of the German dressage scene. In 2002 they won the German Dressage Championships in the male riders division and went on to win team gold at the 2002 World Equestrian Games in Jerez de la Frontera. Individually they were 7th. 
The pair went on to win team gold at the 2003 European Dressage Championships in Hickstead and were again 7th individually. Unfortunately in 2004 their Olympic campaign came to an abrupt halt at Aachen, where Piccolino became unsound. He had suffered from a broken splint bone and needed to recover.
They returned to the arena in 2005 and got another team gold at the European Championships in Hagen. Individually they were 22nd in the Special.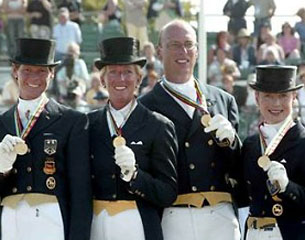 In 2006 the duo was selected for the German team for the 2006 World Equestrian Games in Aachen, but two weeks before the WEG they had to withdraw because Piccolino had injured himself during training, tearing a muscle in his right hind leg. They were substituted by Hubertus Schmidt and Wansuela Suerte. 
The pair went on to compete until 2008.  The CDI Verden in July 2008 was their last international.
Klaus and Piccolino were also regulars at the German Dressage Championships. After winning gold in 2002, they had gold in 2003, 6th in 2004, silver in 2005, gold in 2006, 6th in 2007, and silver in 2008. Keep in mind at the time the German Championships had a separate ranking for male and female riders. 
Schoolmaster for Nadine
In 2009, Klaus' daughter Nadine took over the ride and competed Piccolino nationally at junior level. They got silver at the 2009 German Junior Championships. Nadine rode her first S-level test on him.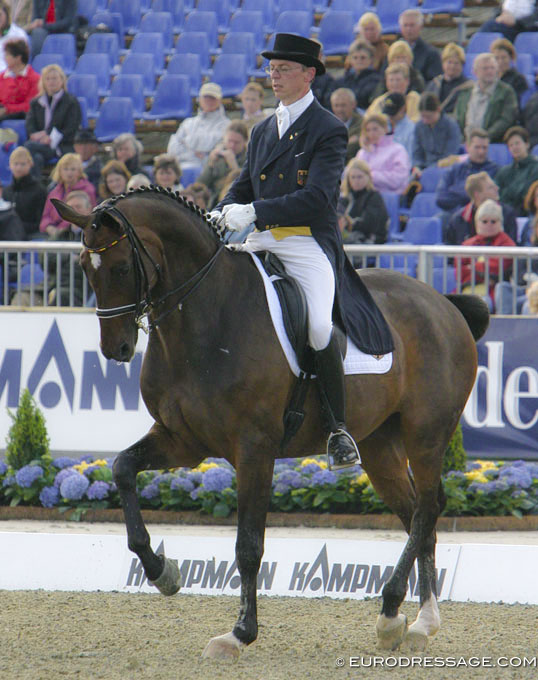 Piccolino was retired from sport in 2010 and enjoyed his retirement in the field until his death yesterday.
"Yesterday he was still happy go lucky in the field," Nadine Husenbeth told Dressursport Deutschland. "He leaves a big emptiness behind. Piccolino has been there as long as I can remember."
Klaus thinks back on his star horse with great fondness. "I had Grand Prix horses before and after him, but I only had one Piccolino. He was such an incredibly nice, well mannered, friendly type and always with a positive attitude. He always came in first place."
 "Picco determined our lives," Nadine added. "He decided where he wanted to go, even as a pensioner; when he wanted to be in the field and when he wanted to come back in. He stood on his rights till the end and was always the first one that got attention in the barn. He was the chief. When I wanted to ride a volte on the centerline, he would make a pirouette and in trot he wanted to passage. I learnt everything on him."
Photos © Astrid Appels
Related Links
Eurodressage Photo Database: Piccolino
What's Happening: March 2009 - Part 1
Piccolino Withdrawn from 2006 World Equestrian Games
Klaus Husenbeth's Olympic Dreams End in Aachen
Germany Wins 20th Golden Team Medal at 2003 European Dressage Championships
Capellmann and Husenbeth, 2002 German Dressage Champions
Prince Thatch xx Passed Away
Scores: 1998 Bundeschampionate