Hit & Run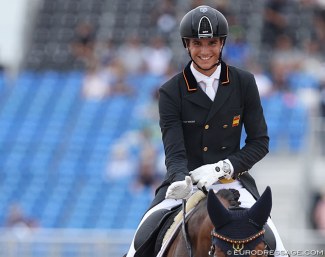 In corona times we are all ordered to stay at home, self quarantine, and do social distancing. With more time on your hands to spend online, Eurodressage launches a "Hit & Run" interview series so that you get to know the world's most famous dressage riders and personalities more closely. 
Spanish Juan Matute Guimon is an international Grand Prix rider who represented Spain at the 2018 World Equestrian Games in Tryon and was short listed for the Spanish team for the 2019 European Dressage Championships and now for Olympic Games in Tokyo. Commuting between Wellington, Florida and Madrid, Spain, Juan made his first claim to fame when he became the 2015 European Junior Kur Champion. In 2017 he was Spanish Under 25 Champion. 
Hit & Run - Juan Matute Guimon
What is your earliest memory? 
I remember getting really frustrated at the beach, because I hated the feeling of sand sticking to my feet each time I went into the water to "clean" them. I must have been around 4 years old.
Which person alive do you admire the most and why?
My father. I admire his work ethic, generosity, and positive mindset.
When were you the happiest?
Spending quality time with my family.
What is your biggest fear?
Airplane crash
What was your first thought today?
"Wow, scary nightmares tonight"
What is your most annoying character trait?
Expert procrastinator
Which trait do you dislike the most in other people?
Shallowness 
What is your dearest possession?
An antique timepiece with a valuable story which I inherited from my grandfather 
If you look into the future, what do you see?
A journey that will hopefully leave a footprint behind and inspire others to also strive for greatness
What makes you unhappy?
Doubts
What is the love of your life?
Still searching
What was the best choice you ever took in life?
To never give up the fight. Ultimately I became European Champion; and it marked me
What's your guilty pleasure?
Candy, all sorts.
What do you owe your parents?
Absolutely everything. My values, ethics, and success
Who can sit next to you at your dream dinner table?
The love of my life, my family, and closest friends.
What was the worst job you ever did?
Not a fan of mucking out, but a job is a job! It did serve as a great morning work out though.
What was your biggest disappointment in life?
No big disappointments; just valuable lessons..
What would you change if you can go back into the past?
I would've liked to have listened more to my father's advice. I'm sure that if I would've shut my mouth more times than not, then I would be a hell of a lot better rider today
Name one thing that would improve your quality of life?
Taking it easy! I tend to get caught up in my perfectionistic paranoias. I like the term "chill-lax" (Chill + Relax). It's great.
What is your biggest achievement?
Honestly there have been TWO major breaking points in my career that marked a "before" & "after." When I became Junior European Champion and when I beat the 80% barrier at Grand Prix level. 
What is the most important life lesson you have learnt?
You have nothing if you can't share it with the people around you
Where would you like to be right now? 
Getting ready to fly back to the United States to prepare for the FEI World Cup Final in Las Vegas with Don Diego 
What's your favourite scent?
A top notch fragrance! I recently purchased Guerlain Homme and I feel like a million bucks when I wear it on a night out! 
Which character would you dress up in for Halloween?
I don't do Halloween
To whom would you like to say sorry?
To whomever I've offended with my actions without being aware of it. It's really a pity to not apologise for mistakes we've made. It makes everybody sour. 
What does love feel like for you?
I would say that love to me feels like a constant adrenaline rush. After all I am Spanish, so the latin lover stereotype is a tailored fit
When are you most relaxed?
At home with my family. 
What super power would you like to have?
Not needing to sleep! I would be mega productive.  
When did you last cry, and why?
Last year I lost both of my grandfathers. It was a tough year, I cried a lot
When were you closest to death?
Fortunately, I've never had a life threatening accident and I'm definitely not a dare devil, so luckily never.
How do you want to be remembered?
As a positive individual that enjoyed spreading light and good vibes with everyone
Related Links
Short Listed Riders for Spanish Team for 2019 European Dressage Championships
Beatriz Ferrer-Salat Win 2019 Spanish Grand Prix Championships
Juan Matute Guimon and Yeguada de Ymas Part Ways
Matute Guimon and Ferrer-Salat Win 2017 Spanish Dressage Championships
Juan Matute Guimon Wins Under 25 Kur at 2017 CDIO Rotterdam
Matute Guimon Writes History by Winning Kur Gold at 2015 European Junior Riders Championships