FEI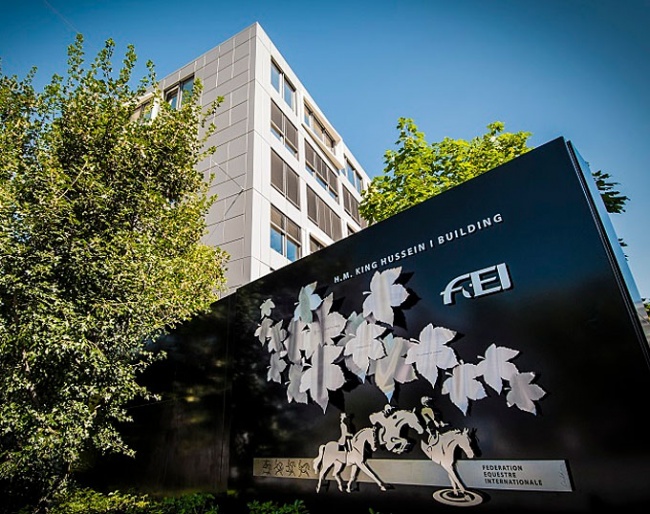 The FEI has sent out a memo in which the most pertinent questions are answered concerning cancelled show, qualifications for Tokyo and FEI Championships, the rescheduling of events, and much more.
Eurodressage made a selection of the most interesting questions answered:
Olympic and FEI Championship Qualifiers Impacted?
Are the Olympic and Paralympic qualifiers impacted by Covid-19?
No, all qualifiers for the Tokyo 2020 Olympic Games in the three Equestrian disciplines, Jumping, Dressage and Eventing, and all qualifiers for the Tokyo 2020 Paralympic Games, have already taken place and all the quota places have been filled accordingly.
Will there be any changes to the (MERs) for Tokyo 2020?
No, the MERs for Tokyo 2020 will remain unchanged, however, due to the current situation and the uncertainty surrounding the FEI Calendar, the FEI is evaluating the situation together with the relevant National Federations in order to work on identifying possible solutions with the IOC and IPC.
Will there be changes to the qualification process and selection for FEI Championships? While clearly the FEI has no say in the selection process for national representation, the cancellation of Events that serve as qualifiers for FEI Championships across all disciplines and age groups is of course a concern. The FEI is looking at the cut-off dates for Certificates of Capability and has asked the individual discipline Technical Committees to review this process and come up with recommendations for potential solutions.
We will of course advise our community of any changes to the qualification requirements for FEI Championships.
World Cup, Nations Cup, World Ranking
What about series such as the FEI Nations CupsTM and FEI World CupTM where qualifiers have already been impacted? The cancellation of Events has already impacted qualifiers for both of these FEI series and we are expecting more Events to be called off. We are evaluating the impact of Covid-19 on series across the different disciplines and we are consulting with each of the Technical Committees in order to understand the best solution in the interests of the sport. This will allow proposals to be formulated so that the FEI Board, which approves all series Rules, can take the best decision.
What is the status for the Rankings of all FEI Disciplines?
The FEI is reviewing, together with the relevant stakeholders, what measures can be taken to limit the impact of event cancellations on Ranking points.
It is clear that we need to be fair to our Athletes and maintain a level playing field for them all and, with that in mind, we are discussing the possibility of prolonging the period for which Ranking points remain valid as one potential solution so that our athletes do not lose points during the period that Events are cancelled.
Rescheduling of Events
Is it possible for an Organiser who is postponing an Event to "reserve" a future date?
Currently, our Regulations do not allow dates to be reserved. We are not going to accept any date changes for the moment as we need to receive all the requests first.
The FEI does not know how many Events will be impacted nor how long the current situation will last. We understand how extremely difficult the situation is for Organisers, but clearly no single Organiser can be favoured to the detriment of others.
For this reason, and in order to evaluate the impact on the FEI Calendar, the FEI requests that for all Events that have been cancelled due to Covid-19, the National Federations inform the FEI whether they wish to organise their Event(s) on another date and, if so, provide the dates to Calendar@fei.org no later than 31 March.
As the situation is evolving so rapidly, for Events that need to be cancelled after the 31 March deadline, National Federations are also asked to confirm whether they wish to propose a new date.
This will allow the FEI, in consultation with the International Equestrian Organisers Alliance and the relevant National Federations, to evaluate the impact of the new dates on the Calendar and propose a policy to the FEI Board for date changes.
FEI Officials
Are FEI Officials obliged to travel to events where they are appointed?
In light of the global concerns about the spread of the virus as well as the increasing number of travel restrictions being enforced by national governments, the FEI has strongly recommended that all international events should be cancelled. However, if an OC decides to maintain its Event, the following applies:
FEI Officials appointed to FEI Events have the option not to travel or may be unable to travel. If the Official has been appointed by the FEI, they are required to inform the FEI that they are cancelling their appointment, following which the relevant Sport Department will, where possible, seek a replacement.
If the Official is appointed by the Organising Committee or National Federation, in the first instance it is up to the OC/NF to find a replacement, but you can contact the FEI in case you need support.
Are FEI Officials covered by the FEI travel insurance policy?
Official Veterinarians and Testing Technicians that are appointed directly by, and travelling on behalf of the FEI – Testing Veterinarians, Testing Technicians, Examining Veterinarians and Measuring Veterinarians - are covered by the FEI travel insurance.
All other Officials will need to contact the relevant Organising Committee directly.
Human Doping Testing
The following Covid-19: Athlete Q&A was developed by WADA in consultation with its Athlete Committee. It addresses specific questions that you as athletes may have regarding human anti- doping during the current challenging and rapidly evolving situation. This is a follow-up to the guidance provided to Anti-Doping Organisations (ADOs) on 20 March 2020, Covid-19: ADO Guidance.
Can I still be tested during the Covid-19 pandemic given the many restrictions in place, especially as it relates to social distancing and self-isolation? Yes. Where no mobility or physical contact restrictions have been put in place by local authorities, testing may still occur anytime and anywhere.
If I am tested, what will be done to minimise the chances of infection?
If a testing program can continue, ADOs need to put enhanced measures in place, consistent with the recommendations from health care authorities, to protect your health and that of sample collection personnel. More information can be found in WADA's Covid-19 ADO: Guidance document.
What should I do if I have symptoms that indicate I may have Covid-19?
You should prioritise your health and the health of those around you. If you are concerned that you may have contracted the virus, the priority is to self-isolate and follow other precautions (hand washing, etc.) as recommended by international health organisations. You should also contact your local health authorities to ensure that you are following proper procedures in your region. In an anti-doping context, you should advise your ADO of your situation with your whereabouts submission or when doping control personnel notify you for testing so that they can adjust their plans accordingly.
Do I still need a Therapeutic Use Exemption (TUE) if I have a medical condition requiring a prohibited substance or method? As long as you remain subject to testing, you remain responsible for ensuring you have a valid TUE. If you have difficulty accessing a physician during the Covid-19 pandemic in order to access the necessary documentation to support your TUE application, you should document all actions
6and impediments to comply with the relevant requirements, and this will be considered on a case-by-case basis.
If athletes are not being tested regularly or less than usual, what is WADA doing to ensure clean competition when the situation returns to normal? WADA is closely monitoring where levels of testing have been reduced or cancelled altogether. When the sporting landscape returns to normal, these 'gaps' in testing may be addressed through additional targeted testing.
Do I still need to provide my whereabouts information?
Unless your ADO tells you otherwise, you should continue to provide whereabouts information as you remain subject to testing. If you wish to share information about your health, self- isolation, mobility restrictions, etc. which may impact doping controls, please share this information with your whereabouts submission.
Can I refuse to be tested if I am self-isolating, in quarantine, or do not feel that adequate precautions are being taken by sample collection personnel? No. Unless there is a mandatory isolation/lockdown, you are advised to comply with testing while following the preventative measures put in place by your ADO. If you refuse to be tested or if you do not complete the sample collection process after notification, or if you are not able (or willing) to provide a sample due to a lack of protective measures, your refusal will follow the normal results management process which affords you due process and the opportunity to justify your action.
Keeping in mind that little testing is taking place, where appropriate, athletes are encouraged to comply with testing. If you rely on the assistance of a representative to assist with the doping control process (especially for minors or athletes with an impairment), and a representative is unavailable due to the impact of Covid-19, this too should be taken into account in the results management process.
With reduction in testing, how can I have confidence in the future that I will be competing in a doping-free environment? Placing public health above the needs of the anti-doping system means that there will be impacts on the fight against doping in sport. However, there is significantly less training being carried out and significantly fewer competitions taking place. It is also important for athletes to remember that doping control samples continue to be stored for future analysis and that with the Athlete Biological Passport, some samples collected post-Covid-19 may reveal indications of doping that occurred during the period.
Finally, while testing may be reduced worldwide during this period, you can contribute to anti- doping efforts by ensuring you are up to date on the latest information and education and encourage your peers and team-mates to do the same. You can familiarise yourself with WADA's anti-doping education resources by visiting the Agency's anti-doping education e- learning platform, AdEL.
For more information, visit www.fei.org
Related Links
FEI to Create Task Forces to Deal with Impact of Covid-19 on FEI Calendar
It Has Been Decided: Olympic Games in Tokyo Postponed to 2021