Greece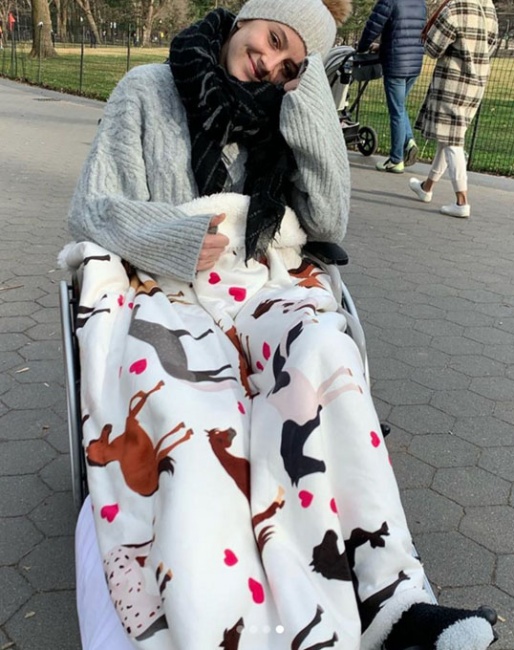 The Swiss-Greek Grand Prix rider Theodora Livanos is sidelined for an extended period of time after having undergone surgery for osteomyelitis in the U.S.A.
The 18-year old Livanos is one of the youngest international Grand Prix riders on the scene. She first made her mark on ponies and then on horses at junior and young riders level.
Initially trained by Birgit Wientzek-Pläge in Switzerland, Livanos relocated to Oxford, Great Britain, in the summer of 2019 to get Grand Prix coaching from British Olympian Emile Faurie. 
Last year Theo actively competed her top horses Robinvale and Dono di Maggio in an attempt to secure an individual Olympic starting place for Greece at the Tokyo Games. She missed it by a hair. 
A Turn for the Worse
Unfortunately 2020 took a turn for the worse and has kept Theo out of the saddle. A niggling pain in her femur sent her to the doctors, but the diagnoses was worse than expected: osteomyelitis. 
"Life can change so fast, so unexpectedly. One never knows how ones life can change from one day to the next," said Livanos. "From doing what I love all day everyday to being diagnosed with osteomyelitis in my leg, bedridden and utterly dependent on someone else. This unfortunate event has impacted my life so deeply and all this at a time of such uncertainty around the world. My goals on all levels including the small daily goals have changed so dramatically. I never knew that picking up a bottle from the floor would be an impossible task right now."
Osteomyelitis is a rare bone infection and in Theo's case it required surgery through debridement, in which dead or damaged bone tissue gets removed and dead/loose tissue washed out. 
"I probably had a bone bruise or a swelling, or a small stress injury which I ignored or didn't know about and infection got stuck in my femur," Livanos told Eurodressage. "It grew there and caused agonizing pain. My whole femur has deformed and swelled to protect itself."
Surgery in the U.S.A.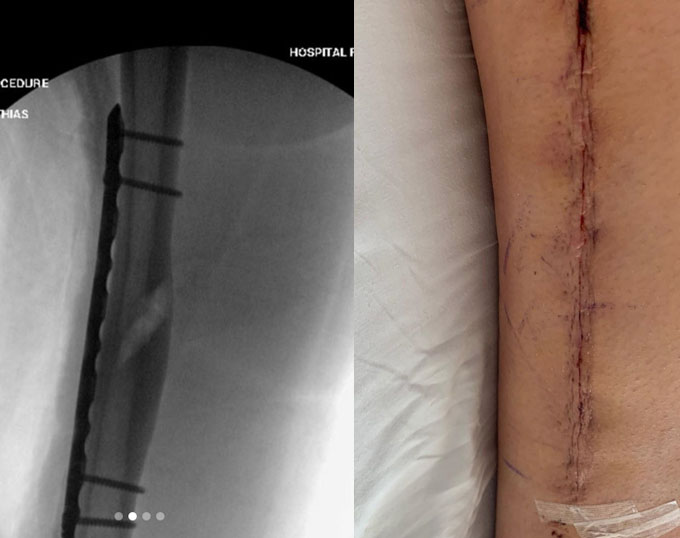 After what Theo calls "a million scans from MRI to CT to X-ray" she had to go to the U.S.A. where a bone biopsy was done and it revealed a staphylococcus aureus infection in her femur.
The entire infected area had to be cut and cleaned out and a metal plate was screwed to her femur for support.  
The operation was carried out two weeks ago in New York City. It left her with a massive scar on her leg and now she has to undergo six weeks of IV antibiotics and cannot put any weight on her leg.  
"It's been a crazy time, but I'm taking it one step at a time. It's crazy that this is happening during the whole corona time too," Theo explained. "I guess it feels like the whole world is recovering from surgery with me."
"In the last four weeks I have had the time to see how incredibly lucky I am to be able to look after myself and enjoy my everyday life. Three months of no walking and so many things that will be different means that so much has come to a halt which for anybody is a difficult realization to come to," she admitted. 
"Look at Life from a Different Angle"
Theo misses her horses in the U.K. but realizes that she is lucky to have an amazing support system around her.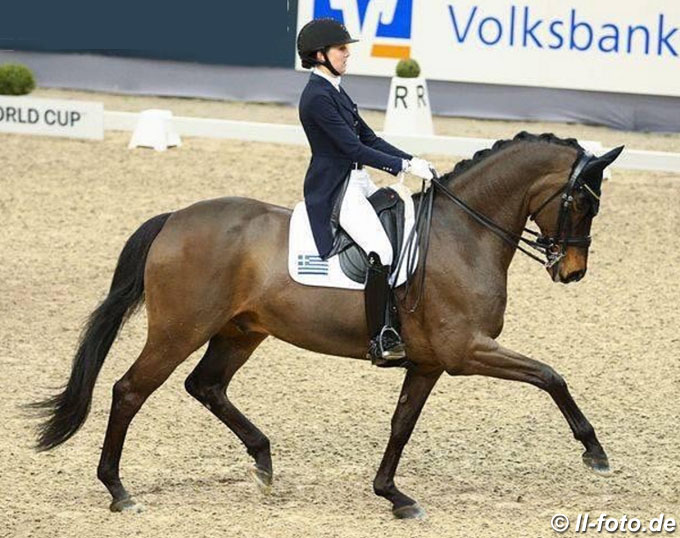 "The no riding is awful," she confessed. "I can't remember the last time I was away from a horse or a stable or an arena for this long."
"These last few weeks have also allowed me to take a step back and look at my life from a different angle which has shown me how grateful I should be for all the small things we easily take for granted. It has been a tough five weeks and the next few months will also be a challenge not only for me but for the whole world since we are all being faced with tricky and uncertain times." 
She concluded: "Remember to appreciate the small things in life. We are all so much luckier than we realize. Sending a big hug to everyone during this tricky time. Stay safe."
Photos © Private - LL-foto
Related Links
Theodora Livanos Pursuing Olympic Dream with Dono di Maggio
Dono di Maggio, A New Horse for Greece's Theodora Livanos
Robinvale Sold to Theodora Livanos
Theodora Livanos' Winston Retired from Competition Sport