Germany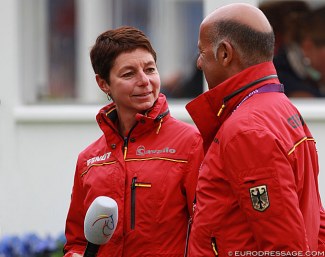 The German Equestrian Federation has announced that it has extended the contracts of senior team trainers Monica Theodorescu and Jonny Hilberath until the 2021 Olympic Games in Tokyo. 
The reason why the federation reported the extensions was done now in order to secure funding from the Federal Ministry of the Interior (BMI) for this state paid job.
"The contracts between the DOKR and its team trainers generally conclude with every Olympic cycle, i.e. for four years. Since the previous planning assumed that the Olympic Games would have taken place in July and August 2020, all contracts were to expire at the end of 2020, "said DOKR Managing Director Dr. Dennis Peiler.
Peiler added, "in the past few days I have had good discussions with our national coaches about extending the cooperation. I am very happy and grateful that everyone has committed to continuing the path together until Tokyo 2021."
For dressage this means that Monica Theodorescu will stay in charge as team trainer, assisted by Jonny Hilberath. 
"We hope we can clear the financial aspects with the DOSB (German Olympic Committee) and BMI, which are responsible for the allocation of sport funding for top sports federations. Because the national coaches are financed through this funding, "said Peiler. "Planning securely is now even more important in such uncertain times due to Corona."
Monica Theodorescu has been German's senior Grand Prix team trainer since 1 October 2012. She succeeded Holger Schmezer who died unexpectedly in April 2012 and was temporarily substituted by Jonny Hilberath.
Photo © Astrid Appels
Related Links
Theodorescu's Contract as Team Trainer Renewed, Heinze to Replace Koschel as U25 Coach
Monica Theodorescu Appointed New German Team Trainer
Hilberath to Step Down as German Team Trainer
Holger Schmezer Passed Away
Holger Schmezer to Resign as German Team Coach After London
Holger Schmezer, New German Dressage Coach