Russia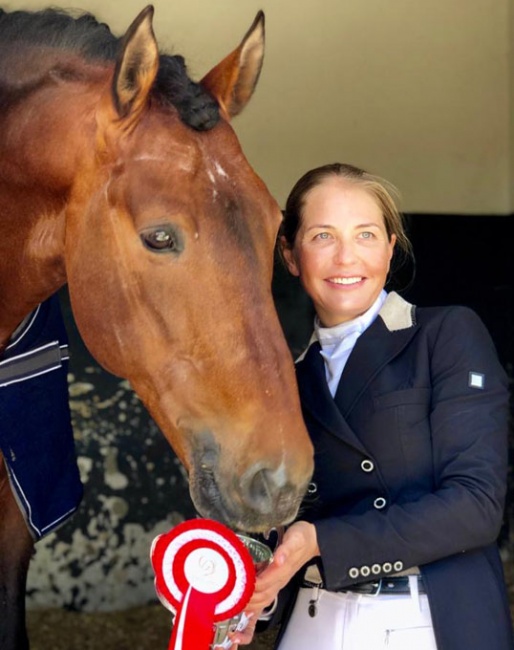 The Zakhrabekova family, consisting of Grand Prix mom Irina and her daughters, junior rider Karina and children rider Agata, were off to a great start of the 2020 show season at the back-to-back CDI's in Cascais, Portugal from 27 February - 8 March 2020. Unfortunately like every other competitive equestrian athlete in the world, the corona pandemic has meddled with their competition plans and the family is now split from their horses due to Covid-19.
The globe-trotting Zakhrabekova's, who commute between Spain, Germany and Russia, are making the best out of the mandatory stay-at-home time but are faced with the difficult challenge of being separated from their horses, with them in Russia and the horses in Spain. However, thanks to a good support team they will be ready for relaunch as soon as the situation improves and travel is allowed.
Reaching New Heights
The 43-year old Irina Zakhrabekova and her number one ride Armas Balago II, a 15-year old PRE stallion by Armas Tarugo x Tesoro, achieved two new, personal best score of 69.087% in the Grand Prix and 69.149% in the GP Special on the first weekend at the CDI Cascais.
"It was only our second international Grand Prix, so he did very well," said a thrilled Irina. "We still have a lot to improve, but Armas is so talented and we know each other so well. I've had him since he was 5, so it's a big honour and pleasure to have worked him up the levels and now compete him in Grand Prix." 
With her second iron in the fire, the 13-year old Brandenburger gelding Quadroneur (by Quaterback x Sandro Hit) she posted 66.087% in the Grand Prix. 
"Quadroneur did his first international Grand Prix, so for him it a schooling session," said Irina. "Our goal this year is to get him used to the programme. He is not very self-confindent and gets easily distracted, but he has time."
Irina has much to look forward to now that she has been officially short listed for Team Russia. She is working towards her dream goal of representing her country at the Tokyo Olympics, even though Russia will be competing under a neutral flag. 
"As I am preselected for the Russian team I started training with our new Russian team trainer Ferdi Eilberg," said Irina.
Gaining Mileage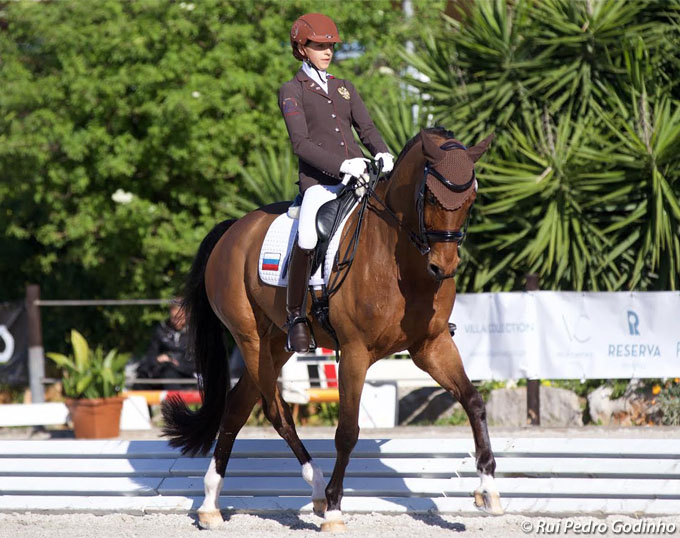 The 14-year old Karina has made the transition from children to the junior division with her partner of almost two years, the 11-year old Westfalian gelding Ein Stern (by Estobar x Full Speed). 
Karina began riding Ein Stern in the autumn of 2018 and made her show debut in the children's division in February 2019. They were selected for Team Russia for the 2019 European Children Championships in San Giovanni, Italy, where they won team bronze and placed 8th individually. 
At the 2020 CDI Cascais Karina and Ein Stern competed in four junior classes, getting her feet wet at this new level with presents its own challenges. They kicked off with a 67.606% earning team test ride and went on to achieve more routine in the new programme. 
"Ein Stern went fine and we did quite well for our first CDI of the year," said Karina. "The individual tests are still very difficult, but I'm proud of us because we haven't been practicing the junior tests for over a month. Everything has its process and I'm looking forward for our next show."
Stellar Start for Agata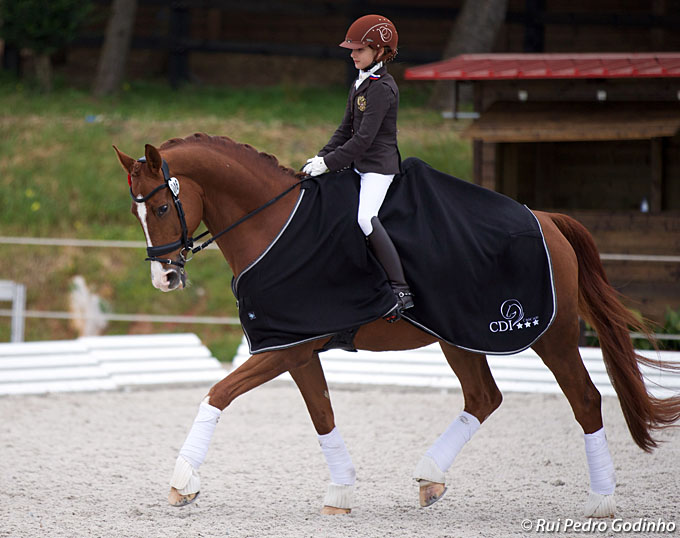 The youngest of the family, 12-year old Agata, has made her international show debut in the children's division in Cascais with Ein Champion ZS, an 8-year old Dutch warmblood gelding by Winningmood x Santano x Mytens xx, which the family purchased less than two months ago. The chestnut is originally named Hatchi K and was competed by Dutch Krista Kolijn last year before selling to Zakhrabekova.  
On the first weekend she posted winning marks of 70.423% in the preliminary test and 68.236% in the Team Test. On the second weekend Agata and Ein Champion ZS upped the ante and posted impressive marks of  78.125% in the preliminary test and 76.310% in the team test. 
"I have no words," said Agata about her first, massive CDI scores. "I'm just incredibly happy with my boy Ein Champion. He made super progress from the first week (when they competed in the national leg). My mom is the best trainer and I'm the happiest rider ever."
Elder sister Karina is proud of the benjamin of the family. "This was the first CDI in the life of my baby sister and she is a real monster," Karina joked. "She got 68%, 70%, 78%, and 76%."
Corona Times in Russia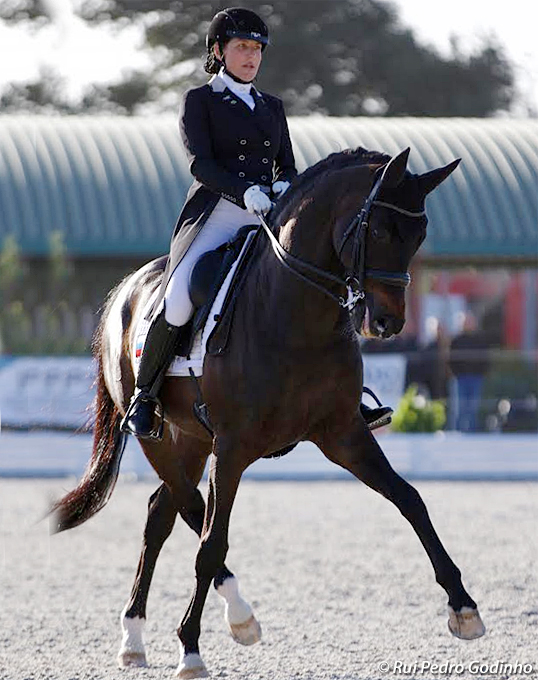 With the outbreak of the corona virus, the Zakhrabekova's opted to sit it out in their residence in St. Petersburg, Russia, instead of staying in their home in the heavy-hit country Spain.
"It's a tough time so it's better to stay here in Russia with my family," Irina explained. "The horses are stuck in Spain after the competition in Cascais. It makes me very anxious that I can't be with them every day, but they are very well looked after by my groom.  The kids are now doing online studies and this time does bring us even closer together as we are cooking, cleaning, doing yoga, and working out together. We do everything to stay fit." 
Irina and her husband Eduard Zakhrabekov run a pharmaceutical business in Russia and corona times have put their company in overdrive. 
"Our main goal now is to supply the citizens and hospitals with all the necessary medical equipment and supplies," said Irina. 
Irina heads her own equestrian company ZettaSport, which focuses on the training, breeding and sales of high performance dressage horses alongside achieving their personal goals in the competition ring. For the children those are the 2020 European Children and Junior Rider Championships, for Irina it is Tokyo in 2021.
"My goal is to make the dream of any athlete comes true, the Olympics," said Irina. "I have my qualification scores, so now it's time to improve every single small detail and secure my place in the team. As soon we have have new FEI calendar we will prepare new plan for Zetta team."
Photos © Rui Pedro Godinho
Related Links
Mother and Daughters Zakhrabekova Make Dressage a Family Affair
Quadroneur Sold to Bulgaria as Ride for Russian Irina Zakhrabekova
Scores: 2020 CDI Cascais
Scores: 2020 CDI Cascais