Stallion Show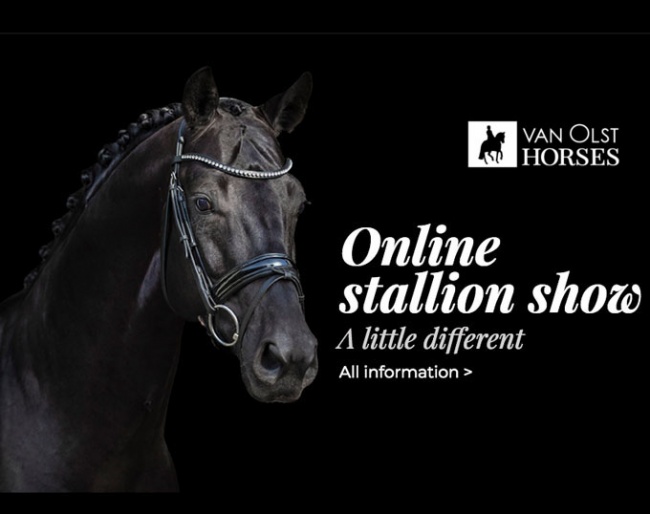 The 2020 Van Olst Stallion Show, in which 15 top dressage breeding stallions will be presented to dressage lovers and breeders, will be streamed live on Clip My Horse, KWPN.TV and www.vanolsthorses.com on 10 April 2002 at 19h30 (CET). 
Due to corona pandemic, all sporting events are prohibited in The Netherlands. This prompted Dutch stallion owner Gert-Jan van Olst to be creative and change his annual Stallion Show into an online format. 
"Despite of the corona crisis, we still want to show our wonderful stallions to the breeders," said Gert-Jan. "That is why we made sure that everyone can see our collection, in action, from the comfort of their home. We aim to bring a top level stallion show that will give a unique look in our stallion roster of 2020."
Van Olst Super Stars in a Row
Van Olst will be presenting a group of 15 proven and newly licensed young breeding stallions under saddle and in hand.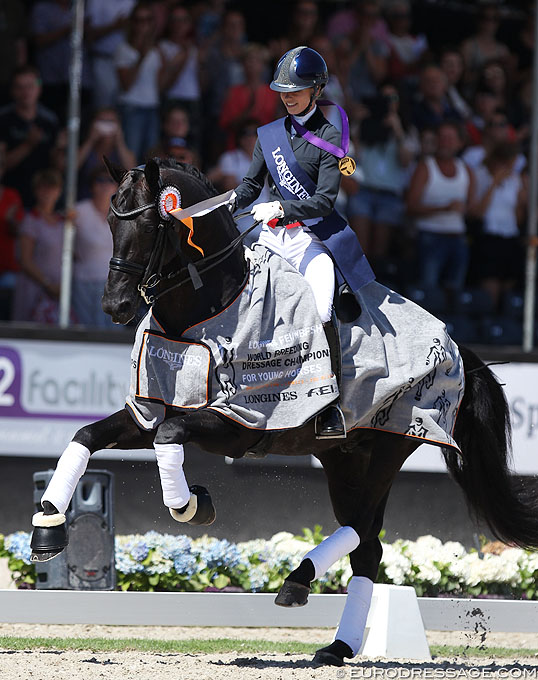 The show will be presented by Gert-Jan and his wife, Danish Olympian Anne van Olst, and their head rider, British Charlotte Fry. 
The presentation will include Van Olst's foundation stallion Negro (by Ferro) who sired the double Olympic champion Valegro alongside 21 more international Grand Prix horse. Negro is the KWPN Stallion of the Year 2017.
He will be joined by Lord Leatherdale (by Lord Loxley), sire of numerous licensed stallions and will appear alongside his sons, Glamourdale, the World Young Horse Champion in the 7-year old division, Everdale, who finished third at the 2019 London Olympia World Cup qualifier most recently and who is available with fresh semen this season due to the cancellation of the spring competition calendar, and the Grand Prix level trained Chippendale. 
You will get to see Diego, Nespresso, Giovanni, Inclusive, Inverness, George Clooney, Jayson, and young talents Lantanas and Lewis. 
Of course the show won't be complete without Kjento (by Negro x Jazz), who was the KWPN Stallion Performance Test Winner and whose first crop of foals is expected this spring season. The first foals that have landed seem to have exceptional quality.
Streamed Live on 10 April 2020 at 19h30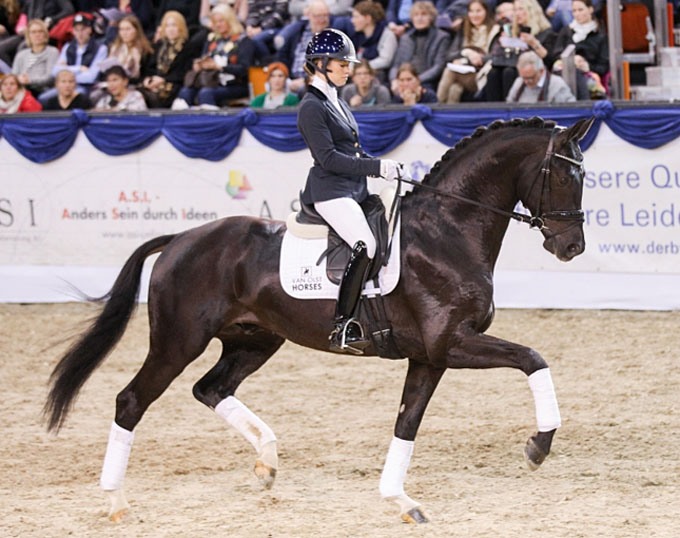 Don't miss any of the action and discover your breeding choice for 2020 by watching Van Olst Horses present their fabulous collection of stallions
The stallion show can be seen on three different channels: ClipMyHorse, KWPN TV and on www.vanolsthorses.com
To discover the Van Olst stallion collection, visit www.vanolsthorses.com