Austria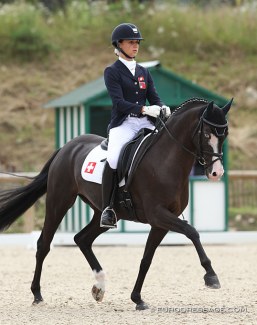 The international FEI Dressage pony Nice Blue Eyes, which has competed for Germany, Switzerland and Austria, has been retired from competition sport. 
Nice Blue Eyes is a 16-year old Westfalian bred pony mare by Notre Beau out of Pamina (by Principal Boy x Durello x Derby).
She is bred by Leonhard Beckhoff at Gestut Heiligenberg
Young Star in Germany
Nice Blue Eyes was first competed bby Andrea Thurow  as a 3-year old in Germany in 2007. In 2008 Fritz Fleischmann rode her once at A-level.
In April 2008 she was purchased as a fun, impulse buy by Austrian horse owner Sissy Max-Theurer and business partner Paul Baune at the 2008 Westfalian Spring Elite auction for 29,000 euro.
Wibke Hartmann-Stommel took over the ride and steered her to a bronze medal at the 2008 Westfalian Young Pony Championships and gold at the 2008 Bundeschampionate in Warendorf. 
Stommel continued the mare's training through the spring of 2009, but Nice Blue Eyes returned to Munster for the 2009 Westfalian Regional Championships under Charlott-Maria Schürmann and won silver. The pony did not go to the Bundeschampionate less than two months later.
An International Life in the Alps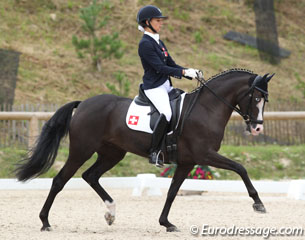 In 2010 Max-Theurer sold Nice Blue Eyes as a 6-year old to Marie-Line Wettstein as the pony ride for daughter Estelle.  
The mare made its international show debut at FEI pony level at the 2011 CDI-PJYR Roosendaal, followed by Babenhausen. They won silver at the 2011 Swiss Pony Championships, but did not go to the 2011 European Pony Championships as Estelle opted to ride on the Swiss jumper pony team that year.
In 2012 they went full steam ahead with starts at Vidauban, Stadl Paura, Samur, Moorsele and Hagen to end up selected to represent Switzerland at the 2012 European Pony Championships in Fontainebleau, where they finished 8th in the Kur to Music finals. They won gold at the 2012 Swiss Pony Championships.
In 2013 the Austrian Josef and Tamara Ahorner family bought the black mare as an FEI hope for their daughter Nicola.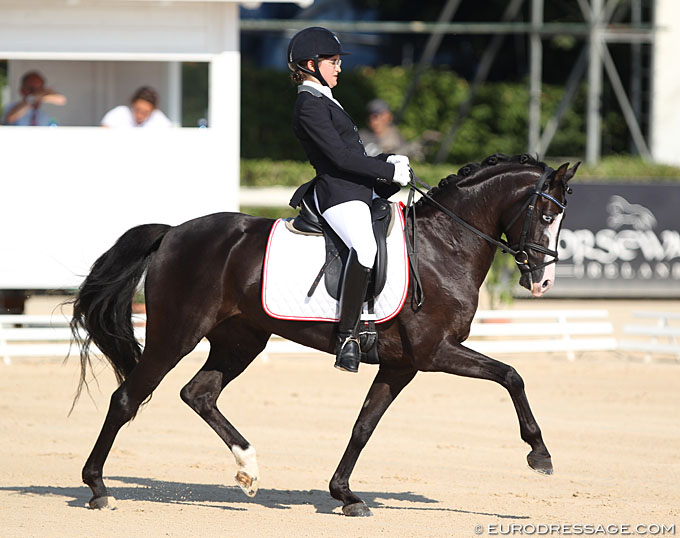 The new duo kicked off their international campaign at the CDI Stadl Paura in March 2013 and rode at Radzionlow, Lipico and Brno to be selected on the Austrian team for the 2013 European Pony Championships in Arezzo, where they sere 31st in the Individual Test. 
In 2014 Ahorner and Nice Blue Eyes showed at Caselle di Sommacampagna and Lipica, but got injured and needed a break. They returned to the arena at the 2015 CDI Stadl Paura and went on to the CDI's in Caselle, Roosendaal, Brno, Vienna, Kaposvar and Zakrzow, but there were no Europeans for Nice Blue Eyes as Nicola opted to ride her other pony Dynasty at the 2015 Euros in Malmo. However she did win the 2015 Austrian Pony Championships on Nice Blue Eyes.
Schoolmaster for Lana-Pinou
The Ahorner family gave Nice Blue Eyes as a schoolmaster to the German Baumgürtel family in 2016, where she became to ride for the youngest daughter of the family, Lana-Pinou.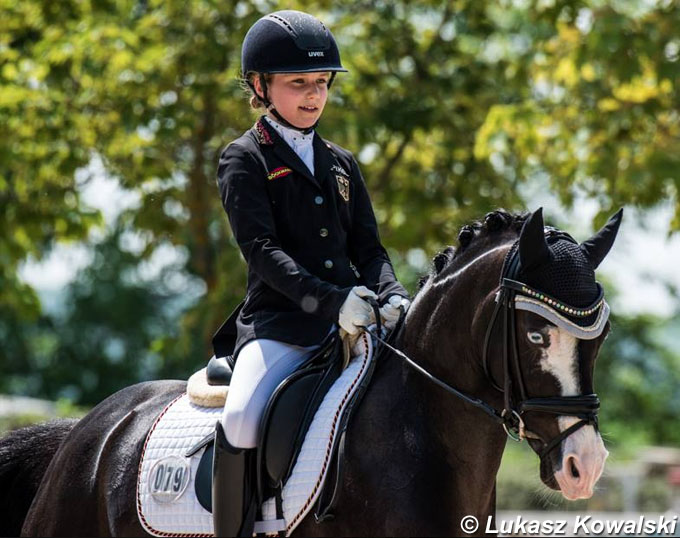 Lana and Nice Blue Eyes first showed at the local show in Appelhulsen in September 2016, followed by some smaller events in Cologne, Castrop and Unna. 
The pair made its international show debut at the 2017 CDI Caselle di Sommacampagna in Italy and also rode at the CDI Mannheim, alongside a few local shows in Ankum and Billerbeck.
In 2018 Lana-Pinou and Nice Blue Eyes rode at the Preis der Besten and went to the CDI's in Sopot, Hagen, Mariakalnok and Deauville.The latter show was the pony's final show in her career.
Nice Blue Eyes did not compete in 2019. 
Retirement in Austria
Nice Blue Eyes has returned to Austria where she has been fully retired from sport and is now spending time in the field.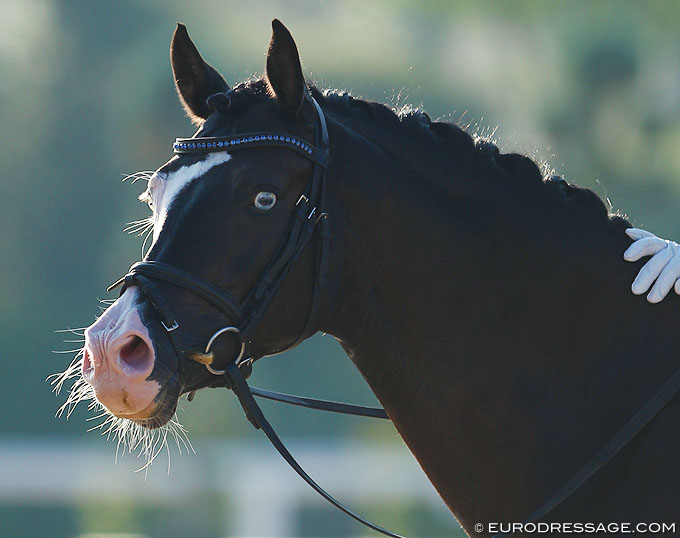 "She's is now enjoying herself in a pasture in Kärnten with our other broodmares," Nicola Ahorner told Eurodressage. "She is such a character and a lovely horse."
The Ahorners have tried to breed her this year, but she did not catch. When we asked if they are going to try again, Nicola replied, "probably not, but it really depends on Blue, but we're not really stressed. The most important thing is that she's healthy and can enjoy her retirement! So maybe it'll still work out sometime later this year or it'll work out next year."
Photos © Astrid Appels
Related Links
Eurodressage Photo Database: Nice Blue Eyes
New Faces and Horses Entered for the 2017 CDN Munster K+K Cup
Ahorner, Wurzinger, Pointinger, Max-Theurer Win 2015 Austrian Dressage Championships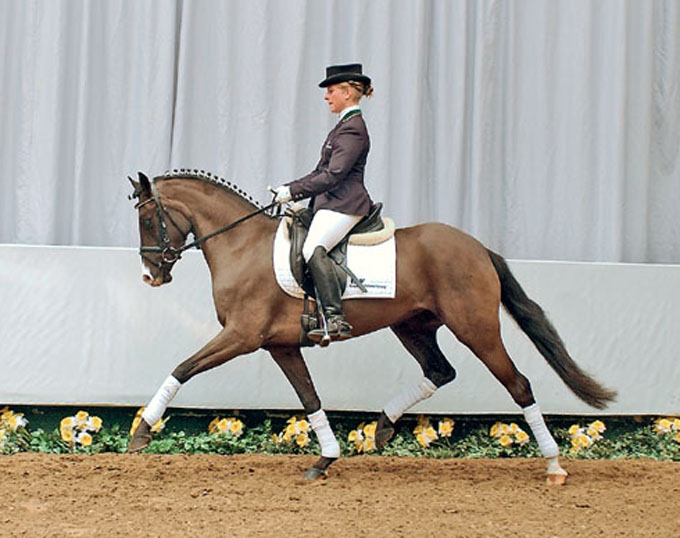 Austrian Team Picked for 2015 European Pony Championship
Swiss Team Selected for 2012 European Pony Championships
Wettstein, Lehmann, Krinke-Susmelj Win 2012 Swiss Dressage Championships
Surprise, Surprise: Markus Graf is the 2011 Swiss Dressage Champion
Swiss Team Selected for 2011 European Pony Championships
Photo Report: Wettstein Takes it All in Pony Division at 2012 CDIO-PJYR Moorsele
Defalque and Epiascer Find the Groove in the Show Ring at 2011 CDI-P Roosendaal
Nice Blue Eyes to Estelle Wettstein
Scores: 2008 Bundeschampionate
Record Price for Pony Crocodile Rock at 2008 Munster Spring Elite Auction