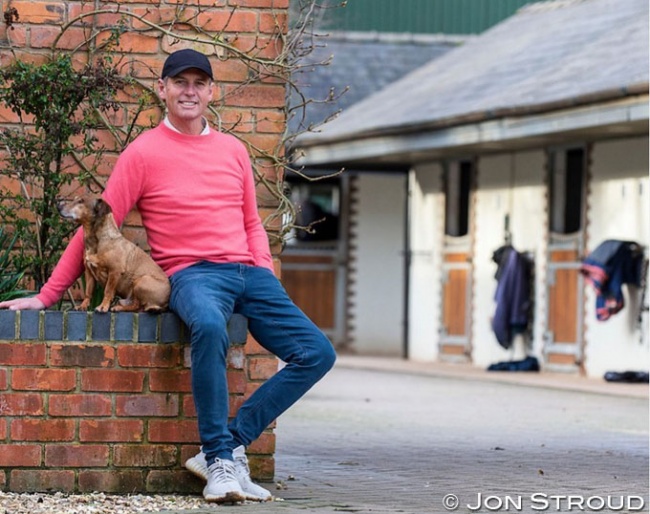 In a live chat with social media influencer Matt Harnacke, British dressage legend Carl Hester talks openly about his life at home during the corona lockdown, the postponed Olympics, his career and much more. 
Here is a summary of the interesting bits Carl shared with the viewers. 
Corona and Tokyo
On corona times:  "We can still do essential shopping. You feel safe living on the countryside. It doesn't seem so bad over here," said Carl, who also referred to his father being much more isolated and confined in Bath. "We have four members of staff who live on site. At lunch we normally grab a sandwich and run, but now they are sitting together, I even cooked lunch last Sunday and we chat." 
On the Tokyo Olympics: "It was an impossible situation to go ahead. It would be the worst place to get a virus, putting all these people in a village together," said Carl. "This would have been my sixth Olympics, so it wouldn't have been the end of the world for me.
On feeling relieved about the postponement: "I have to say after the initial disappointment it's a huge relief. When that pressure was taken away, I took a deep breath and felt it was amazing to stay at home for a bit."
On Olympic pressure: Carl looked back on Rio and why they decided to retire Valegro right after that. "The pressure was so immense on her (Charlotte in Rio) and me to try to keep her calm, it isn't fun. I was happy to retire Valegro after that.  We looked at each other and said: "never again". This year it wouldn't have been like that with two young horses up for selection. It's all about inspiring your country and other riders."
On having more time to prepare for Tokyo: "When you don't have an aim, you have to change everything. What you can do is preserve your horses. The older horses need to be kept supple and the younger ones need to learn more.  We have turn out here, they all go out in the field. We're still at the stage in the spring when they go nuts, it's like the grand national here. 
On preparing for Tokyo 2021: "Another year for each horse is a huge amount of time in training and physical maturity.  Don't work your horses hard as if you're going to an Olympics. You are not. We do hill work and focus a lot on fitness. I have a few hills around here. We go walk, trot, canter up and down the hill. Less pressure and a little bit of fitness. We do general work to keep them ticking over, so they don't become crazy."
On his Top 5 team prediction: "It would have been Germany, Denmark, Great Britain or Holland, and then Sweden. Predictable sport is boring!"
Dressage Career
On how he got started with horses: "I left the Isle of Sark to become a groom at age 15. Dropped out of school. It was very scary, and I was very home sick for my friends," said Carl.
On his big break: "It came when I was hired by Wilfried Bechtolsheimer. Dr. B is a big name. He died recently," said Carl. "He's a huge supporter of British Dressage. He gave me my first break, and many other people."
On his gradually growing fame: "I was at the bottom for a long time. Before this happened, I had been competing for 20 years before my medals came. I was at the bottom as every body else! I don't forget you can easily be at the bottom quickly again. I always try to maintain a down to earth attitude."
On being so friendly: "I don't have to work at it, to be friendly. When you start winning, every body wants to talk to you though"
On making money in dressage: "It's very unlikely that you are going to make a living from being a rider. just riding horses alone doesn't make enough of a living,"
Social Media
On life without social media: "I was 22 when I rode my first World Championships. I got lots of attention from the magazine and pony kiddie magazines," which worked as social media back then.
On trolling: "Why follow someone if you want to be mean or nasty to them," Carl wondered. "At my age, it doesn't quite affect me as someone younger. Every body is allowed an opinion, I think rather than being upset about it. I thought everybody loved everybody. Social media changed that. Glad they got more control of it. You should not and cannot go around and be abusive to people. I just presumed the world was lovely and if they don't think so, they would walk away.
On criticizing photos: "Everybody makes mistakes. Passing the knowledge on is important. Everybody is entitled to an opinion, but very few are qualified to give it."
On the positive effects: "We did Equestrian Relief last week and raised £250,000. Without social media we wouldn't be allowed to do it. You can make it work in a positive way." 
Training Horses
On what he loves most about dressage: "I love riding, so that will never disappear. Competing isn't my huge joy. I do it, because I want to go to Championships. If I am one of the top four in my country, than I'll go.  I want to continue riding, train other people. The challenge I love about riding it training."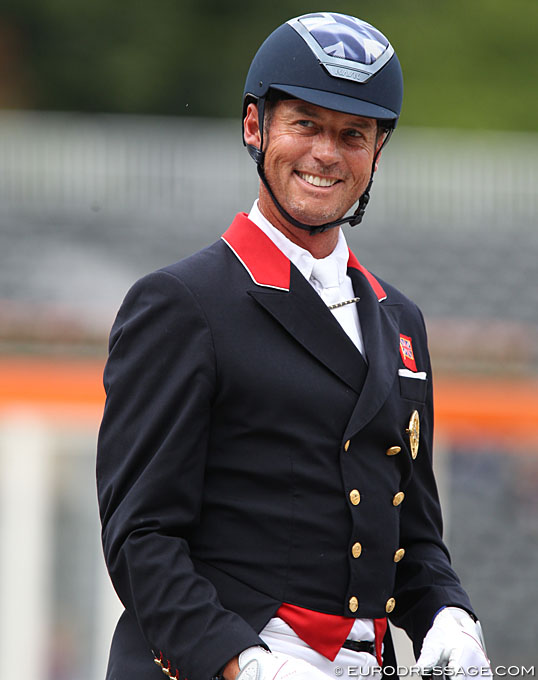 On keeping a steady flow of horses: "I have an 6, 7 and 8 year old. Three wonderful ages, horses learning. They are great one day, not so great the next day. Then I'm crying so excited about them, then next day they look like nothing. My pleasure really is this training the young horses up to Grand Prix." 
On training Iberian horses: "I had a couple of PRE's probably 10 years ago. They is a misconception that they are perfect horses for people who didn't really want to ride or are a bit nervous. They do need a good rider. They are sensitive, they can be hot. They have a lot of life about them. Thought they were sweet old lady horses and they were not. They are proper horses. Now I have an 8-year old Portugal. bay stallion. Got it last year. He's fabulous. The owner's in Ireland. I love riding him every day. It's personality and work ethic. The fact that I can't wait to get on him and the fact that he can't wait to be trained. But you do have to work on their suppleness."
On handling stallions: "It's a lot of work with stallions, at this time of year. This one in the last two weeks has turned into a nightmare. Safety is very important. We have to be safe with these stallions," said Carl, who gave as an anecdote that this stallion just out of the blue mounted a metal horse statue on his drive way.  If they do it (the covering) regularly as a job, they become easy, but if they do it occasionally they become really excited about it."
Talent Spotting
On discovering great rider talent: "It's that initial impression. I can remember Isabell Werth when she was coming onto the scene; the buzz that was going round. The buzz was that there's going to be a rider who will be the best in the world. She was only 21. Dr. Uwe Schulten-Baumer knew that. She has stayed at the top forever."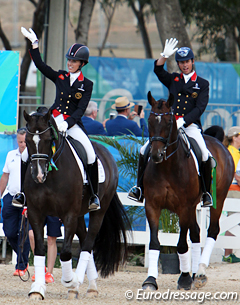 On seeing Charlotte's talent: "With Charlotte, when I first saw her training, although she was very green and didn't have a lot of experience, you knew she was going to be a top rider. I taught her every thing I knew. I think Charlotte could be the next best rider in the world and I still believe that. Like everybody they need directing and to be pointed in the right way. I'm obviously very proud of her and it's 13 years later."
On their mentor-student relationship: "Some weeks it's a lot of shouting and some weeks there is peace and calm over the yard. We go through a lot of emotions. Especially when there's other people interfering and then her and I end up arguing about it. If you don't argue and clear the air occasionally, life would be boring.  I'm not jealous of Charlotte. I accept she's the best, which of course she loves and which why it works so well."
Photos © Jon Stroud - private - Astrid Appels
Related Links
Equestrian Relief Raises £250,000 for British National Health Service
Carl Hester Has the Fun Factor
Packed House of Crowds Attend Hester Career Celebrations
Uthopia to Stay with Carl Hester, Secured by Sponsor
Carl Hester and Uthopia 'Uphoria' at the 2012 Olympic Games
Landmark Day for Great Britain Winning Team Gold with Team Record Score