Hit & Run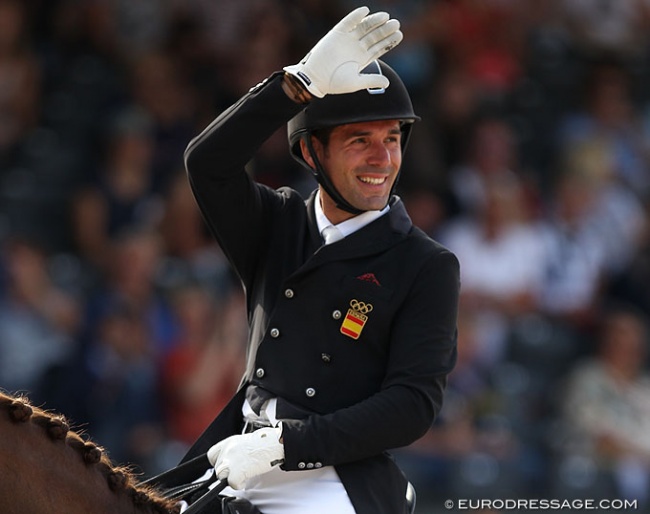 In corona times we are all ordered to stay at home, self quarantine, and do social distancing. With more time on your hands to spend online, Eurodressage launches a "Hit & Run" interview series so that you get to know the world's most famous dressage riders and personalities more closely. 
Spanish Grand Prix rider Severo Jurado Lopez began his international career as a young rider showing at the European YR Championships in 2008 and 2009. He first hit the spotlight as a professional rider, working for Van Olst Horses in The Netherlands and competing young stallion Chippendale at the World Young Horse Championships in Verden. His Grand Prix career started on Van Olst's Numberto. He was head-hunted by Helgstrand Dressage. He won the World Young Horse Championships five time (Fiontini, D'Avie) and represented Spain at the 2016 Olympic Games in Rio on Lorenzo. With Deep Impact he competed at the 2017 European Championships and 208 World Equestrian Games. 
Hit & Run - Severo Jurado Lopez
What is your earliest memory? 
I have no idea
Which person alive do you admire the most and why?
I don't admire one specific person, but I admire certain characteristic of many people: honesty, Passion, Hardworking, self-reflecting, positive mindset (optimism). 
When were you the happiest?
Competing at the 2016 CDIO Aachen with Lorenzo
What is your biggest fear?
Loosing someone close to me, a family member
What was your first thought today?
I'm late
What is your most annoying character trait?
Perfectionism with horses
Which trait do you dislike the most in other people?
Not being respectful
What is your dearest possession?
My knowledge
If you look into the future, what do you see?
Happiness and relaxation
What makes you unhappy?
Being unsatisfied with the training of my horses
What is the love of your life?
Annika Damrau
What was the best choice you ever took in life?
To became a professional rider and make my living of it
What's your guilty pleasure?
Gin & Tonic
What do you owe your parents?
Everything, they have always supported me
Who can sit next to you at your dream dinner table?
My family
What was the worst job you ever did?
Helping my father in his garage. Almost the only thing I got to do was sweeping. 
What was your biggest disappointment in life?
I don't have an answer to this, I always see positive things even in disappointments. And in long term you only learn and get stronger. So I don't have any big disappointment in my mind. Maybe at the moment that Corona has changed all plans this year!? 
What would you change if you can go back into the past?
Nothing
Name one thing that would improve your quality of life?
Better weather in Denmark
What is your biggest achievement?
Fifth place with Lorenzo in the Rio Olympics and 5-times World Young Horse Champion
What is the most important life lesson you have learnt?
No one has a secret or magic key for success, it's all about hard work and passion
Where would you like to be right now? 
I wish we would be training right now for the Olympics
What's your favourite scent?
Forest smell
Which character would you dress up in for Halloween?
I don't like dressing up for Halloween or carnival 
To whom would you like to say sorry?
If I have hurt someone without knowing, nor on purpose
What does love feel like for you?
Love is what makes me do what I do everyday, so love is my power and my drive
When are you most relaxed?
After a (successful) competition
What super power would you like to have?
Mind reading 
When did you last cry, and why?
I don't remember
When were you closest to death?
Luckily, I've never been close to death
How do you want to be remembered?
As a good person
Related Links
D'Avie Renews Title Winning 7-year old Finals at 2019 World Young Horse Championships
Poster Boy D'Avie Enthuses and Wins 6-YO Final at 2018 World Young Horse Championships
Fiontini Stands Apart and Wins 6-Year Old Finals at 2016 World Young Horse Championships
Jurado Lopez and Deep Impact Win 3* Tour at 2018 Equitour Aalborg
Severo Jurado Lopez Not to Return to The Netherlands, Stays in Denmark
Severo Jurado Lopez to Denmark, Anna Blomgren to The Netherlands
Severo Jurado Lopez Premiers Deep Impact and Dragao at Grand Prix Level