Sweden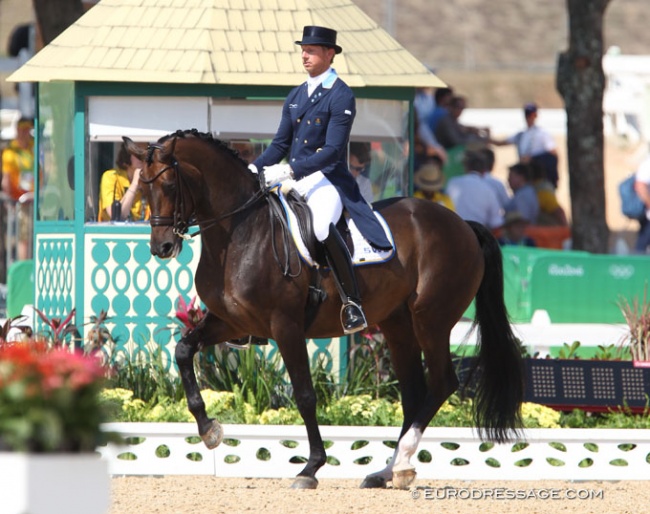 After a two year absence from the international show arena, the long-time Swedish team horse Deja has now been officially retired from sport.
Deja is a 16-year old Swedish warmblood mare by Silvano out of Donellie (by Don Schufro x Amiral). She is bred and owned by Marie Haward. 
Start with Svanberg
The mare was first trained and competed by Anne Svanberg. The mare first moved into the spotlight when she won the 2009 Swedish Young Horse Championships in Flyinge.
In 2010 Svanberg and Deja were selected on the Swedish team and competed in the 6-year old division at the 2010 World Young Horse Championships in Verden, where they finished 10th in the finals.
From Sales Horse to Team Horse 
Haward decided to sell the mare and sent it to Germany to Patrik Kittel to be sold.  He first presented her in public at the 2012 Global Dressage Forum, where he gave a presentation on combining the competitor's life with running a sales business. Deja was there presented as an example of a sales horse that had arrived in the barn.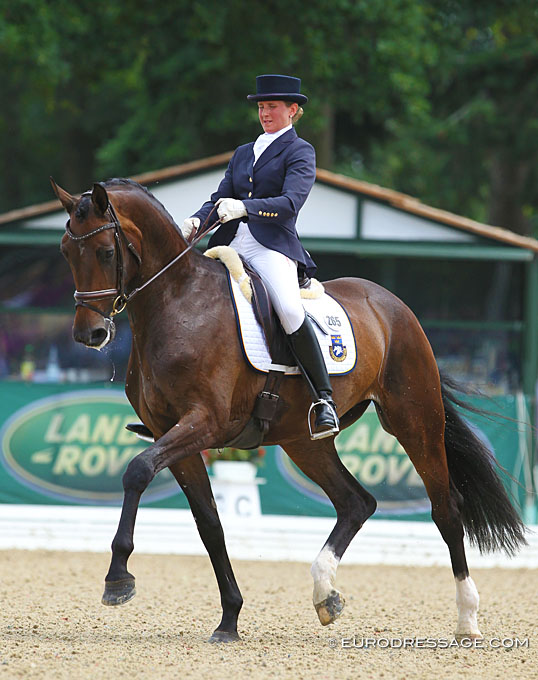 Although Deja would have made an excellent match for his wife Lyndal Oatley, Patrik Kittel arranged a deal with owner Haward to secure the mare for a three year period as his Olympic hopeful for Rio. 
They made their international show debut at small tour level in 2013 with starts in Hagen and Aachen, followed by a winning Grand Prix debut at the CDI Mechelen in December 2013.
"Deja did the young horse World Championships but had some big difficulties learning the flying changes and it took a long time for us to fix this, but once that was improved the rest was easy," Kittel was quoted saying in April 2013.
Kittel and Deja became a fixture on the Swedish team as of 2015 as Scandic was still the number one in the barn at the time.
Deja made her Swedish Grand Prix team debut at the 2015 European Championships in Aachen, even though the 16-year Scandic won the 2015 Swedish Grand Prix Championships and was the best performing Swedish horse at the 2015 CDIO Rotterdam. Deja's team debut in Aachen didn't go as well as planned. After a 14th place in the Grand Prix, she had to be retired from the Special. Deja had threw her tongue over the bit and reared in two piaffes.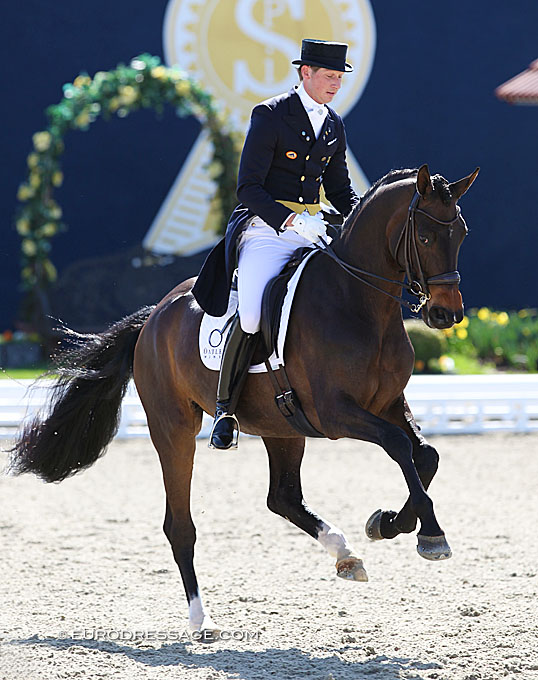 In July 2016 Scandic was retired from competition sport and Deja moved into the number one spot. In preparation of the Olympics, she was shown that year in Doha, Hagen, Compiegne and Rotterdam, winning four classes out of seven. At the 2016 Rio Olympics she placed 16th in the Kur to Music.
In 2017 Deja showed in Amsterdam, Doha, Compiegne and Falsterbo, but Kittel decided to choose Delaunay as his 2017 European Championship team ride on home turf in Gothenburg. 
He focused with Deja on the 2017-2018 World Cup circuit and did indoor shows such as Lyon, Stockholm, Amsterdam and the 2018 World Cup Finals in Paris, where they were fourth. 
Swan Song
Deja did one further outdoor show in 2018 and it turned out to be her last competition in her sport career: the 2018 CDIO Falsterbo. 
Falsterbo took a nervous start for Deja's rider as the mare first failed the horse inspection but then passed the re-inspection on the morning of the Grand Prix. She moved on to win the Grand Prix as well as the Kur to Music in front of the Falsterbo crowds. It turned out to be a successful finish to her show career.
Deja was short-listed for the Swedish team for the 2018 World Equestrian Games, but preference was given to rising star Well Done de la Roche. 
Retirement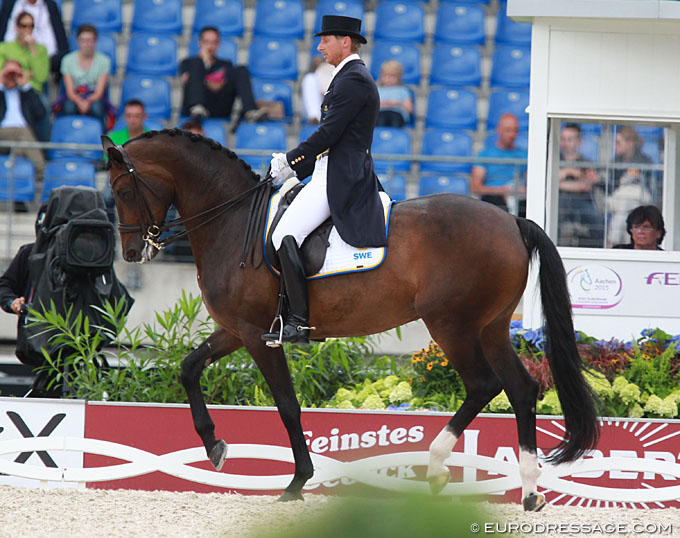 Deja's disappearence from the show sparked rumours of a niggling injury that had become permanent. However, in June 2019, Kittel told Tidningen Ridsport that it was a field accident that had sidelined the horse from competition sport. 
"She twisted a bone in the field and was quite properly lame immediately when it happened," he told Ridsport, "It got better quickly but she has had to take it easy and heal. It has taken a long time."
Today, the Swedish rider announced the official retirement from sport of Dega:
"Her personality and willingness to work would take too long to write about. Sadly after her accident in the field we could not get her back to full work and after done so much for me and Marie Haward we decided to let Deja become a full time mommy," he explained. "I will miss her kindness and her loving the crowd cheering for her, but a new chapter in her life will open and for her to have a happy life is the most important thing."
Broodmare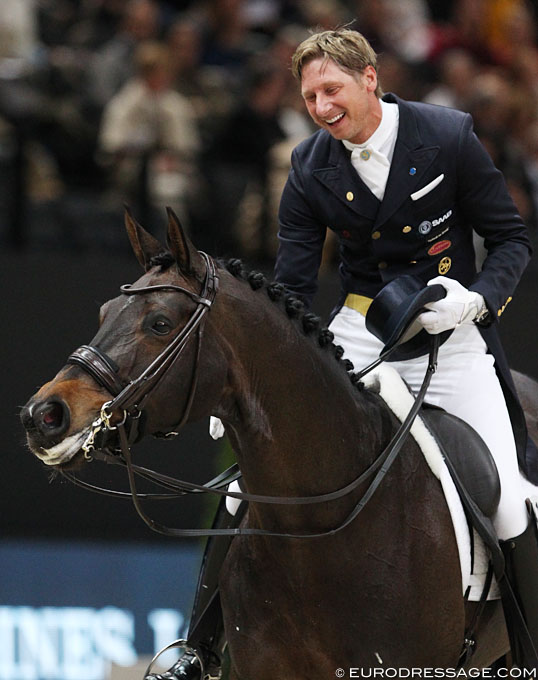 Deja already served as a broodmare at the her sport career.
Deja was bred as a 3-year old in 2007 and produced the 2008 born Swedish warmblood mare Diva (by Richfield) herself. The black mare Diva went on to compete at the 2013 World Young Horse Championships under Anne Svanberg and is now a rising Grand Prix horse owned by Lyndal Oatley. 
Breeder and owner Marie Haward tried flushing Deja for the first time in 2019, but the attempt was not successful. In July 2019 an embryo by Johnson was transferred from Deja, but it did not catch.
"We will try again with Johnson," Haward confirmed to Eurodressage.
Photos © Astrid Appels
Related Links
Eurodressage Photo Database: Svanberg on Deja - Kittel on Deja
Patrik Kittel's Deja Injured and on Baby Break
Patrik Kittel Chooses Delaunay over Deja for the 2017 European Championships
Kittel and Deja Score Hattrick in Grand Prix for Kur at 2016 CDI Hagen
Patrik Kittel and Deja Ace 2015 CDI Compiegne 4* Big Tour
Dressage Deja Vu for Patrik Kittel and Deja at 2015 CDI Hagen
Deja Delights in Grand Prix for Kur at 2014 CDI Hagen
Patrik Kittel and Deja Dominate Despite Some Detours at 2013 CDI Hagen
Kittel and Deja Make Winning International Grand Prix Debut at 2013 CDI Mechelen
Deja Secured for Patrik Kittel as 2016 Rio Hopeful
Scores Soar in 6-year Old Preliminary Test won by Uno Donna Unique
Bellagio, Deja, Belamour and Paridon Magi Win 2009 Swedish Young Horse Championships