Danish Warmblood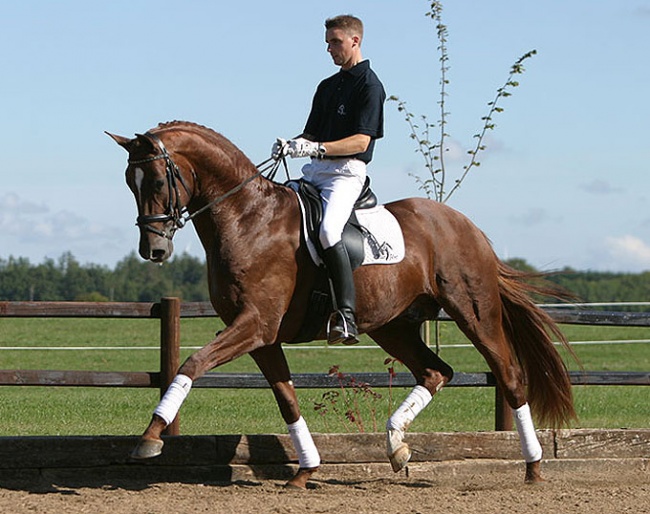 The Danish warmblood licensed stallion Don Caruso has passed away on 30 April 2020. He was 21 years old.
Don Caruso was by Don Schufro out of Bordeaux (by Bolero x Wendekreis x Wiesenbaum xx). He was bred by Marie Findsen
Start at Blue Hors
The chestnut stallion was presented at the 2002 Danish warmblood stallion licensed owned by Blue Hors Stud. He was named a premium stallion.
He went into training with Andreas Helgstrand, who at the time was the head rider at Blue Hors stud.
The horse competed in only three shows in Denmark, including the 2004 Danish Young Horse Championships in Vilhelmsborg, where he won the bronze medal in the 5-year old division. 
Sold to the U.S.A.
Don Caruso was not really a popular breeding stallion in Denmark with just 64 registered offspring after standing at stud in 2004, 2005 and 2008. 
He sold to Richard and Sarah Freeman at Oak Hill Ranch in the U.S.A. in 2010, where he stayed the rest of his life.
In America the stallion
"Don Caruso was euthanized due to complications of age," said Sarah Freeman. "He was one of the sweetest stallions I have handled. Loved being scratched, fed carrots, and overall didn't have a mean bone in his body. His offspring often benefited from this temperament, and we will miss seeing him show off for his ladies."
Don Caruso's most successful Danish offspring are Cool Girl D and Halgård's Ca'pri, who finished first and second at the 2010 Danish Young Horse Championships. 
Related Links
Blue Hors Don Caruso and Solos Landtinus to Move to Oak Hill Ranch
Qualified Danish Horses for 2011 Danish WCYH Selection Event
Sobakkehus Mia Bella, Dafne, Torveslettens Stamina Win 2011 Danish Young Horse Championships