Hit & Run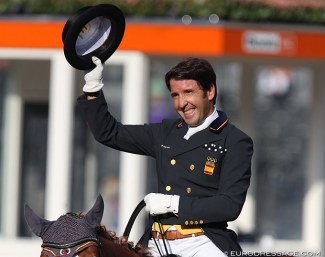 In corona times we are all ordered to stay at home, self quarantine, and do social distancing. With more time on your hands to spend online, Eurodressage launches a "Hit & Run" interview series so that you get to know the world's most famous dressage riders and personalities more closely. 
Spanish Grand Prix rider Claudio Castilla Ruiz began his international career in the 2000s on the Lusitano Jade de MV. He made his team debut at the 2009 European Championships, and went on to the 2010 World Equestrian Games, and 2011 European Championships. In 2015 he competed at his first World Young Horse Championships and in 2016 he went to his first Olympics in Rio on Alcaide. The Lusitano took him to the 2017 and 2019 European Championships and 2018 World Equestrian Games. He is based near Madrid.
Hit & Run - Claudio Castilla Ruiz
What is your earliest memory? 
There are so many that it is difficult for me to choose one, I have many and good ones. My first memories are those that have marked my life at every moment.
Which person alive do you admire the most and why?
My father and my mother because I am what I am thanks to their education and they have transmitted my enthusiasm for the job. In my profession, Carl Hester and Isabell Werth, for surpassing themselves, for their perseverance and way of riding.
When were you the happiest?
I don't know if it's luck, but I've been the happiest on more than one occasion. With each objective accomplished. When I have good results after a difficult job. When I got married. When my children were born. My soon Alejandro was born while I was competing at the 2018 CDI Madrid; it was very exciting. And I hope there could be many more happy times.
What is your biggest fear?
The health of people close to me. With time you realize how important it is. When I have a toast, I usually say "good health, that we'll do the rest".
What was your first thought today?
May this pandemic pass as quickly as possible, especially for those most affected and  we can carry on doing our jobs as soon as possible in a normal way.
What is your most annoying character trait?
I am very non-conformist and I give too much importance to everything.
Which trait do you dislike the most in other people?
Hypocrisy, people who apply pain and who are false.
What is your dearest possession?
My life experiences and knowledge.
If you look into the future, what do you see?
In these moments of so much instability and uncertainty, I prefer to work in the present. I will worry about the foundations and we will see what the upper floors will look like.
What makes you unhappy?
Personally, not being able to help my father anymore and, on a professional level, unfair competition
What is the love of your life?
My family and my horses.
What was the best choice you ever took in life?
Turning my passion into my profession
What's your guilty pleasure?
Candy
What do you owe your parents?
Everything. They are the mirror in which I look at myself every day.
Who can sit next to you at your dream dinner table?
I love a meeting around a table, but if it is held at night I fall asleep because I usually like to get up early. At my dream table there would be my family and friends who wish to be with me
What was the worst job you ever did?
The one I didn't learn from and could not meet expectations.  
What was your biggest disappointment in life?
Jade's death at the start of the 2012 London Olympic Games. Now I see it as a lesson and I learned from it, I work very hard to have several horses prepared to the highest level.
What would you change if you can go back into the past?
I can't answer this question. Because if something in past had been different, now it would be different. I love my live.
Name one thing that would improve your quality of life?
Private stables.
What is your biggest achievement?
My children, my wife. working on my dream without having any connections in the sport
What is the most important life lesson you have learnt?
In this life we live. It is best to feel good about yourself and not harm others.
Where would you like to be right now? 
Competing in a show
What's your favourite scent?
The smell of the stable at dawn
Which character would you dress up in for Halloween?
Gladiator
To whom would you like to say sorry?
To all the people I have hurt without being aware of it.
What does love feel like for you?
Love is the motor of the human being, where there is no love there is nothing. It is my fuel.
When are you most relaxed?
When I have dinner with my family.
What super power would you like to have?
I am not of superpowers I like to be human
When did you last cry, and why?
At Madrid Horse Week in 2019. All my family and the people I love were there.  It was the last show of the season and everything went very well
When were you closest to death?
A fall I had before the Brazilian Olympics.  I broke two ribs and was unconscious for quite some time.
How do you want to be remembered?
As a good father, a good person and a professional with his own identity
Related Links
Beatriz Ferrer-Salat Win 2019 Spanish Grand Prix Championships
Spanish Horses Selected for 2017 World Young Horse Championships
Spanish Team Selected for 2016 Olympic Games
Columbus TR, Beyonce, Forte MG, Eddieni, Vetusto Win the 2016 Spanish Young Horse Championships
Spanish Team Returns to Its Winning Ways at 2010 CDIO Saumur
Jade de Mv Passed Away